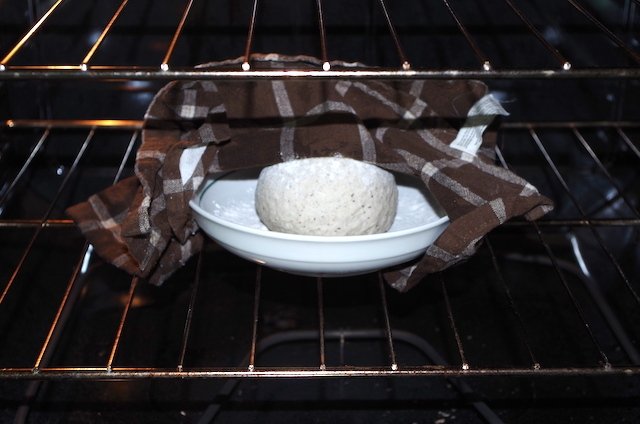 Pizza dough
Here is my pizza dough with a little twist. This recipes give a dough that no restaurant can compete with.
You can be creative with it and blend any kind of flour, as long as you don't exceed 25% vs unbleach flour. Otherwise the dough will loose a lot of it elasticity.
Also you can add 15% of hard wheat flour to compensate or to gain in elasticity.
| Preparation Time: 10 | Cooking Time: 15 | Total Time: 25 | Servings: 3 |
| --- | --- | --- | --- |
Ingredients
| | »Main: |
| --- | --- |
| 4 cup | Flour |
| 1.75 cup | Water at 30 degree Celsius |
| 2 tsp | Salt |
| 2 tsp | Yeast |
| 2 tsp | Sugar |
| 1 tbsp | Oliva Oil |
---
Preparation
Add the sugar and the Yeast to your water and let it revive
Mix all your dry ingredients into a large bowl
Once the yeast as been activate, add in to your dry ingredients and work it with your hand.
At last add the oil and work it
Now you can work the dough just as you would or you've seen a baker do. Remove it from the bowl and work it on a dry surface.
The dough should be non sticky and not falling appart
If it too sticky, spread some flour and continu to knead the dough until it seem right
If it fall appart splash water with your hand and knead the dough with your wet hand
When the dough is evenly mixed, split in 3 equal pieces, even better if you weight it. should give you about 325-350 gram per dough for a 10'' pizza.
Roll each dough with the palm of your hand about 4 minutes, it should create a nice hole at the bottom. That hole will help the dough to lift. That an Italian belief as I have been said.
---
Notes
For this batch, I use 25% of buckwheat flour and it was just right. I dough didn't loose it elasticity.
---