El espanto (Venezuelan Merengue) [English - Español - Deutsch]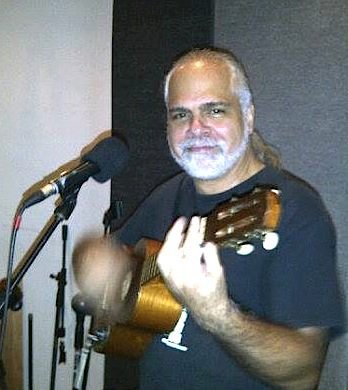 ---
With regard to the contradictions that often have the stories told by people who say they had encounters with scares, the Venezuelan group "Carota, Ñema y Tajá" composed a funny merengue, where in a very jocular way these contradictions stand out. This can be corroborated in the chorus that says:
It was a dead man without a head
no pants, no shirt
with her hands in the pocket
and a macabre smile
I had the opportunity to record this song with the musical group of my sister "Hely Orsini y sus Guataqueros", with guitar, cuatro, bass and electronic drums, in a production made by me.
This is a production of Venezuelan music, but with a very danceable concept.

Español
A propósito de las contradicciones que suelen tener las historias que cuentan las personas que dicen haber tenido encuentros con espantos, el grupo venezolano "Carota, Ñema y Tajá"compuso un sabroso merengue, donde de manera muy jocosa resaltan esas contradicciones. Así se puede comprobar en el coro que dice:
Era un muerto sin cabeza
sin pantalón, ni camisa
con las manos en el bolsillo
y una macabra sonrisa
Esta canción tuve la oportunidad de grabarla con el grupo musical de mi hermana "Hely Orsini y sus Guataqueros", con guitarra, cuatro, bajo y batería electrónica, en una producción hecha por mí.
Esta es una producción de música venezolana, pero con un concepto muy bailable.

Deutsch
In Bezug auf die Widersprüche die es oft gibt, in den Geschichten von Leuten, die sagen, dass sie mit Schrecken konfrontiert sind, hat die venezolanische Gruppe "Carota, Ñema y Tajá" einen sehr lustigen Merengue komponiert, in den diese Widersprüche auf eine scherzhafte Art hervorstechen. Dies kann im Chor bestätigt werden, der sagt:
Es war ein toter Mann ohne Kopf
keine Hosen, kein Hemd
mit seinen Händen in der Hosentasche
und ein makabres Lächeln
Ich hatte die Gelegenheit, dieses Lied mit der Musikgruppe meiner Schwester "Hely Orsini und Sus Guataqueros" mit Gitarre, Cuatro, Bass und E-Drums in einer von mir produzierten Produktion aufzunehmen.
Dies ist eine Produktion von venezolanischer Musik, aber mit einem sehr tanzbaren Konzept.
---

► Listen on DSound
► Listen from source (IPFS)

---

Follow - Upvote - Resteem
---
Recent posts / Artículos recientes / Kürzliche Posts
---
* If this post is older than 6 days, you may go to the most recent and upvote it!
* Si este artículo tiene más de 6 días, puedes ir al más reciente y votar por él!
* Wenn dieser Artikel mehr als 6 Tage hat, kannst du zum letzten gehen und diesen upvoten!