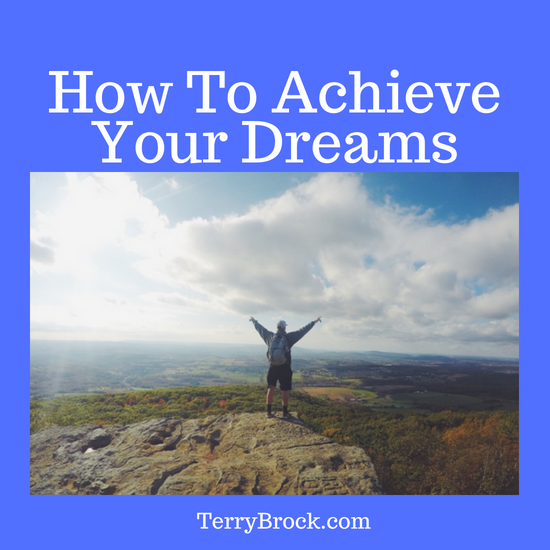 ---
How To achieve your dreams
Business-Building Ideas from Terry Brock for DSound & Steemit
Life is a series of goal-achieving adventures. I see life as a way to continually learn and experience new options, overcome obstacles, learn, and most important, connect with others building value-for-value relationships. This is what Relationship Marketing is all about.
I recently had a wonderful opportunity to read a book by my friend, Anne Bachrach, entitled, 10 Power Tips For Getting Focused, Organized, and Achieving Your Goals Now. If you've known me for a while, you know I love to read books that help me learn more to achieve better results faster. Anne Bachrach's new book does that.
While reading that book, it stimulated many ideas that are tangentially related (as good books will often do). Here are some ideas that I am ruminating about and would love to have your feedback on as you experience these.
Idea #1 - Relax, yes, but make achievement and getting results your goal - not just tension-relieving activity. I'm taking to you over-achievers here. You know who you are. You work diligently and many hours. "Hard work" is something you thrive on in life. That is good, but you need time to relax.
I don't know about you, but I know I need relaxation, but sometimes I do the relaxation part of bit too much. Taking it easy is not a good way to achieve results. Yes, we need to recharge the batteries and should do it. Many have found that it works best when you focus on achieving goals. Do the work that is necessary. Go all out to make it happen. Then take time to "recharge the batteries" and be ready to go. It was the sage writer and audio producer Denis Waitley who said in his famous "Psychology of Achievement" audio series from Nightingale-Conant, (I'm paraphrasing here), "Focus on goal-achieving, rather than tension-relieving, activities." Make that your commitment and you'll do much better.
Idea #2 - Make No Excuses - Period. This is the tile of Anne Bachrach's Chapter No. 6. I can relate to this. It is SO easy to give ourselves excuses and then believe them. "Today is just not a good day for that," or "Nobody else is doing it so why should I?", or "I'll get to it later, really, honest."
Yeah, right! (Terry says with his jaded journalist look)
When we work for ourselves, it is too easy to fall into a state of mediocrity. You need to have a challenge. You need people around you that can stimulate and challenge you to be better. Stop accepting those limiting excuses. Instead, develop a system that continues to renew your "want machine" to want to be better, want to serve others more, and want to become more of the ideal person you want, and should, be.
Idea #3 - Get Organized. This is another point that Anne makes in her book. I find that when I'm in a disheveled mood, I don't get nearly enough done. When things are disorganized, I can't find what I need, I spend way too much time hunting for needed items and don't accomplish nearly enough.
Here's a point that can help: Develop systems that help you stay on top of what's important to achieve your goals. Become disciplined to have a place for everything and put individual items in their proper place. This saves not only time, but helps you to feel more in control and achieve the results you want.
These three ideas can help you become more of the person you want to be and achieve those goals that are important to you. You can achieve your dreams if you develop the right plan and follow through with determination. Correct when you make an error. Keep moving towards your goals as you proceed. This is what will help you become the ideal person you want to be.
What do you think? I look forward to hearing from you. Leave me a comment and let me know what you are doing that is working well for you to achieve your own goals. Thank you for joining me and I look forward to hearing from you.
All the best,
Terry
Terry L. Brock, MBA, CSP, CPAE
Member, Professional Speaker Hall of Fame
Certified Speaking Professional
2018 Recipient of the National Speakers Association's Highest Award, The Cavett
Master of Ceremonies
Professional Video Coach
Syndicated Columnist with Business Journals (43 papers across USA, 11 million monthly page views)
bizjournals.com/bizjournals/bio/19251/TerryBrock
See some wonderful (!) videos on my YouTube Channel!
youtube.com/user/TerryLBrock/videos
My TEDxBocaRaton presentation.
youtube.com/watch?v=7pmVRX55Hz8
Former Editor-in-Chief for AT&T's Networking Exchange Blog
Former Chief Enterprise Blogger for Skype
TerryBrock.com, Terry@TerryBrock.com
+1-407-363-0505
@TerryBrock - Twitter
@terrybrock - Steemit
facebook.com/SpeakerTerryBrock
linkedin.com/in/marketerterrybrock
---
► Listen on DSound
► Listen from source (IPFS)