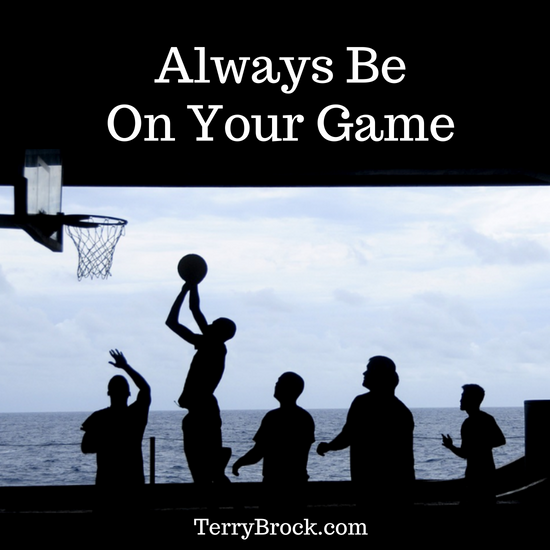 ---
Always Be "On Your Game"
Business-Building Action From Terry Brock for DSound and Steemit
Today's business world is a 24/7, always on, always on the move environment. For today's successful salesperson and entrepreneur, you need to be "on your game" whenever opportunity strikes. The most successful salespeople are those who are always alert to new opportunities and take advantage of them whenever possible.
This morning I was having lunch with a good friend who is in sales for a major company. He not only lives a life of helping others but he teaches those principles to his daughter as well. This morning he shared with me how his 16 yr. old daughter recently got a job as the hostess at a very nice restaurant in town. She is an out-going, very intelligent, personable young lady who we all know is going to go very far in life.
However, we what --- and more importantly what she ---- didn't know was that she was "shopped" recently by the restaurant. This standard procedure involves the use of mystery shoppers who come by and pose as customers to test the level of competence and professionalism in employees. My friend's daughter had no idea what was about to happen.
Later that day, after the mystery shopper had left the restaurant and filed the report, my friend's daughter received an invitation to come into the boss' office to discuss the matter. She didn't know what was going on when the boss said she had been shopped earlier in the day. Well, the good news is that she scored a perfect 100% on the evaluation. The mystery shopper had purposely thrown a lot of curves at this astute 16 yr. old. Yet in the midst of numerous attempts to "trip her up" my friend's daughter came through brilliantly. The boss said that most of the regular employees came through with only a 45% rating. He was most pleased with her performance and her future at that restaurant looks very bright.
This was a big moment in my friend's daughter's life. Not only was her rating perfect but she handled challenges which were purposely thrown at her to find out how she would do. She did brilliantly in it by always remaining professional and going above and beyond the call of duty.
This is what you and I face on a regular basis. When we least expect it, we can have one of "those encounters" with that customer who is very challenging. We have to be "on our game" at those times. However, you don't know exactly when that special opportunity will arise.
Like an airline pilot who has to be "on game" even if she has logged several thousand hours of flight time, we have to ready. You never know when that special customer is studying you and your company. Usually it comes without great pretense and/or warning. Even when it is over, you often don't know what has happened and what they thought.
This is a good reason to always be professional --- no matter what. It doesn't mean you become a doormat for a few obnoxious customers. However, you can always be professional no matter what. Keep calm. Think of this very rude customer as a mystery shopper putting on an act to try and trip you up. Just thinking that way can help you smile (at least inside) and weather whatever storm that rude customer can throw at you.
My friend's daughter did very well with that experience. I predict she is going to do exceedingly well in this job and in life. You and I can increase our chances of success by adopting a "roll with the punches" attitude and always being professional. Enhance your technical and sales skills continually and you'll do even better. Being "on game" is a never-ending process.
What do you think my fellow DSounders and Steemians? How do you maintain your game and be at your best when you need to? If you liked this, please upvote. I so much appreciate it and thank you for visiting and interacting. I look forward to hearing from you!
Terry
Terry L. Brock, MBA, CSP, CPAE
Member, Professional Speaker Hall of Fame
Certified Speaking Professional
2018 Recipient of the National Speakers Association's Highest Award, The Cavett
Master of Ceremonies
Professional Video Coach
Syndicated Columnist with Business Journals (43 papers across USA, 11 million monthly page views)
bizjournals.com/bizjournals/bio/19251/TerryBrock
See some wonderful (!) videos on my YouTube Channel!
youtube.com/user/TerryLBrock/videos
My TEDxBocaRaton presentation.
youtube.com/watch?v=7pmVRX55Hz8
Former Editor-in-Chief for AT&T's Networking Exchange Blog
Former Chief Enterprise Blogger for Skype
TerryBrock.com, Terry@TerryBrock.com
+1-407-363-0505
@TerryBrock - Twitter
@terrybrock - Steemit
facebook.com/SpeakerTerryBrock
linkedin.com/in/marketerterrybrock
---
► Listen on DSound
► Listen from source (IPFS)