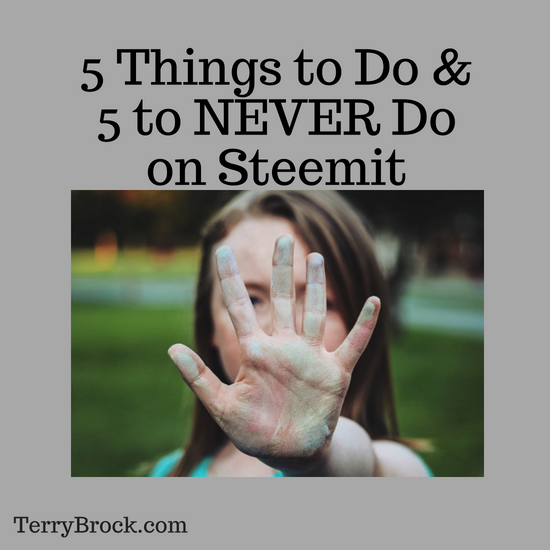 ---
5 Things to Do & 5 to NEVER Do on Steemit for Success
By Terry Brock for Steemit & DSound
The more things change, the more they stay the same" - French novelist Alphonse Karr (1808-90).
I have to smile when I hear people talking about how the world has changed. People often complain about others using digital technology and say that they're not really connecting with other people. This could be true of some, but I think digital technologies like Facebook, Linkedin and others actually let us connect with other people more.
I've been particularly impressed lately with a platform called steemit.com where they pay users to write and produce content. The principles of interacting with others are uncannily like what we saw when I worked on the McGraw-Hill book, Klout Matters, a few years ago (eons ago in Internet years!), with my co-author Gina Carr.
The principles that mattered with Klout (when it was really hot) now matter on Steemit and other places. Kindness, caring, and helping others still matter more than the technology. Here are my observations:
Do these activities on Steemit and in other social media areas:
Provide useful, solid content for others
Use lots of pictures that are relevant and interesting
GIFs can grab attention quickly and are very useful (giphy.com is a great source for some standard, fun GIFs. I love Snag-in from Techsmith for creating custom GIFs that stand out.)
Respond to people yourself and don't use boilerplate text responses all the time.
Upvote others which helps them financially.
Don't do these activities on Steemit and other social media areas:
Don't talk only about yourself and what you do to the neglect of helping others.
Don't constantly ask others to do something for you (on Steemit things like up vote or resteem). It is okay to ask but give a lot of value first. I like a good 7 to 1 ratio of giving versus asking. (Not a bad ratio for giving/asking in life.)
Do your research to find out what people want rather than just "going with your gut" on what you think they want. With all due respect, your "gut" can be wrong
Honor the protocols and norms of the place where you are. You wouldn't wear a bathing suit to a black tie event, nor wear a tuxedo to the beach. Act appropriately in the environment where you are and do what is expected. Be contextually sensitive and appropriate.
Don't complain all the time. Some people want to rant and complain continually and after a while it becomes very annoying. It's okay to talk about something you disagree with, but even when you're criticizing, try to put forth a positive alternative.
Yes, technology continues to change at a very rapid pace. Remember that while you're scrambling to stay current with new technology, embrace the still-relevant principles which have lasted a long time. Focus on building relationships with quality people and you will go far no matter what technology is emerging.
Please leave a comment and share this with your community. Your feedback, my fellow Steemians & DSounders, means a lot. I look forward to hearing from you!
Terry
Terry Brock, MBA, CSP, CPAE
Member, Professional Speaker Hall of Fame
Certified Speaking Professional
TerryBrock.com
BrockonBlockchain.com
Terry@TerryBrock.com
+1-407-363-0505 (Orlando, Florida, USA)
Outrageously cool videos on my YouTube Channel (!)
youtube.com/user/TerryLBrock/videos
Linkedin - MarketerTerryBrock
Facebook - MarketerTerryBrock
Twitter - @TerryBrock
Steemit - @terrybrock
---
► Listen on DSound
► Listen from source (IPFS)