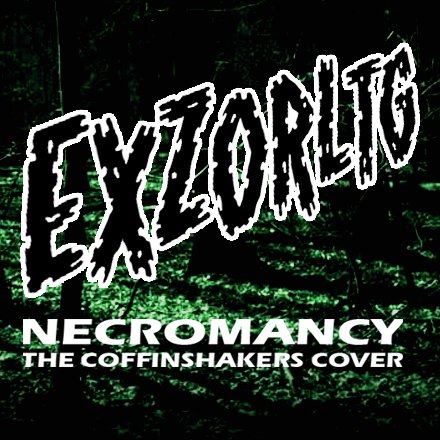 Good night creatures, throughout this month I will be sharing versions of horror songs for all of you guys, this to celebrate my favorite month.
October Rocks with @Exzorltg
The first song I decided to record is Necromancy from the band The Coffinshakers, it is one of the bands that I will cover most during this month.
something fun that I learned to record this song was to play the spoons, it is a complicated technique and it requires practice but although it was not perfect I feel satisfied with the results.

---

Necromancy

A spell has been cast, the cemetery shake
The night seem darker than before
What God left behind the necromancer take
The night is darker than before

Ashes to ashes, dust to dust

Cold is the ground where cracks start to appear
The fog seem thicker than before
Death is on the rise when the hour grows near
The fog is thicker than before

Ashes to ashes, dust to dust

A foreboding silence lie upon the graveyard
As the rain begin to fall
Through thunder and through lightning
Heed the necromancer's call

A spell has been cast, the cemetery shake
The night is darker than before
Death is on the rise when the hour grows near
The fog is thicker than before

Ashes to ashes, dust to dust

A foreboding silence lie upon the graveyard
As the rain begin to fall
Through thunder and through lightning
Heed the necromancer's call
I hope you have nightmares and a horrible night, see you tomorrow with more horror songs. 👻

---
► Listen on DSound
► Listen from source (IPFS)