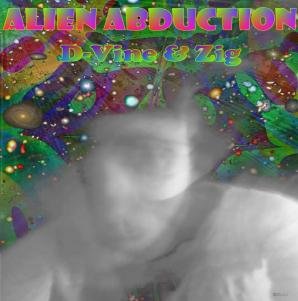 ---
Hey, Hey!!
Oh my, oh my, do I have something in store for you!!!
---
Today I am releasing an eagerly-anticipated collaboration between my dear friend & "Spotlight On The Artist" ( @spotlight.artist ) co-host Zig ( @onemedia ).
Needing to get some Broken Beats out of my system I laid down the groundwork for
"Alien Abduction".
Zig @onemedia added his wonderful flavor in his rad style, recorded the pipe-organ & guitar then sent it back to me.
Let there be said, some "Alien Abduction" was going on during the process, ehehe!
After finishing the track Zig ( @onemedia ) created the cover art using one of my pictures & morphing in his trippy elements, a video is already in the making thanks to Zig's many talents!!
Keep your eyes peeled peeps!!
---
Thank you so much Zig for this superb, easy-going ( except the "Alien Abduction", lol ) collaboration, for being such an amazing friend & co-host!
I have the biggest smile on my face thinking about what is to come!!!
---
I wish you all a superb Sunday & hope you enjoy "Alien Abduction"!!
Huggins, D-VINE
---
Follow Me/D-VINE on these platforms:








---
► Listen on DSound
► Listen from source (IPFS)