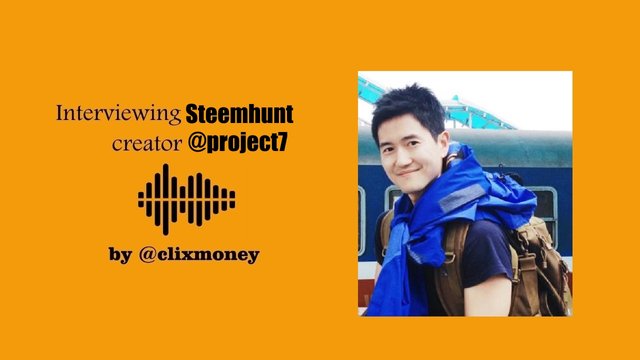 ---
In this recording I'm interviwing @project7 , the founder of @steemhunt. ( The co-founder is @tabris.)
steemhunt.com is one of the most active application on steem blockchain that rewards steemians for discovering products.
For more details about the economy, check this website : https://token.steemhunt.com
The managers of the project are : @jayplayco (community manager) and @mtimetraveller (social manager).
@teamhumble and @fruitdaddy are mentioned in the interview.
In the interview @project7 shared how he joined steem, what he thinks about sit, how @steemhunt was created and about their plans in the future.
@steemhunt recently launched a new product called Reviewhunt. It's an ultimate launching hub for product makers.
For more details check : https://review.hunt.town/ and don't miss to sign-up today.
You can sign-up as a maker or as a hunter at the same time.
The project is really huge and it's a great promotion for steem blockchain among investors.
Follow @steemhunt in twitter here : https://twitter.com/steemhunt
Join their discord server here : https://discord.gg/kBemc83
Telegram : https://t.me/steemhunt
Reddit: https://www.reddit.com/r/steemhunt
Enjoy listening.
Watch the youtube version here :