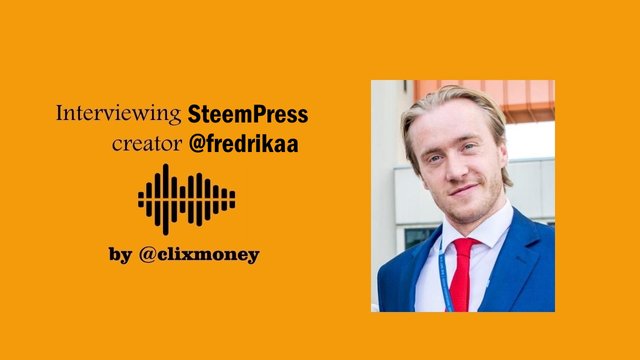 ---
In this recording I'm interviwing @fredrikaa the creator of @steempress.
The co-founder is @howo.
Steempress is a great tool that you can use to link wordpress website to steem blockchain.
I think this application is really important for us and we need to support the team more.
Here is the link to install the plugin : https://wordpress.org/plugins/steempress
@fredrikaa is the co-founder of the Steem Business Alliance @steemba as well.
@steemba is created by a great collaboration of @oracle-d, @steempress, @steemhunt, @fundition and @utopian-io.
Follow @steempress in twitter here : https://twitter.com/steempressio
Join the discord server here : https://discord.gg/FyNHCJF
Enjoy listening.
---
► Listen on DSound
► Listen from source (IPFS)