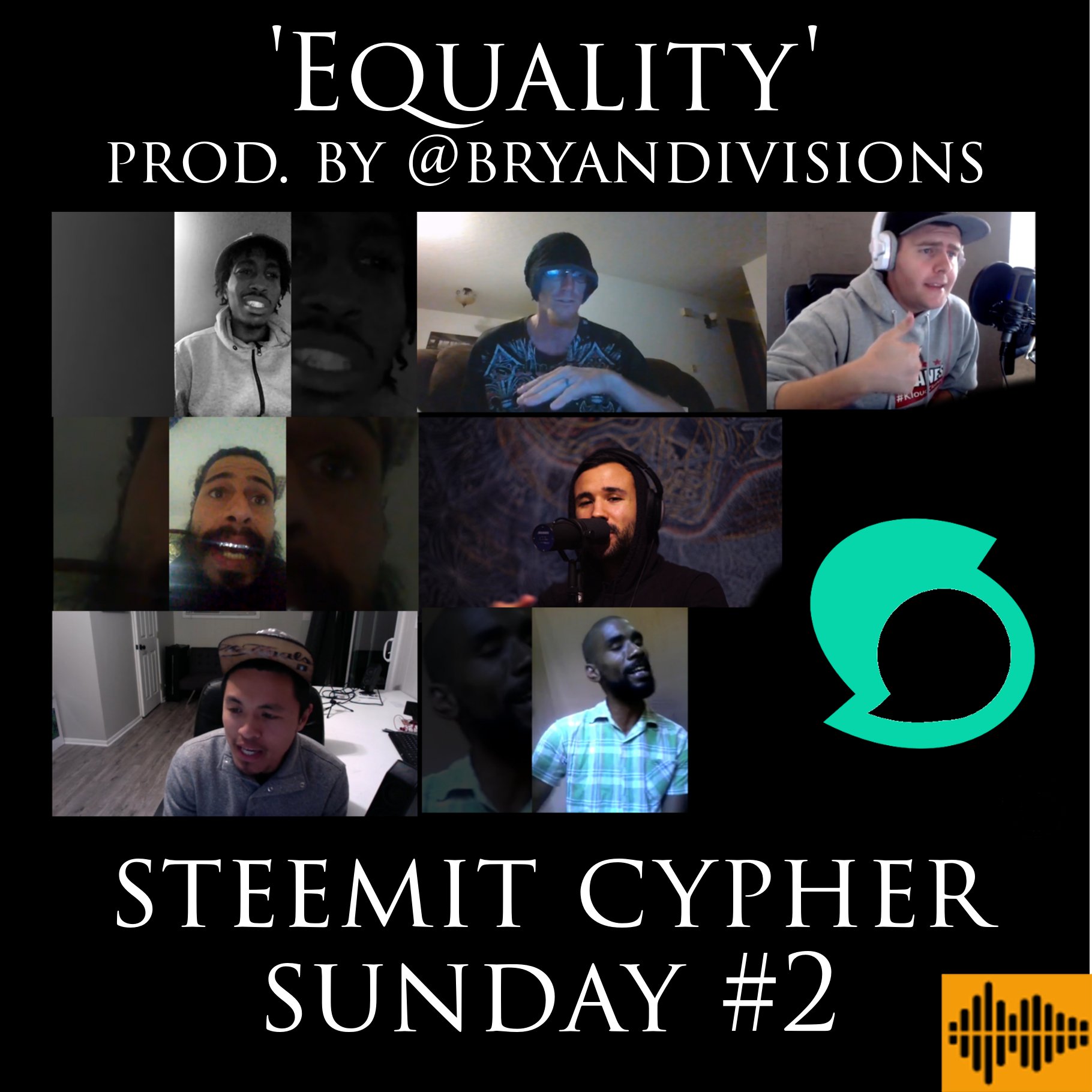 ---
Our second Steemit Cypher Sunday track is here! Exclusively on DSound, this collaborative track features 7 Steemian emcees rapping about equality!
The Steemit Cypher Sunday is a community initiative to promote positivity through hiphop and the Steem blockchain by combining forces with emcees and producers on Steemit. Each emcee writes and records 8 bars of positivity with a common theme, and then at the end of the week I combine all the audio and video together into one cohesive song and music video!
This week's theme was 'Equality', and you can see here how this brought out a positive mindset and some amazing lyrics!
Not only is this a great way to get members in our community collaborating, but through joining this cypher, individuals get to learn skills in regards to recording, being in front of the camera, expressing themselves, and not to mention that all the emcees who participate will get an equal cut of the SBD payout from this post!
That's right! So please upvote and resteem this post to support these artists on the Steem blockchain!
I am truly impressed with how this turned out, especially being the first week!! 9 emcees from around our globe shared their 8 bars of positivity, and were then mashed up together to create this music video!
Go share some share with all the musicians who offered their self expression this week!
Much love to: @wolfnworbeikood, @chasegapo, @redsfallin, @yakuhi, @riggsyfort, @jaguarpawma for contributing their bars for this song!
Thank you all for the support! Check out the lyrics to the cypher below.
@wolfnworbeikood
"Cypher Sunday
It's my plight to ignite you
One way or another
Someday my brother will overcome his oppressor
The potency of his power is focused in his intention
I hope you notice and listen
everything that you gain or lack
In fact is stemmed from the thoughts in ya brain
the power is in the people
we be the sequel of the NEO
Be One
our power is that were equal"
@jaguarpawma
'No hope if you cannot see
Similarities of you and me
Everybody been lost for decades
In a coun-try where debt pays
Sometimes we have our blessed days
Other times we feel like debt slaves
I am hoping we can see
the worth and ease
of Equality'
@yakuhi
'Like me, you want to take care of your family
Just like me, you want to live to see a century
Just like me, you aspire to be all that you can
Surpass all your limits become a different entity
So why is it so hard to see me as a friend
I like to laugh and smile, man we're not so different
The sun shine's on us all ,color is irrelevant,
In this world, we're only different at the skin
Together we're meant to be'
@redsfallin
'Truly Equal
Ones are universal stardust,
Light photonic energy clusters,
Dancin' rhythms swimmin',
Creating perspective albums,
Knowin' we all came to be equally,
Truth is only in one answer an answerin,
Tha question, starts by releasing of blind rabbit holes,
Wrapped up in ones dome, deep inside,
We know all of us are truly equals'
@riggsyfort
'Messages been amplified --- fear what is different
ignorance like that only feeds its existence
But Ive been raised in a vision unfazed,
I celebrate the different - and liberate a change
A quest for equality - I solemnly engage
Pace with my brethren extinguish the blaze
Knowledge over fear then this truth can breathe
All of us beings in our nature are supreme'
@bryandivisions - North Carolina
'You and me, equality,
The only thing that I ever truly see,
is your energy, and how we all project,
I focus on how to include, not to reject.
Oh, so we just project,
all of these visions from our soul and we are suspectin,
that this life around us is coming
right through cause us humans connectin.'
---
► Listen on DSound
► Listen from source (IPFS)