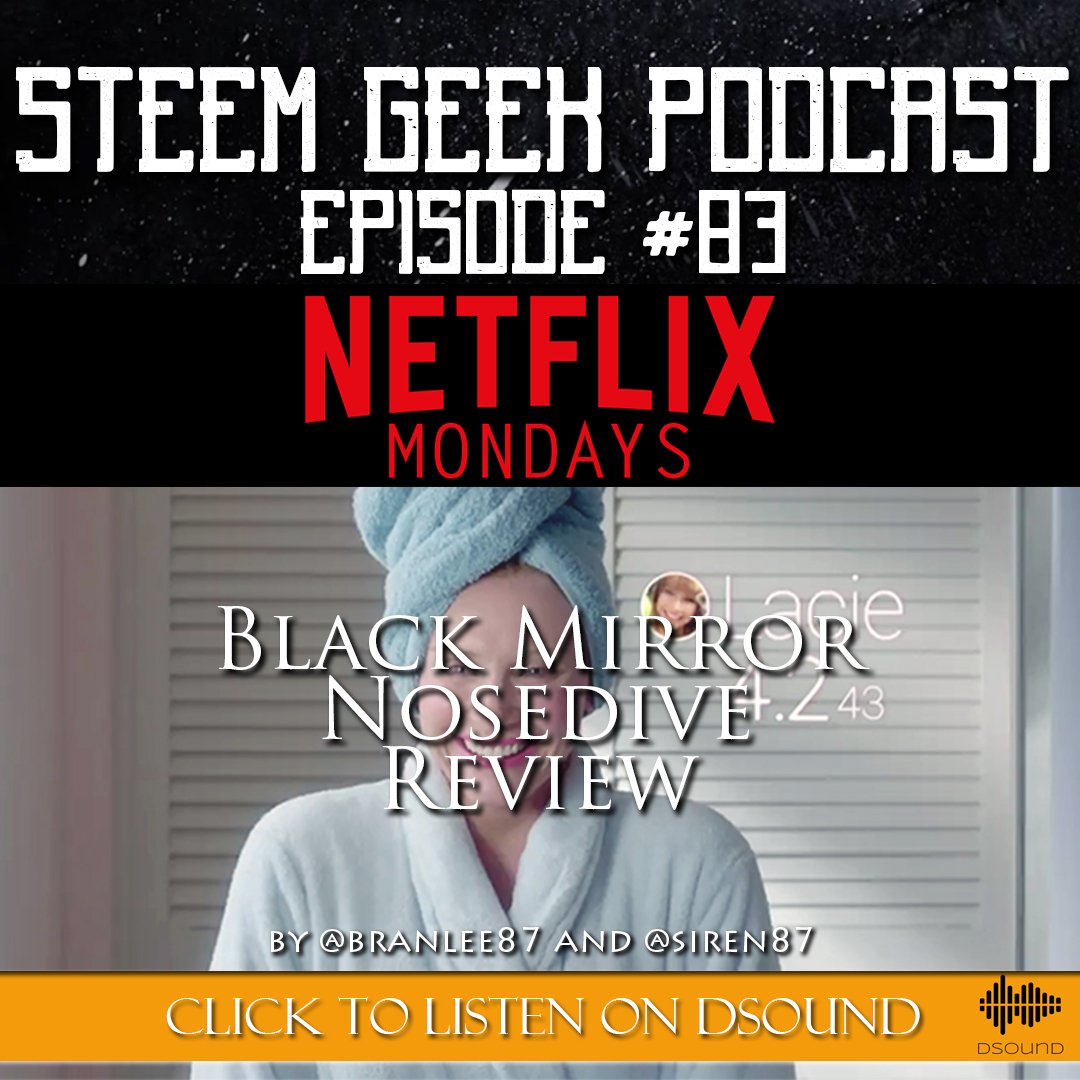 ---
Hey, guys!
It's so good to be back doing the regular shows like Netflix Mondays after a good 10 day break in Japan!
We have missed watching Black Mirror episodes and being able to talk about them right after on the podcast.
Black Mirror season 3 starts off with a huge bang in the episode Nosedive! Brilliant and amazing performance by Bryce Dallas Howard with a great story to tell! I think all steemians and people who are huge users of social media, very much like myself, should watch this episode and let it sink in.
As always, the first few minutes of the show is a spoiler free review which is then followed by the spoiler review and discussion with details about the plot.
Hope you enjoy this episode!
Thanks for listening!
---
Want to start your own podcast show like us?
Or maybe you're a music producer and create your own sick remixes?
Start uploading your awesome content on @dsound for free and join the @dsound community on discord today!
---
Soundcloud Link
---
STEEM Geek Podcast Special
Day 10 : The Great Japan Adventure Overview
Day 9 : Namba / SoundCloud
Day 8 : Umeda & Tennoji / SoundCloud
Day 7 : Nara & Namba / SoundCloud
Day 6 : Universal Studios Japan / SoundCloud
Day 5 : Temmabashi & Universal Studios Japan / SoundCloud
Day 4 : Harajuku, Ikebukuro & Shinjuku / SoundCloud
Day 3 : Tsukiji, Asakusa & Ebisu / SoundCloud
Day 2 : Hakone / SoundCloud
Day 1 : Harajuku & Shibuya / SoundCloud
---
STEEM Geek Podcast
---

---
@branlee87 SUCKS at
---
BranLee Vlogs!
---
Movie Reviews by @branlee87
---
► Listen on DSound
► Listen from source (IPFS)