That's it! I'm hooked!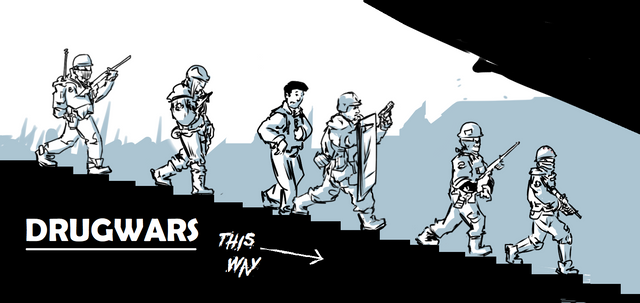 "Illustration from my short comic "Ghoul Red One"..."
But that's not a surprise. I've been looking for a game in the crypto world for a while...
---
From Steem Monsters...
---
I've played (and still playing) Steem Monsters but It is missing a few things for me:
A overarching theme. I feel like it's more a mix-and-match of various monsters but I don't see a main story told. Also might not be a dark enough theme for me. Just a preference...

More strategy. I compete for the daily quest but have been more or less picking the same team to complete it.

Steem income. Yes you get cards that you can trade. Like in every collectible game, most of the appeal comes from finding the special card which will worth a ton. But what if I wanted some steem back while playing...
---
... to Drug Wars
---
Now cue to yesterday, when I take the time to try out DrugWars...
It's the #1 dapp game worldwide afterall!

At first, I didn't understand all of it. It seemed laggy as some of my actions wouldn't take effect. As I learnt more and more about how it worked, I really started to dig it.
The ultimate guide posted on Steemit helped a lot. It has some very useful tricks.
But what's this game about?
Well it's a strategy game themed on the drug industry. You basically upgrade your buildings to produce more drugs, guns and alcool. Exciting, right? You also need to protect yourself of potential attacks from other players.
There is a daily prize shared among all players. The more you produce, the more steem you get. You heard that right, by participating you get a daily reward straight to your steem wallet.
---
So what do I like about the game?
---
A few key points:
The art really stood out for me. It has this gangster ambiance. Kind of like GTA Chinatown meets Heat which speaks to me.

The theme is exciting. Being a big fan of the Tv show Breaking bad, I feel like I'm right into it. There is definitely space for SFW themes in this genre. Maybe going forward when the space opens up to more users.

The passive income in Steem is the real deal for me. Finally a game that rewards the time spent. A small revolution in the game industry. I think we'll definitely see more in the futur. Hopefully opening the gate to gaming investment and more professional gaming.
---
The Trap
---
The game is set with a freemium business model, which means you can play for free and slowly building up your empire. By paying you can upgrade instantly therefore develop much faster. With this kind of game I would usually avoid paying, as I don't see any return on investment.
Because the Steem wallet is accessible easily and that you can actually plan on getting back your money some day. I boosted my account with a few key buildings.
Then I purchased one more...
and one more....
argggg furstrating...
I finally had to power up my remaining steem to avoid the worse.
I ended up putting 20 steem into the game, which is around 6 usd. That's sounds fair to me.
And I already got 0.363 steem back today!

At this rate, in 2 months I get the funds back!
.
.
.
Hooked! I said...
.
.
.
Hooked...
.
.
.
Below this very interesting video about the addiction on Fortenite. It's in french but it basically explains that the success of the game does not come out of nowhere. It follows lots of psychology principles explained in the book "Hooked""
I would totally see this kind of addictive shooter linked with the blockchain. Next step is only mass adoption, right?
To sum up, I think this new turn in the game industry is a revolution! Seeing innovative projects like this, is the reason I'm trying to develop some coding skills. I see a lot of opportunities in this space.
I am happy to be a part of it in some way. By playing and creating content on Steemit.
I'll include a dose of Drug Wars in my daily routine from now on, see how it evolves...
If I spiked your interest... You can start playing DrugWars here...
Thanks for reading through this.
See you on the other side,
Jrej