Did I reach the ceiling of maximized ROI on DrugWars? Having jumped on the game in its second day only, I managed to find a great deal by investing in La Cocina for only 2.4STEEM. It seemed that its high drug production, combined with low number of players, could lead to a great ROI from passive income and thus I jumped on it.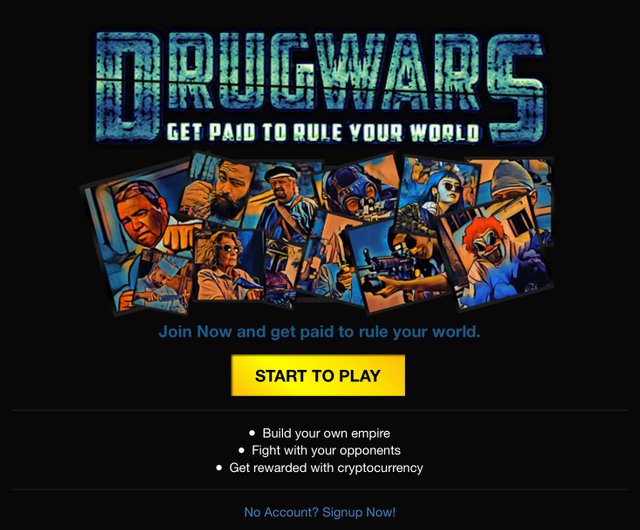 The main goal was to maximize, not my usual behavior but math and fun... a cheap experiment is something I'm always up for. Since I purchased La Cocina, the game has generally been slow despite relatively high drug production because I've been waiting to upgrade my weapons and booze units. In order to soon get the Pharmaceutical Lab, which otherwise comes in at around 8.5STEEM.
As somebody who has been a mod for Steemhunt for more than half a year I've acquired a reasonable stake of HUNT which allows me to easily maintain my lvl9 user level. That also thanks to having visited Steemhunt's github in order to check the algo, of course. As a lvl9 hunter, my hunts at current STEEM price hunt on average score $TU4.5, around 5STEEM and 5SP after curation and beneficary split at current price feed. It's a level of Steem earnings mostly reserved for dTubers or those who managed to invest 3-5k SP in delegation to a larger trail (or [gasp] a bidbot).
This merely to say that at this point DrugWars becomes expensive because not everyone manages to make 8.5STEEM easily. And that's not even the highest level HQ1 drug production unit.
In my initial DrugWars post, I did state that DrugWars finally "Put the ponzi in Steem" because of how easy it is to make Monopoly money thanks to selfvoting for whales and to thus advance at very little actual cost.
A quick look at the leaderboards shows that most highly producing players are indeed the usual suspects.
At the same time, DrugWars' userbase is increasing and as predicted the game continues to climb the rankings over at State of the Dapps. This means that daily total drugs production will continue to increase, ever more minimizing the stake of non/low spenders and their personal return.
Spend or perish.
It's as simple as that. Even at this early stage of the day, with still 22 hours to go, expected earnings for the day took a nosedive already as and will further tumble resulting in up to 20% less earnings compared to yesterday. While I wait to produce sufficient resources to buy the meth lab. Not to be confused with ETH lab, that's for devs who love slow and expensive chains.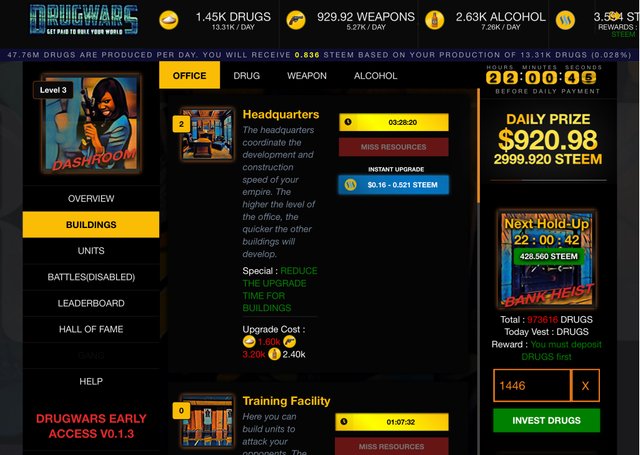 Expected returns for the day
So how did I fare since?
On the first day, I banked a small amount of drugs and managed to get a return from both drugs production and vested drugs. The second day I managed to bank more than double the amount of drugs, which was visible in the return returns from the Heist, despite much more having been banked that day.
Given a base investment of only 2.4STEEM, the current earnings of 2.3STEEM after only 2 days are of course amazing returns. Returns many a day trader can not truly maintain in this ongoing bear market.
| Day | Drugs Production | Heist |
| --- | --- | --- |
| 1 | 0.995STEEM | 0.131STEEM |
| 2 | 0.910STEEM | 0.194STEEM |
As expected the daily returns dilute day after day and going by the estimation only 2 hours in this game day, it seems a new turning point has been reached in the game and the daily returns will further crumble collapse. That affecting everyone, no matter what level.
The question which now comes to mind is whether DrugWars is sustainable and can it generate any form of positive return for anyone?
No.
At current evolution and distribution, even a blind man can see the writing on the wall and the most mathematically illiterate human can grasp within the shortest span of time that in DrugWars only the house wins.
It is doubtful that many Steemians will continue to dump their hard earned STEEM day after day in DrugWars for ever smaller returns. At which point the game doesn't make sense for the whales anymore either because the daily pot becomes ever smaller.
DrugWars is a short lifespan, collapsing pyramid. The only blessing there is for the team of DrugWars is that the game is what I call "recyclable code". Just like happens a lot on the App and Play Store, this game can easily be "rethemed" and given a new skin and relaunched. Steemians, with their Monopoly money, love the newest shiniest thing.
How often can a dev crew repeat this? Until the Steem userbase becomes less meta fanbois.
Does it pay for an exit and life in the Bahamas? Most likely not, but who knows how many games like this they can operate at the same time and when that much required bull run finally comes.
If you're a glutton for punishment, or love playing the long term game and think that if you wait long enough your returns will triple, which would be great ROI... feel free to use my referral link. ;)
Those who are fast can still make it a positive return with minimal investment. As long as you limit your investment and jump on it NOW.
---
UPDATE
The DrugWars team have lowered the production capacity of LaCocina with 20%. Sadly enough, they made that decision, rather than increasing the capacity of the still overpriced Pharmaceutical Lab. Anyway... this strategy is now absolutely not interesting anymore with lowered production capacity.