Have you seen Disney's Fantasia? There is a section in there called the Magician's Apprentice :D By chance, the song was playing at my friend's place and then it got stuck in my head and it's such a cute and lovely tune :) Mickey Mouse and his army of brooms, all of them working hard to bucket water from the well to the house! Working SO hard that they flooded the house! Hahaha!
Anyway, the song was in my head all day long so I had to draw this little picture :) I haven't actually watched Fantasia for awhile, so I made it my own little Magician boy and he's making mud men out of the swamp in the cave :D I don't know what he's going to ask his mud men to do, though :) (Full picture: https://imgur.com/a/8M4T5)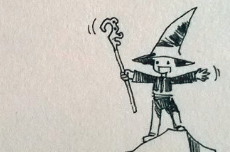 I wanted the mud men to look kinda chubby and huggable, hahaha~ Drew on paper, straight with ink pen and no pencils, this time!
Sometimes, some songs can really make you draw, you know what I mean? :D Have you draw pieces based off songs? :) It can be quite fun!