Introduction
The world is rapidly changing day by day, and as it evolved we the people evolved as well. the way we transact business is changing and sometimes the methods we are used to becomes obsolete. The lottery business as we all know is changing as well. Crypotocurrency lotteries are emerging all around you and comes with a huge promise but the vital question on our mind since we are not solely used to this type of lottery is can we trust cryptocurrency lotteries? Am I going to get my winnings cashed out properly and in a timely fashion? DONOCLE a new cryptocurrency platform is the answer to all these. Donocle will Provide transparency through Blockchain Algorithm, and it has adopted an open data flow (ODF) system, which allows users to monitor the flow of coins and tokens on the platform as used as goods.
About Donocle
The platform creates a global lottery by utilizing the blockchain technology, without being limited to individual country. It has more than fifty types of coins and tokens. These are utilized on lottery draw method and prizes. Besides, Donocle is impartial and transparent to maximize on the fairness.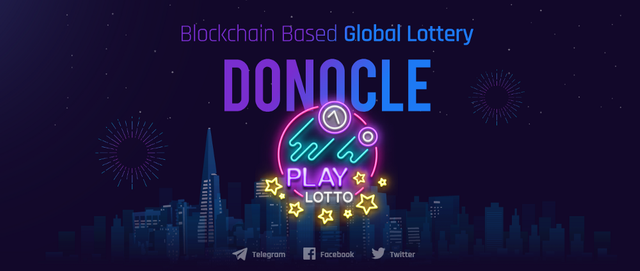 Donocle Games
Donocle offers two types of games: 496-game and the Mini lotto. The 496-game matches six numbers from one to forty-nine, plus a bonus number. The first two digits are excluded, the third and fourth numbers are used. If the numbers overlap, the block is considered invalid. The block nonce value of the Bitcoin is then used as the raffle number.
The Mini Lotto determines a winner using the nonce value of a single block. Overlapping numbers are allowed and one only needs to match five numbers. In case there is no winner, the prize is deferred to the next raffle session. Seventy percent of the collection is handed out to winners based on the proportion of the composition shares. Winners may keep their shares of the cryptocurrency received as prize money or convert it into cash. Seventeen percent of the collection is used for the operation of the company.
Donocle Competitive Advantage
Donocle let users pay coins and tokens that are already circulating in the market.
They already partnered with an existing exchange, IDCM for trading .
They are pushing on partnerships with national lottery project company for marketing alliance. The purpose will be to construct prepaid payment system in places like SouthEast Asia.
Why Invest In Donocle
Donocle is a global lottery blockchain project using more than 50 types of crypto coins/tokens.
The lottery algorithm exploits C/S system and the blockchain technology made every flow of goods transparent, such as withdrawal & deposit of coins, purchase of lottery, and winning of prize. The fairness is maximized by using bitcoin blocks for winning numbers. One of the main feature of Donocle is the POS System. This stable system shares 10% of total lottery sales to the users in Proof-of-stake style.
They have experience in designing and running SportsTOTO in Korea. This lottery business license is limited to only one licensee by the government. We acquired the license, we legislated relevant laws, we created the system and provided the service.
They are the only team with the knowledge of lottery ecosystem, how to run the service, and how to create the legal basis for it which other competitors do not have and Blockchain Technology is also what they are specialized in.
We have the ability to control and manage dozens of crypto coins at once.
They will be giving out Airdrop and investors will receive 10% of total lottery sales through Donocle POS System and also Investor will profit as the winning price increases which automatically will raise the value of Donocle.
Unique Team
Donocle have ambitious goals  which will enable them to set new standards for the Lottery Market. To achieve this goal a strong Team is built with all the necessary skills, talents and long-time experience needed for the project. Most of the team members on Donocle have LinkedIn profiles. This is all good because the more transparency a company have in regard to their team, the more trustworthy they typically are.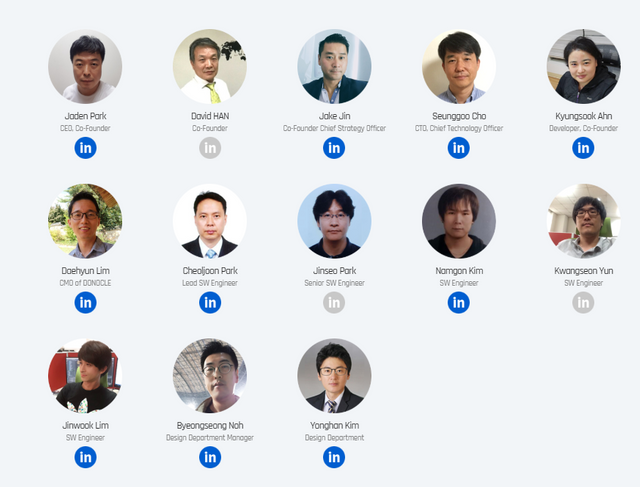 Token Details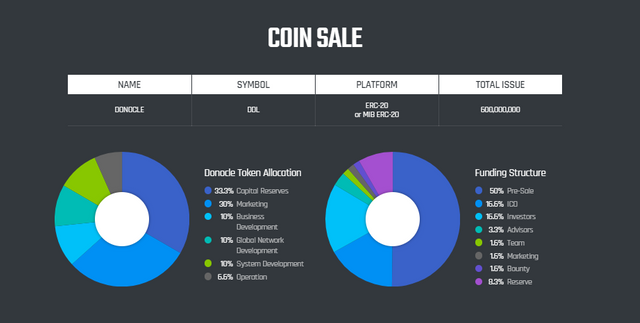 Conclusion
This project is very promising with loads of potential, it promise to deliver cryptocurrency lottery like no other. For Potential Investors out there looking to invest I urge you to take a proper look at the white paper for more information.
NOTE: This article is just a guide to potential clients, stakeholders and everybody itching for a snip of this wonderful project and its published regarding bounty campaign. I am not a project team member or its representative but a supporter of this incredible project. The whitepaper will provide an in-depth and thorough analysis of this wonderful project. You can click on the link below and find out more about this wonderful project.
Website https://donocle.io/
Telegram: https://t.me/donocle1
Facebook: https://www.facebook.com/donocle/
Twitter: https://twitter.com/Donocle1
Medium: https://medium.com/donocle
Whitepaper: https://cdn.donocle.io/download/DONOCLE_WhitePaper_EN.pdf
AUTHOR : belushiiwuzeree
BITCOINTALK PROFILE: https://bitcointalk.org/index.php?action=profile;u=2191289
ETHEREUM ADDRESS: 0x99244A7e7CA83214902656040C48a5F90D86C45c