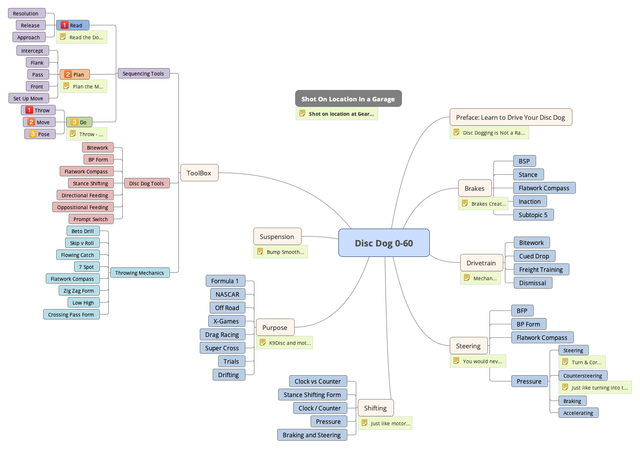 We've got something new cooking at Pawsitive Vybe. 
A couple weeks ago I ran across an old notebook of production notes from the PVybe Life dog training & lifestyle webseries (just a bit nostalgic)...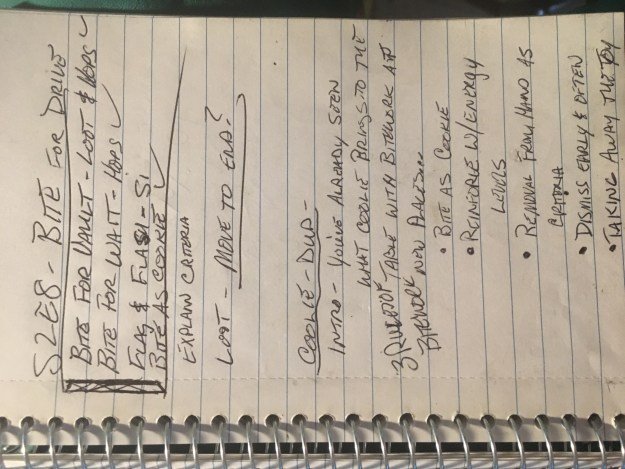 and right after the last episode was this Disc Dog 0-60 project: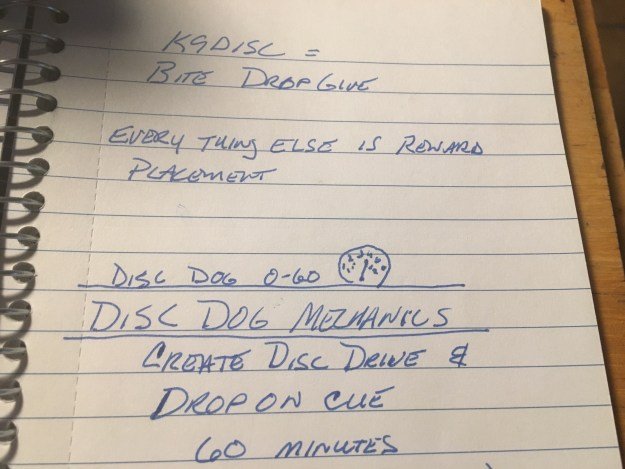 Persoal notes from 2015.
The Gist Of It
The idea is a 60 minute, rapid fire, instructional video on critical aspects of disc dog freestyle within a racing or driving metaphor. 
Playing off the concept of Drive and drawing on the common understanding we all have of driving a car, Disc Dog 0-60 aims to deliver a deeper understanding of freestyle and jamming with a dog for all skill and experience levels. 
The Details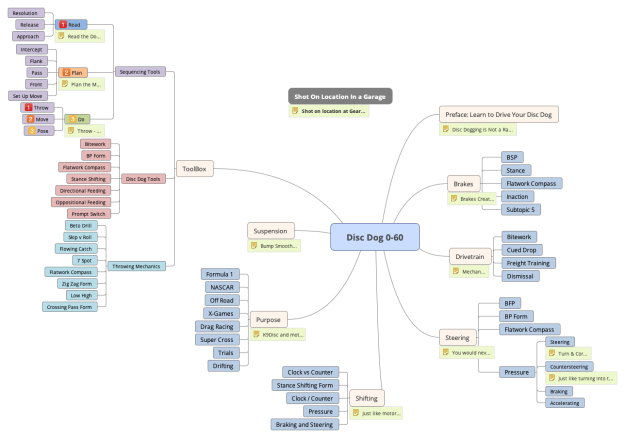 A mindmap of the project. The ToolBox is an additional video that should be about 20-30 minutes of brass tacks operations and demonstrations of the skills that are discussed and outlined in the 60 minute 0-60 presentation.
Total running time: 80-90 minutes
The Set
Disc Dog 0-60 will be shot at an undisclosed location near Purina Farms. 
The main presentation, the 1 hour of Disc Dog 0-60 will primarily be filmed indoors in the shop here. We'll be doing whiteboard stuff and laying out the various aspects of play in here as well as a little bit of dog training and low impact, small scale disc stuff.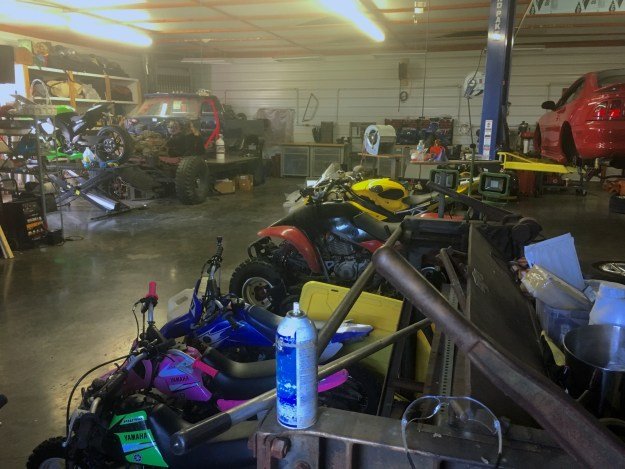 The shop where we'll be filming the discussion and static throwing, training, and movement stuff.
The Toolbox and practical disc dog operations and demonstration of the techniques talked about in the 0-60 section will be filmed right here with the Jolly Collie in the background.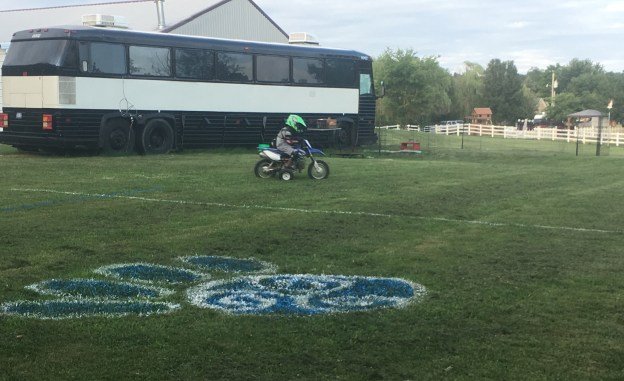 Camp Jolly Collie and PVybe Hashtag Sweetspot will be the location of the practical disc play from the Tool Box and b-roll footage for the 0-60 presentation.
The Magic of Metaphor
"Oh! Whoa, That's Crazy!"
Metaphors demystify the mysterious. They put things we don't understand into a different perspective and enable rapid and great leaps of learning.
Metaphors are how humans generalize our knowledge. If you really know how something works, you should be able to put it into a metaphor. If you don't know how something works, try to put it into a few different metaphors and you might be surprised at what knowledge spills forth.
Looking at a disc dog through racing, riding, and driving lenses allow us to traffic in things that we clearly understand on the roadways, raceways, and TVs in normal human life, and apply them to disc dog freestyle.
This cross population of conceptual ideas is a great way to generalize your knowledge and increase your understanding of the game.
Shooting Starts Next Week After the Heatwave
I'm putting the finishing touches on the outline and script. I've got some set design ideas that are coming together and we're trying to weather this unreal heat and humidity.
Next week is go time for the project.
20 Pre-Orders Available
We're taking 20 pre-orders on this project at this time. Cost will be $25 and you can expect to receive 80-90 minutes of video instruction.
---
Posted from my blog with SteemPress : http://pvybe.com/pvybe-press/disc-dog-0-60-how-to-effectively-drive-your-disc-dog/
---