Titus Tunnel And Cradle Cave - Hatay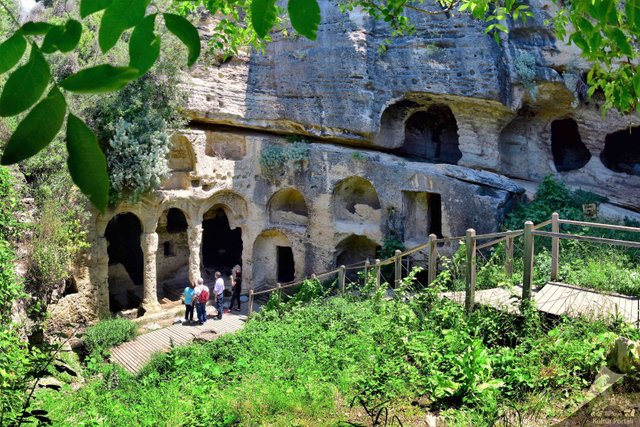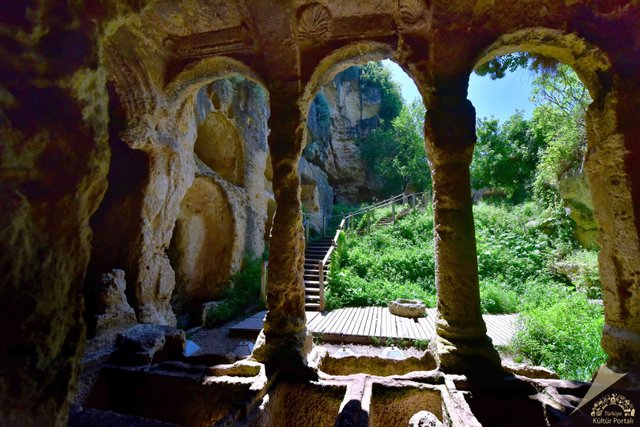 The tunnel, located near the Cevlik Ruin in Samandağ District of Hatay, was built in the 1st century BC. In order to protect against life-threatening floods and floods by descending from the mountains, the Roman Emperor Vespasian ordered the construction of a tunnel that would circulate the city, thus changing the direction of the currents. Construction started in A.S.69 and completed by his successor and son Titus in A.D.81.
Roman legions and slaves worked in the construction of the tunnel. The tunnel completely carved into the mountain is one thousand meters long, 7 meters high and 6 meters wide. Beşikli Cave, which is 100 meters far from the entrance of the tunnel on the sea side, is one of the largest and most famous of the rock tombs and there are twelve graves in sections. The graves are separated from each other by walls. These stone tombs are in sections connected by stone columns and arches, and they are descended from the top down with stone stairs. Columns, column headings, steps and partially ornamental motifs in the sections where the doors are opened by carving the rocks are made in accordance with the originals.
How to get to the Titus Tunnel?
Titus Tunnel, which is 5 kilometers away from Samandag District, can be reached by shuttles departing from Samandag. Those who go by private vehicle can reach by following the direction signs. Seleucia Pieria, an important ancient port city, can also be seen.
Titus Tunnel Visiting Hours Summer Period: 08: 30-19: 00 (15 April-2 October)
Titus Tunnel Visiting Hours Winter Period: 08: 30-17: 00 (3 October-14 April)
Titus Tunnel Holiday Days: It is open to visitors every day.