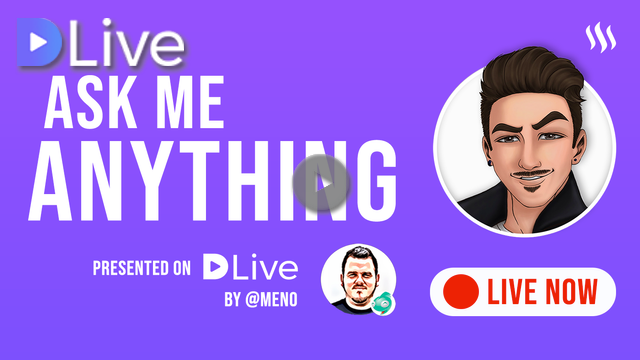 The recording of our AMA livestream is available on dlive with a click on the thumbnail.
---
Timestamps
| Question | From | Timestamp |
| --- | --- | --- |
| What's your Real Life Job ? | @rivalzzz | 12:00 |
| If you could change one thing on Steemit, what would it be. | @cryptoandcoffee | 18:48 |
| What is your main goal as a witness in 2018? By the end of this year, what do you want to achieve and how it will help STEEM Blockchain? | @hungryhustle | 26:00 |
| If you misplace master password you are done for? | @franciferrer | 31:30 |
| WOLF, as being a witness, what do you think - WHEN we will get Steem's HF20? | @onealfa | 41:35 |
| You keep a very very small feed. Do you ever surf around your feed or discover new content or curate manually out of it or smartsteem? | @yidneth | 46:40 |
| Recently we are seeing lots of DApps created on the Steem blockchain that mimics popular platform on the internet. Eg, Steemhunt (Product hunt), Musing.io (Quora), Tasteem (Tripadvisor sort of). Do you think these DApps have the potential to attract more users? Do you think they bring value to Steem and Steemians? Steemmonsters is probably the DApp that has the most potential imo. | @jrvacation | 54:00 |
| Recently, some stakeholders have talked about selling their witness votes as a service. As a witness yourself and also the runner of a vote-selling service, what do you think would be the pros and cons for Steem if this becomes normal? | @fredrikaa | 1:00:20 |
| Time freezes for everyone but you for one day. What do you do? | @carrieallen | 1:09:10 |
| Do you support merging promoted content into the tag specific pages, including trending and hot? For example, every fifth post or so would get a special outline and place on the page based on amount of SBD burned. | @clayboyn | 1:14:35 |
| If we have an idea for an app that could use steem or future SMT, what is the best way to approach a develop | @ankapolo | 1:29:20 |
| What will happen if Ned wakes up one day and feel he is done with steemit? | @focusnow | 1:33:30 |
| What will you do about whales that abuse the platform and its users? I am talking about the Ranchorelaxo and Haejin self voting scam that allows this user to get rewards far above what other similar content is getting. If the community tries to flag this content, he tries to destroy their accounts with retaliation flags. | @kabir88 | 1:39:30 |
| I have a question @meno how big of a roll do you think the discord is going to play in the steemit experience? it seems hard without… | @vladivostok | 1:52:40 |
| Where do you see Smart Steem in 1 year? | @lunaticpandora | 1:58:20 |
| BONUS | @therealwolf | 2:02:55 |
---
Resume
I want to thank every single one of our viewers, commentators and question-makers for helping us create such an amazing event!
@Meno and I had so much fun talking for 2 full hours about our beloved Steem blockchain.
If you're not sure what the livestream was about - check out this recent post: Ask Me Anything - Wednesday 8th August 7PM UTC with @meno on dlive.
We will let you know once we've decided on another event, as a few questions were left unanswered.
But we will be back on dlive .. for sure!
Your witness,
@therealwolf
---
Making Steem Greater


Projects developed by @therealwolf for Steem

---
---
Do you share my vision for Steem? Let's work together to achieve it!
---
You can vote for me at https://steemit.com/~witnesses.
Or you can simply use steemconnect to vote for me or to set me as a proxy.
A big and sincere Thank you to all of those who support my efforts!