After two years of living in Berlin, @things still hadn't seen the Brandenburger Tor
So it was about time she did.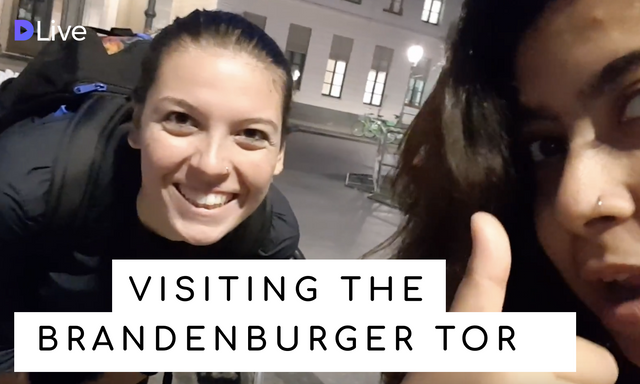 The Brandenburg Gate (German: Brandenburger Tor) is an 18th-century neoclassical monument in Berlin, built on the orders of Prussian king Frederick William II after the (temporarily) successful restoration of order during the early Batavian Revolution.[1] One of the best-known landmarks of Germany, it was built on the site of a former city gate that marked the start of the road from Berlin to the town of Brandenburg an der Havel, which used to be capital of the Margraviate of Brandenburg. - Wikipedia
After we had a nice dinner in the neighborhood, we decided to move onto one of Berlin's landmarks. Due to the World Cup, yes, this video is a bit old :(, there was a lot shut off, hidden or restricted due to the Fanmeile.
Eventhough we couldn't find the reason behind the name of Pariserplatz, Wikipedia did have the answer to our question.
Pariser Platz is the square immediately behind the Brandenburg Gate when approaching the centre of Berlin from the Tiergarten in the west. The neo-classical Brandenburg Gate was completed in the early 1790s by Carl Gotthard Langhans. Until 1814 the square was known simply as Quarré or Viereck (the Square). In March 1814, when Prussian troops along with the other Allies captured Paris after the overthrow of Napoleon, it was renamed Pariser Platz to mark this triumph. - Wikipedia
Either way, it was fun to shoot the video, so enjoy!


Track your followers with SPECTACLES



My name is Shannon, I am a digital designer. Born and raised in Amsterdam, living in Berlin. I write about travel, Steemit, design, food, life and any thoughts I have!

My video is at DLive