LOA Club Week 8 - Spirit Science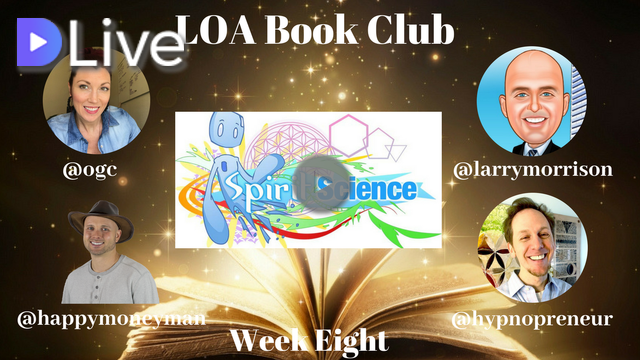 A handful of amazing Steem Creators got together to read and discuss books and videos based around the Law of Attraction.
I am a little behind in posting so this comes from our eighth week when we watched the first 10 episodes of Spirit Science on YouTube. It is a condensed explaining of the basics and some advanced techniques, modalities, and concepts of spirituality. Very fascinating!
The group this week is comprised of some amazing human beings that you will be delighted to hear from. First, Carly @ogc, she has been involved and working with personal growth for many years. She has an open mind, an authentic voice, and a unique point of view. Next, Dan Fishman @hypnopreneur. He has practiced expertise on these subjects, a master of NLP, Hypnosis, and self-discovery. He has great insight into what blocks most of us from living the life of your dreams. Lastly, me @larrymorrison, who is also an entrepreneur and helper of humanity. I have been writing and speaking almost exclusively about the Law of Attraction on the Steemit Platform and attempt to make talking about these concepts easy and fun.
During the discussion, we talk about being aware of what we are putting out in the Universe with what is coming out of our mouths, being harmony with nature, loving what is, using law of attraction with others, realizing that we are spiritual and the spirit is helping you manifest. Please join us and listen in
Want to give a special thanks to IJ @steemcafe for putting on the Steem Creators Conference where most of us met.
Please join us for the next conference in Toronto only a few weeks away, steemcreators.com or click the banner below
My video is at DLive