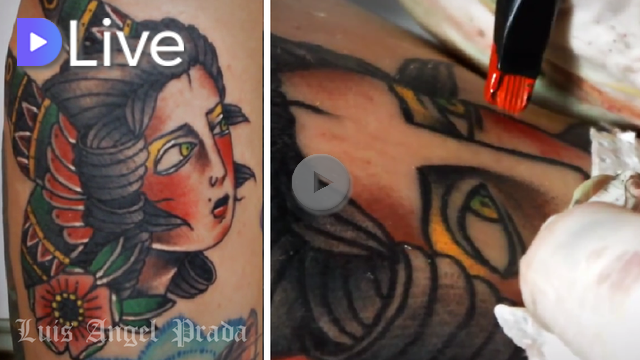 Hada, Tatuaje Tradicional.
En esta oportunidad, les presento un trabajo audiovisual que realicé en el año 2015 para mi gran amigo y mentor en el mundo del tatuaje Luis Angel Prada, persona de quien he aprendido mucho.

A mediados de el año 2012 fui contratado en una empresa de audiovisuales, lugar donde aprendí a trabajar con cámaras, programas de edición y post-producción de video, al igual que programas de render 3D.
Luego de más de 2 años trabajando allí, decidí renunciar y emprender mi camino como artista y creador independiente, enfocándome en lanzar mi marca personal Damadlanoche y con la meta de adentrarme en el mundo del tatuaje para poder llevar mis ilustraciones a una nueva superficie; hasta los momentos, la más osada para mí, la piel de mis clientes.
Los procesos de cambio no siempre son rápidos, así que mientras me adaptaba a esta nueva forma de ganarme el pan, tuve la oportunidad de realizar diversos trabajos que me ayudaron a sobrellevar el momento y a su vez aprender y pulir cada una de mis habilidades, proceso con el cual continuo día a día.


Realicé varios trabajos audiovisuales de forma independiente bajo el nombre de Deathcam, como pueden ver al inicio del vídeo. Espero compartir con ustedes todo este material y por supuesto nuevas cosas.
En el vídeo, pueden apreciar el proceso para realizar un tatuaje tradicional, desde la creación del stencil hasta el resultado final del tatuaje con un diseño original creado por el artista del tatuaje: Luis Angel Prada. Un paseo visual entretenido y acompañado del tema musical Mediation creado por S.A.L.A.S, músico originario de el Edo Táchira -Venezuela, al igual que Luis Angel Prada, mi persona y los demás que participaron en esta creación.
---
Artista del Tatuaje.
Luis Angel Prada.
Instagram
Cámara.
Jorge Arellano / Ricardo Gil.
Edición.
Jorge Arellano.
Agradecimientos especiales a:
S.A.L.A.S
Por permitirnos usar su tema musical para complementar nuestro trabajo audiovisual.
Escucha más de su trabajo directamente en Soundcloud.
---
Siempre he tenido la oportunidad de trabajar con amigos en proyectos que nutren y desarrollan nuevas habilidades, desgraciadamente casi todos ahora están lejos; aún así, sé que pronto nos reuniremos para seguir creando y trayendo más arte en conjunto al mundo que tanto la necesita, mientras tanto cada uno lo hace por su lado.
Gracias por disfrutar.
San Cristóbal, Táchira Venezuela.

Este vídeo fue realizado en el año 2015, usando una cámara Fujifilm Fine Pix HSR y una Go Pro Hero 3. Editado en Adobe Premiere.
Puedes también verlo enYoutube.
Traditional Tattoo, Fairy.
On this occasion, I present an audiovisual work that I made in 2015 for my great friend and mentor in the world of tattooing Luis Angel Prada, a person from whom I've learned a lot.

In the middle of the year 2012, I started working in an audiovisual company, where I learned to work with cameras, video editing and post-production software, as well as 3D rendering software.
After more than 2 years working there, I decided to quit and start my journey as an artist and independent creator, focusing on the creation of my personal brand Damadlanoche, and with my eyes set on entering the world of tattooing in order to take my illustrations to a new canvas, until now the most daring for me, the skin of my clients.
The processes of change are not always quick, so while I was adapting to this new way of earning my living, I had the opportunity to do various jobs that helped me to cope with the moment and in turn learn and polish each of my skills, a process with which I continue day by day.

I made several independent audiovisual works under the name of Deathcam, as you can see at the beginning of the video; I hope to share with you all this material and of course some new things.
In the Video, you can appreciate the process to make a traditional tattoo, from the creation of the stencil to the final result of the tattoo with an original design created by the tattoo artist Luis Angel Prada. An entertaining visual tour accompanied by the musical theme Mediation created by S.A.L.A.S., a musician from Edo Táchira -Venezuela, like Luis Angel Prada, myself and the others who participated in this creation.
---
Tattoo artist.
Luis Angel Prada.
Instagram
Camera.
Jorge Arellano / Ricardo Gil.
Editing.
Jorge Arellano.
Special thanks to:
S.A.L.A.S.
For allowing us to use hi's musical theme to complement our audiovisual work.
Listen more about his work in Soundcloud.
---
I've always had the opportunity to work with friends on projects that nurture and develop new skills, unfortunately almost all of them are now far away, even though I know that we will soon be together to continue creating and bringing more art together to the world that so desperately needs it.
Thank you for enjoying.
San Cristóbal, Táchira Venezuela.

This video was made in the year 2015, using a Fujifilm Fine Pix HSR camera and a Go Pro Hero 3. Edited in Adobe Premiere.
You can also watch it on Youtube.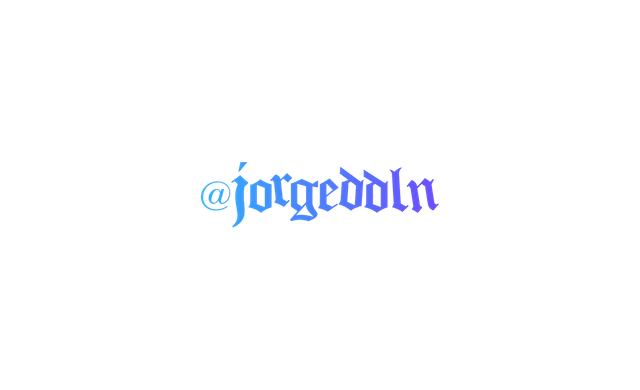 My video is at DLive