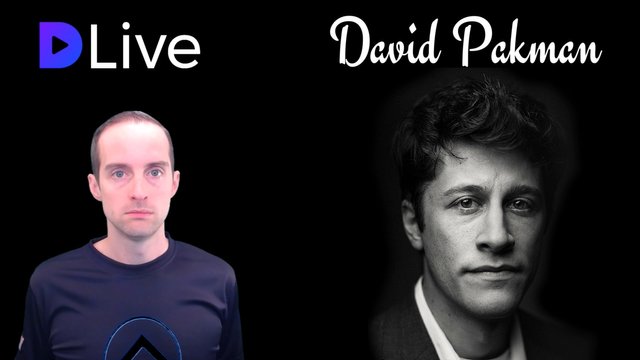 Will we welcome international syndicated radio show talk show host David Pakman to @dlive because David is one of the first with an established audience as seen at https://busy.org/@davidpakman/ to make Steem a priority?
On a recent post at https://busy.org/@davidpakman/wci0upso, David shows us how he is promoting Steem to 200 radio and television stations around the US, a nightly broadcast on DirecTV and DISH Network (satellite TV), his podcast, and his YouTube channel with nearly 450,000 subscribers! Promotions like this will bring Steem new users indefinitely as a David's most loyal followers continue signing up, following David on Steem, and referring friends!
Get to know David better at:
Website: https://davidpakman.com/
YouTube: https://www.youtube.com/channel/UCvixJtaXuNdMPUGdOPcY8Ag
Facebook: https://www.facebook.com/davidpakmanshow
Twitter: https://twitter.com/davidpakmanshow
Podcast on iTunes: https://itunes.apple.com/podcast/the-david-pakman-show
David was also kind enough to add me to his witness votes and explain why at https://busy.org/@davidpakman/i-m-voting-for-my-6th-witness-and-it-s-jerrybanfield.
We are doing this interview today because David wanted to follow up after our previous interviews with each other as seen at:
Steemit/dTube EXCLUSIVE: Witness @jerrybanfield talks curation, new users, more at https://busy.org/@davidpakman/3ewev3zu
David Pakman's Journey from Radio to Steem at https://busy.org/@jerrybanfield/g61j94ug
With the growth of @dlive and the power of live streaming, I thought today would be a nice time to introduce David to https://www.dlive.io where we can all live stream on Steem! I will answer any questions David has for me, respond to comments live, and ask David a few questions I have for him!
David thank you for contributing to Steem each day, adding exclusive vlogs to
, keeping your earnings powered up now with over 5,000 Steem power, and continuing to help us grow each day!
Love,
Jerry Banfield
My live stream is at DLive