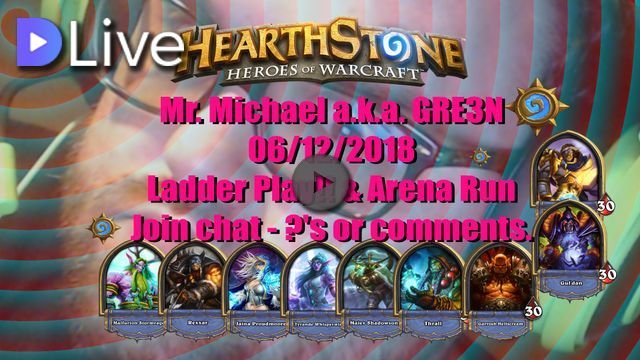 Hello Gamers,
I am back with ALL decks revised to match the current meta, lets rip it up!!
After that...
There is also a special Arena mode going on right now after the ladder run, I am going to draft a deck with my free ticket and give that a shot as well!! Will be a good time, come join the fun!!
Come join chat, ask any HS related questions, or talk about anything you want!! (Please keep it clean.) I'll be in there too as I play HS.
PS I just saw my date was wrong on my last few thumbnails.....lol. Whoops!!
THANK YOU SUPPORTERS!!!!
Everyone who supports my streams & blog will not be forgotten, I have a lot planned, stay tuned!!!! (All proceeds are funding designs, t-shirt creation and art projects.)
Discord:
gre3n#3058 - Feel free to add me as a friend.
My Links:
http://www.steemit.com/@gre3n/
https://www.instagram.com/gre3n/
https://dlive.io/@gre3n/
http://www.mrmichaelsclothing.com
The link above is my online store for my new clothing brand launching soon!! Please check it out, and don't forget to submit your e-mail!!
(Should be launching this week!!!!!!!!!!)
MMC Links:
https://www.facebook.com/mrmichaelsclothing/
https://www.instagram.com/mrmichaelsclothing/
As always,
Work hard, stay humble and Steem & D-Live on!!
My live stream is at DLive