[Changes!] Announcement: Daily Giveaway !! + Stream Schedule of Week 19
So I've decided to try something different this week. I've been blessed with some very active and friendly followers, so I've decided to give back to the community by doing a daily giveaway.
Further down the page, you can also find my weekly streaming schedule of Week 19 (07/05 - 13/05).
Here's how the giveaway works:
Daily 3 SBD Giveaway during livestreams!
The rules of the giveaway are quite simple. During my livestream anyone can earn points by commenting, following me and resteeming the livestream. The more points you get, the bigger your chance of winning the 3 SBD price!
How to earn points:
Comment on livestream: 1 pt. per comment*
Upvote: 5 pt.
Follow me: 5 pt. bonus (existing followers who comment on the livestream, also get this bonus)
Resteem the livestream: 10 pt. bonus
Spammers will be penalized with downvotes and won't be able to enter giveaway.
After the stream ends, I will add up all these points per user and let a random number generator decide who gets the price. The winner will be announced in the comments of the livestream and I will send the price asap.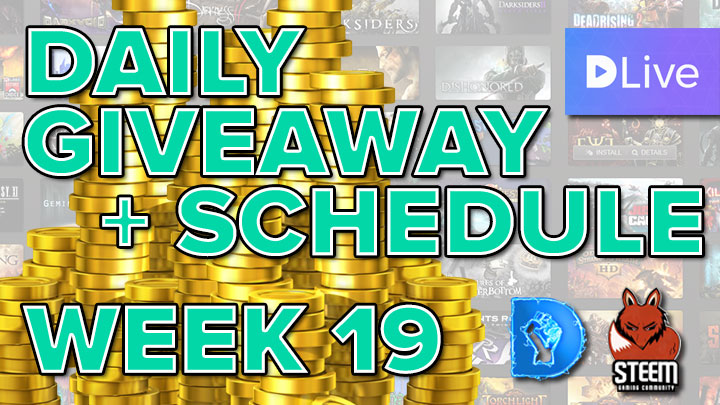 Stream Schedule Week 19
This is the stream schedule for week 19 (7h of May- 13th of May). All times are CET or UTC+1:
07/05: Total War Saga: Thrones of Britannia (21:00-23:00)
08/05: Pillars of Eternity 2 (20:00-22:00)
09/05: Dark Souls 3 DLC (12:30-14:30)
10/05: No stream (cancelled due to family business)
11/05: Oxygen Not Included (14:30-16:30)
12/05: No stream
13/05: Darwin Project (TBD)
And last, but not least, a big shoutout to the SteemGC and DUnite communities. If you want to meet fellow Steemit gamers, make sure to check out the SteemGC Discord channel or DUnite Discord channel!