On Topic with Ebon | Open Topic (Anything Goes) 09/22/2018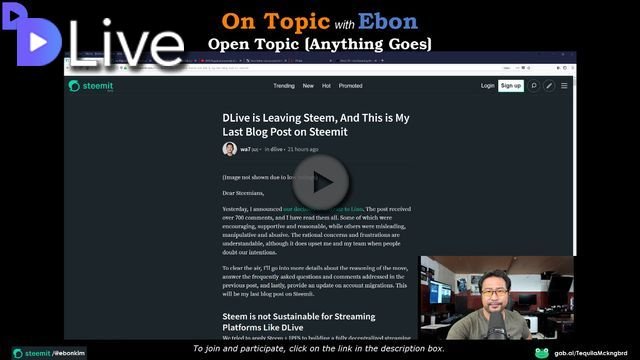 On Topic with Ebon | Open Topic (Anything Goes) 09/22/2018
Join from PC, Mac, Linux, iOS or Android: https://zoom.us/j/539447670
Or iPhone one-tap:
US: +16465588656,,539447670# or +16699006833,,539447670#
Or Telephone:
Dial(for higher quality, dial a number based on your current location):
US: +1 646 558 8656 or +1 669 900 6833
Meeting ID: 539 447 670
International numbers available: https://zoom.us/u/ac0mIYc0UG
YouTube is cutting off my livestream uploads. Livestreams are now only going through DLive. You can still watch from YouTube, but you won't be able to Live Chat.
The link to my DLive channel is here:
https://dlive.io/@ebonkim
---
I have been spending a lot of time on activism, and I'm working on software on the side. If you can do so, please donate what you can so I can continue doing what I am doing without interruption. Thank you!
Ebon's Patreon Page:
https://www.patreon.com/EbonKim
Donate to Ebon via Cryptocurrency (VTC is my coin of choice for now):
Bitcoin - 1ApKJB4QqnpkEfcf3eFs4N7aZAXx7wMsa8
Vertcoin - VukY5pQ9rt9VX8yj5xTs598nzGzJtYWyWn
Contact me via e-mail: [email protected]
Please subscribe and follow me on my main and back-up YouTube channels for my livestreams:
Ebon Kim:
https://www.youtube.com/user/ebonkim/videos
Tequila Mockingbird:
https://www.youtube.com/channel/UCnjuqVOyDwc8N7v5ALLmhLQ/videos
I will also be using DLive for livestreaming and uploading, as well as uploading to this account for any livestreams on my other channel.
Steemit:
https://steemit.com/@ebonkim
DLive:
https://dlive.io/@ebonkim
DTube: