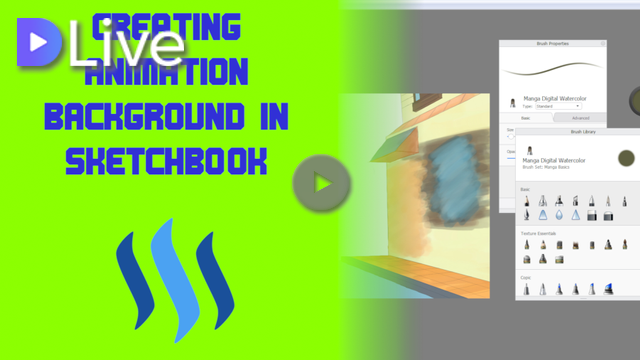 3 dni temu gadałem trochę o fanfikach, które czytałem - Może coś mi do głowy dzisiaj również przyjdzie, kto wie? Ale ogólnie, chciałbym dzisiaj skończyć malowanie pierwszego planu i przejść do (myślę, że mniej ciężkiego) drugiego, trzeciego i czwartego.
Jeżeli ktoś jest chętny, to, jak wspominałem, mogę przejść do medibang paint pro/ Jump Paint i wtedy mógłbym założyć projekt w chmurze, gdzie mógłbym podzielić dane aspekty projektu na każdą z chętnych osób. Ale, jak już mówiłem, zostawiam wam to do waszej dyspozycji.
Aha, i jeszcze jedno: przedwczoraj Zsynchronizował mi się już portfel Potcoin (3 dni temu pod koniec streama zostało mu "11 tygodni do końca") więc , więc jego adres trafia do AKTUALNYCH ADRESÓW PORTFELI KRYPTOWALUT
A tymczasem Stay Tuned i zapraszam na Streama z malowania :).
ENGLISH:
Few days ago I talked a bit about the fanfics I read (In Polish Only, sorry) - maybe something new will also come to my mind today, who knows? But in general, I would like to finish painting the foreground today and move on to (I think less heavy) mid and background.
If someone is interested, I can switch to medibang paint pro/Jump Paint, as I said, and then I could create a cloud project, where I could divide the aspects of the project into each of the interested people. But, as I said before, I leave the idea of the "Cloud Project" in your hands.
Ah, and one more thing: 2 days ago my Potcoin fully synchronized itself (yesterday at the end of the stream it was "11 weeks to the end"), so his address goes to Current Cryptos Wallets addresses.
So stay tuned and watch my stream :)
---
AKTUALNE ADRESY PORTFELI KRYPTO/ CURRENT CRYPTOS WALLETS ADDRESSES:
BTC:1J3JBraDQEPqwV29dSYMGqiBWJ9zqWUh7
ETH:0x77aEbde9ca513deCefb5A9e04584a421DC9304E8
DASH: XmW6TsX9KmegWPEHndDtZJG6w8yGQrytbV
ETC:0xcF94ef71b904bC1e247226c3Ae5eff4ce18F7763
ZEC:t1STGMLpjoLin6Pit3qMDXoR71vtZgRfrwW
STRAT:SWUm9v7aVspu6ph4qVeYbtgiawar3NgSLr
*POTCOIN: PHPSjPnJLoToatkx7nAqBvcHP8D39keYwH
My live stream is at DLive