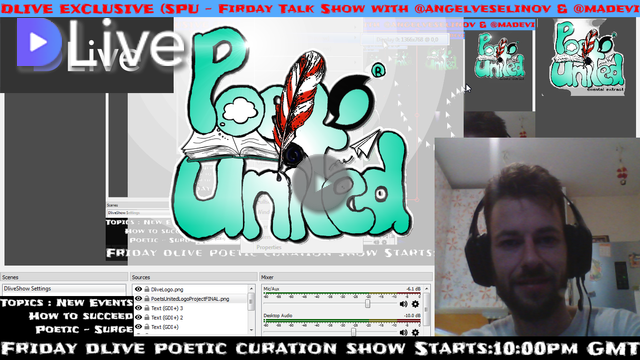 Hey All Welcome To Another Live Edition #30
Me , @madevi and @trumanity will be leading the charge today. We will have another great episode here is the agenda :
We will be having our End of The Month Give-A-Way. So come participate one Basic Subscription Pack is waiting for one of the participants in our Discord Server.
News about progress of the witness and explaining some of the future plans and where the money from the blocks will go.
There will be some awesome music from some great steemians ...
Also we will be talking about requirements for the Active Poet Role ... Which will now grant you permission to apply for Subscription Pack
Expect as well me to read some poetry probably some of mine lolz :)
Well don't waste anymore time hop in the show and say Hi we are waiting on ya. :)
Update on how 180 days of poetry is going
God Bless. Peace and Love.
My live stream is at DLive