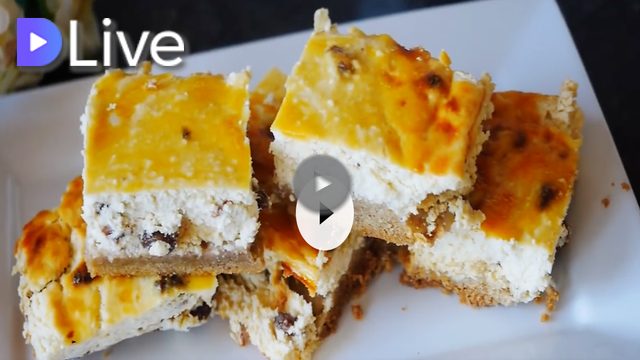 Biezpienmaize, is Latvian Cheesecake. It is sold everywhere from tiny shops, to local supermarkets. Usually it would contain raisins and would be served cut in rectangles.
You get it in various forms and shapes. It is literally one of my favourite cakes in the world. I remember having it in school when I was little, as it was a great snack and tasted so good. This is a home made version and I had loads of requests about making more Latvian Traditional Dishes.
Essentially biezpienmaize is a baked cheesecake, however, the dough for the base and cottage cheese for the topping gives it more homely and down to earth feel. This recipe has been tested several times, using various types of bases and toppings.
Ingredients
For the pastry
280 gr of plain flour
160 gr of cold butter
1 egg
120 gr of sugar
1 tbsp of cinnamon
1 tsp of baking soda
For the filling
1200 gr of dry cottage cheese ( has to be dry - you can potentially use farmers cheese, but ideally cottage cheese that is grainy)
6 eggs ( separated, leave 2 egg yolks for covering the cake)
30 gr of plain flour
260 gr of sugar
60 gr of softened butter
1 tsp of vanilla extract
100 gr of raisins/ sultanas
Pinch of salt
Directions
Step 1: In a food processor add four, cinnamon, soda, sugar and your cold cubed butter. Blitz until you get crumbs. Add egg and blitz again, then transform a ball from the dough, wrap it in cling film and place in a fridge to rest for 30 min.
Step 2: Add hot water to your raisins and leave it for 10 min to soak.
Step 3 : Separate your eggs into yolks and egg whites. Leave two egg yolks to cover the cheesecake at the end. In a bowl add 4 egg yolks, then sugar and softened butter. Whisk until smooth, then add cottage cheese and keep whisking until the mass becomes smooth. Add vanilla extract and mix again.
Step 4 : Drain the raisins, then dip them in flour to coat them around and add them into the cottage cheese mixture. In a separate bowl add all the egg whites and pinch of salt and whisk until soft peaks start to form.
Step 5 : Then mix everything together and combine the egg whites with cottage cheese mixture, you should use a large bowl as its a lot of mixture.
Step 6 : Take your dough and spread evenly in the baking dish. I am using a standard lasagna dish. the base will be quite thick. Add the cottage cheese filling and spread in evenly. Then use egg wash and cover the cake all over.
Step 7 : Then bake it for 45-50 minutes at 180 C / 350 F until its golden and ready.
Step 8 : Best cheesecake is when its left overnight. If you can wait that long, wrap the cake in clingfilm and leave until next day, it will be moist, and soft and very delicious. I like to serve it with strawberry coulis but you can eat it just like that with tea or coffee. Enjoy!
My video is at DLive