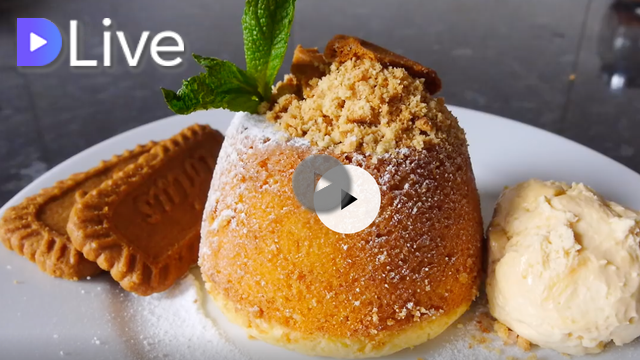 If you're not familiar with cookie butter, you're missing out.You already love lava cakes. Rich cookie butter oozes out of this luscious white chocolate lava cakes, topped with caramel cream and you will be in heaven with these Cookie Butter Lava Cakes! With this sweet, spiced version, life is about to get sooo good. It's safe to assume that almost everyone is familiar with chocolate molten lava cakes these days. Support me on Patreon: http://bit.ly/2nCJDhj
The rich chocolaty individual cakes with soft centers have initiated all sorts of spin offs. Moist cake surrounds gooey cinnamon spiced cookie butter lava that flows generously down the center when gently sliced. This indulgent sweet is every bit as good as the original chocolate version
I upload new recipes on youtube every week! Please Subscribe for free and press the bell, so you are notified when I upload new stuff. The link will take you to my channel :http://bit.ly/1HZIKCo
Socialize with me through other media:
Facebook: https://www.facebook.com/AllasYummyFood
Instagram: http://instagram.com/allasyummyfood
Pininterest: http://gb.pinterest.com/allatinn/
Twitter: https://twitter.com/allasyummyfood
Google + : https://plus.google.com/+AllasYummyFood
Snapchat Code : allasyummyfood
Ingredients
1/4 cup OR 50 gr unsalted butter
1 cup OR 100 gr white chocolate
OR 80 gr plain flour
1/2 cup OR 100 gr caster sugar
1/2 tsp vanilla extract
2 eggs
cookie butter ( 1 tsp into each ramekin)
decoration + cookies + caramel whipped cream
Directions
Step 1 : Melt your white chocolate with butter. You can do it in a microwave with 30 second breaks or over the double boiler.
Step 2 : Into a bowl add your eggs,sugar and vanilla extract and mix well.
Step 3 : Then add your white chocolate and then flour. Mix that in.
Step 4 : Butter each ramekin and then add some flour to coat it around.
Step 5 : Pour the mixture into your ramekins about two scoops, then take 1 tsp of cookie butter, roll it around and make a small ball, place inside each mould and cover with more white chocolate mixture. It should be 3/4 full.
Step 6 : Bake your cookie butter lava cakes at 200 C / 400 F for about 15-20 min. This depends on your oven. Make sure you don't overcook them, or you wont have the lava effect.
Step 8 : Add icing sugar, more cookies, and caramel whipped cream.
You can serve with anything you like.
My video is at DLive