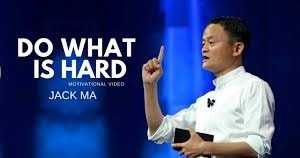 Jack Ma, Alibaba, Applied to Harvard 10 times, Success, Failure
Is life truly fair or unfair? In the film 3Idiots, "Viru", the Director of Imperial College of Engineering (ICE), says "All is fair in love and war". Is it that some pass through bigger problems than others. Jack Ma, the owner of Alibaba passed through a lot to come up with the establishment of the multi billion empire. He started rough, got no job after several applications, applied to Harvard ten times and rejected, yet he found a way out of problems. Let us learn from Jack Ma……..
Introduction
Jack (born 15 October 1964) is a Chinese business magnate, investor, and philanthropist. He is the co-founder and executive chairman of the Alibaba Group, a multinational technology conglomerate.As of August 2018, he is one of China's richest men with a net worth of US$38.6 billion, as well as one of the wealthiest people in the world.
A prominent business figure, Ma is seen as a global ambassador for Chinese business and as such is frequently listed as one of the world's most powerful people by Forbes. In addition, he also serves as a role model for. In 2017, he was ranked 2nd in the annual "World's 50 Greatest Leaders" list by Fortune. On 10 September 2018, he announced that he will retire from Alibaba and pursue educational charity work, effective in 1 year with Daniel Zhang succeeding him as executive chairman.
The beginning
Ma was born on 15 October 1964 in Hangzhou, Zhejiang, China. He began studying English at a young age by conversing with English-speakers at Hangzhou international hotel. He would ride 70 miles on his bicycle to give tourists tours of the area to practice his English for nine years. He became pen pals with one of those foreigners, who nicknamed him "Jack" because he found it hard to pronounce his Chinese name.
Later in his youth, Ma struggled attending college. The Chinese entrance exams are held only once a year and Ma took four years to pass. Ma attended Hangzhou Teacher's Institute (currently known as Hangzhou Normal University) and graduated in 1988 with a B.A. in English. While at school, Ma was head of the student council. After graduation, he became a lecturer in English and International Trade at Hangzhou Dianzi University. He later enrolled at the Beijing-based Cheung Kong Graduate School of Business and graduated in 2006.
Rejection
Ma applied for 30 different jobs and got rejected by all. "I went for a job with the police; they said, 'you're no good,'" Ma told interviewer Charlie Rose. "I even went to KFC when it came to my city. Twenty-four people went for the job. Twenty-three were accepted. I was the only guy...". In addition to this, he applied ten times to Harvard Business School (HBS) and got rejected.
There is a problem around you, solve it
In 1994, Ma heard about the Internet. In early 1995, he went to the US with his friends, who helped introduce him to the Internet. Although he found information related to beer from many countries, he was surprised to find none from China. He also tried to search for general information about China and again was surprised to find none. So he and his friend created an "ugly" website related to China. He launched the website at 9:40 AM, and by 12:30 PM he had received emails from some Chinese investors wishing to know about him. This was when Ma realized that the Internet had something great to offer. In April 1995, Ma, his wife Cathy and a friend raised US$20,000 and started their first company. Their company was dedicated to creating websites for companies and he named it "China Pages".Within three years, the company had made 5,000,000 Chinese Yuan which at the time was equivalent to US$800,000.
Ma began building websites for Chinese companies with the help of friends in the US. He said that "The day we got connected to the Web, I invited friends and TV people over to my house", and on a very slow dial-up connection, "we waited three and a half hours and got half a page", he recalled. "We drank, watched TV and played cards, waiting. But I was so proud. I proved the Internet existed". 
At a conference in 2010, Ma revealed that he has never actually written a line of code nor made one sale to a customer. He acquired a computer for the first time at the age of 33........
Wiki
Source of shared Link
---