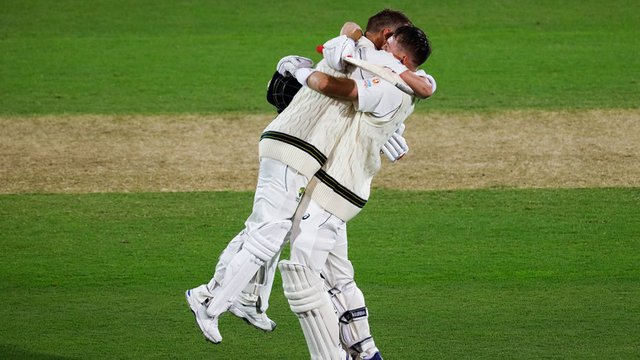 In the Adelaide Test between Pakistan and Australia, the Australian batsmen did not allow the Pakistani bowlers to run, and at the end of the first day they were able to make 302 for one wicket loss.
The second day and night of the 2-Test series between Pakistan and Australia is being played in Adelaide. Australia won the toss and decided to bat first.
Australia started the innings by David Warner and Joey Burns, but on the aggregate score of 8, Joey Burns returned to the pavilion by 4 runs, but then David Warner and Laboussagne threw the bowlers' sixes for the second wicket. No, both batsmen completed their centuries, with David Warner returning at 166 and Labushagen at 126 at the end of the day.
For the second test, the national team has made three changes. Harris Sohail, Imran Khan Sr. and Naseem Shah have been replaced by Imam ul Haq, Mohammad Abbas and Mohammad Musa, who is the winner. Wear a test cap.
It is clear that Australia have a 0-1 lead in the two-Test series.
Shared On DLIKE
---