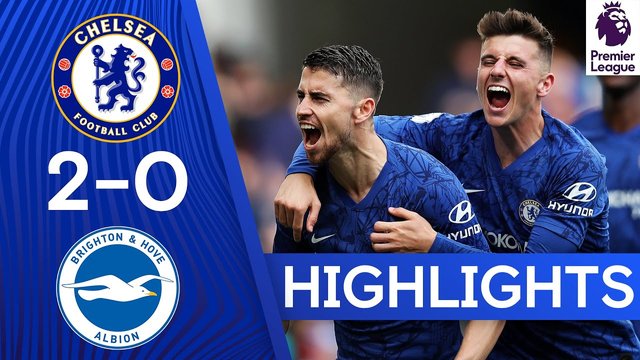 The Blues Chelsea kembali meraih hasil positif dalam lanjutan Primier League Inggris pekan ini, Chelsea berhasil mengalahkan Brighton Albion dengan skor 2-0, 28/9/2019.
Bermain di Stamford Bridge Stadium anak asuhan Frank Lampard mendominasi permainan sejak menit awal babak pertama, beberapa peluang emas yang diperoleh T. Abraham, Williams, dan Pedro gagal menghasilkan gol. Hal yang sama juga terjadi dipihak tamu, sejumlah peluang yang diperoleh N. Maupay dan P. Gross gagal menghasilkan gol sehingga babak pertama skor imbang 0-0 bertahan hingga turun minum.
Memasuki babak kedua, The Blues Chelsea tidak menurunkan tensi permainan, hal hasil dimenit 50 Chelsea mendapatkan hadiah penalti setelah Brakley dijatuhkan dikotak terlarang oleh bek lawan. Jorginho yang dipercaya Lampard sebagai sang eksekutor sukses melakukan tugasnya dengan baik, Chelsea unggul 1-0 untuk sementara.
Tertinggal satu gol, Brigthon Albion mengembangkan permainan dan terus menerus menekan pertahanan Chelsea, rapatnya barisan The Blues yang dikawal oleh Cristianssen dan F. Tomori membuat tim tamu sulit untuk menciptakan peluang dan gol.
Williams justru mampu mengunci kemenangan The Blues menajdi 2-0, lewat keahliannya menggiring bola, pemain asal Brasil tersebut berhasil melewati dua pemain lawan sebelum melesatkan tendangan keras ke gawang Brighton Albion yang dijaga oleh kiper M. Ryan pada menit 76 babak kedua.
Dengan kemenangan 2-0 tersebut Chelsea mampu meraih poin sempurna dan untuk sementara waktu berada diperingkat ke enam klasemen Liga Premier Inggris untuk sementara waktu.
Source of shared Link
---