Do you have a dirt space that needs beautifying?
Have you always wanted a fairy garden, but don't have the money to spend hundreds on expensive fairy kits?
Have I got good news for you!!!
I created an awesome fairy garden for less than $50 and with the help of my adorable littles! And you can too!
First, figure out where you are going to have the garden! I chose a little side area by my house where the grass is constantly overgrown, but is patchy and dirt-filled as well!
I also have this fugly palm tree that I hate, so I painted on it and hung a chicken coop door as a "fairy entrance" to the garden!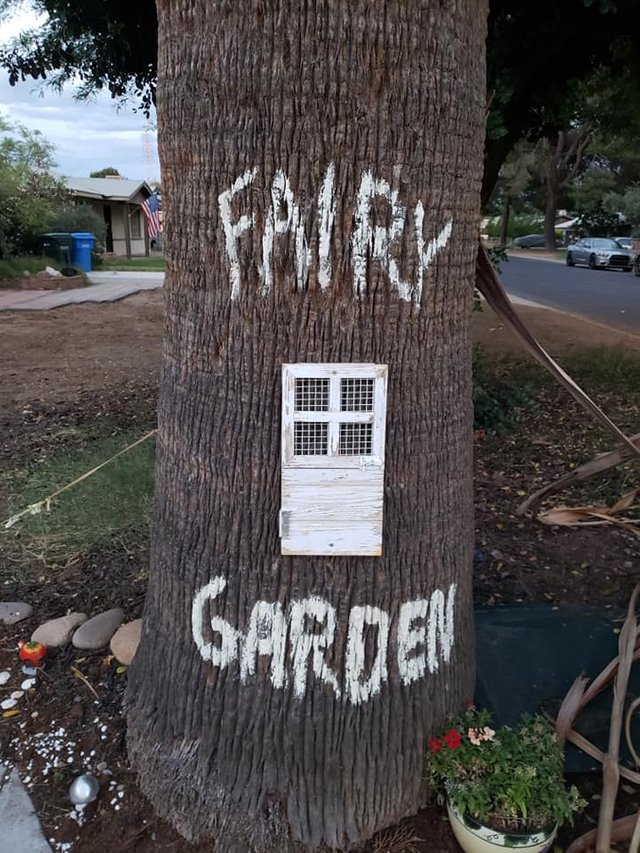 I also splurged on some flowers to add a nice little pop of color!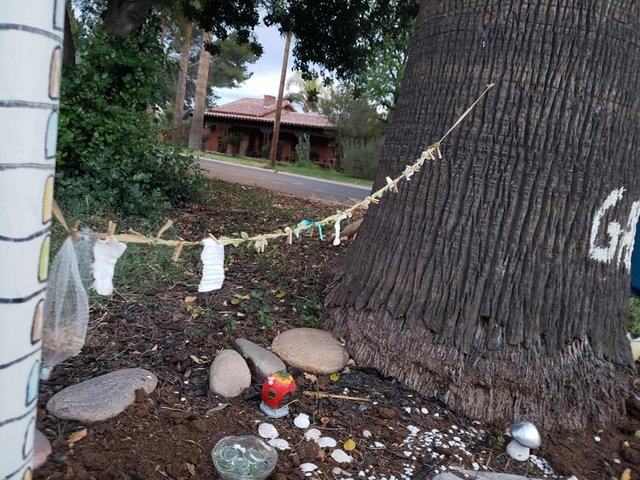 Next, I hung up a thick piece of cording and drilled it into the side of the palm tree. This acts as the fairy clothes line. I found a bag of tiny clothespins at Dollar Tree, and used an old rag to cut out pieces out for fairy clothing. (Oh and do you see the mushroom and strawberry houses? I found those at Dollar Tree as well!)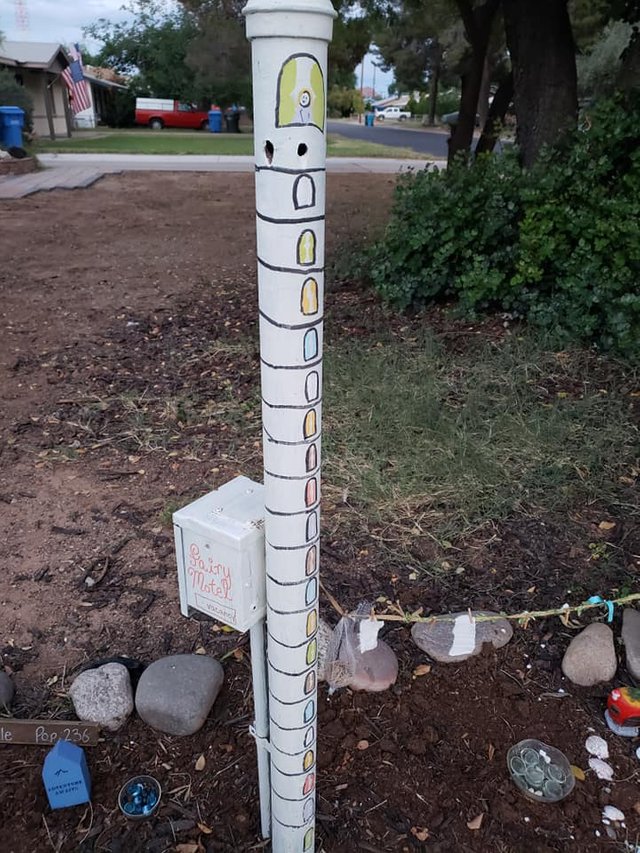 This pole was a nasty looking metal electrical pole that had an RV plug attachment. I couldn't get rid of it, so I decided to paint it! I painted a dozen or so mini windows and made it into a fairy motel! You could easily do this too, with a wooden dowel or metal pole of your own!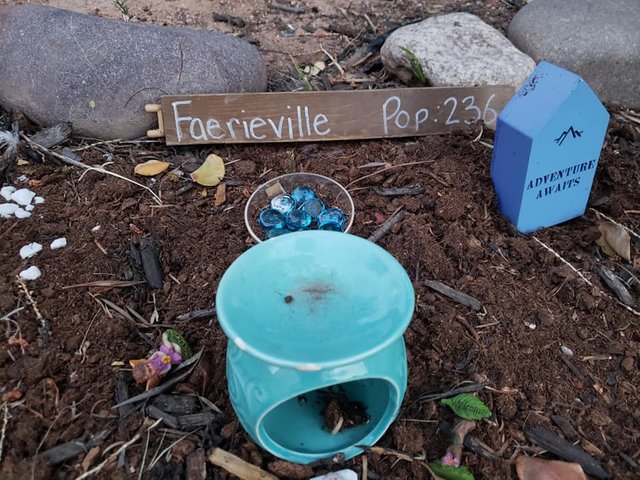 I had a small piece of wood from a past project that I used as a Population sign! (And also, this wasn't painted but I used chalk markers! They are divine and I HIGHLY recommend them!) We also wanted little pools and more houses, so for variety, we took a walk down the candle aisle of Dollar Tree and bought some candle holders which just happened to also look like mini houses. We also bought some blue pebbles and 4 packs of tiny plastic bowls for the pools!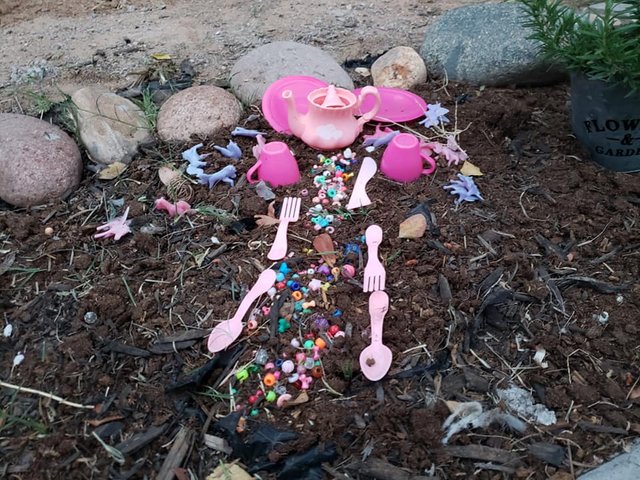 What would a fairy garden be without fun though?!? My daughter insisted I buy this princess tea cup set at Dollar Tree, and we found a GREAT use for it! The tea pot worked swimmingly well for a main house, with the cups serving as adorable parapets and the flatware as a pathway! (We also used a pack of plastic horses and beads for other decoration! Which was yes, also from Dollar Tree!)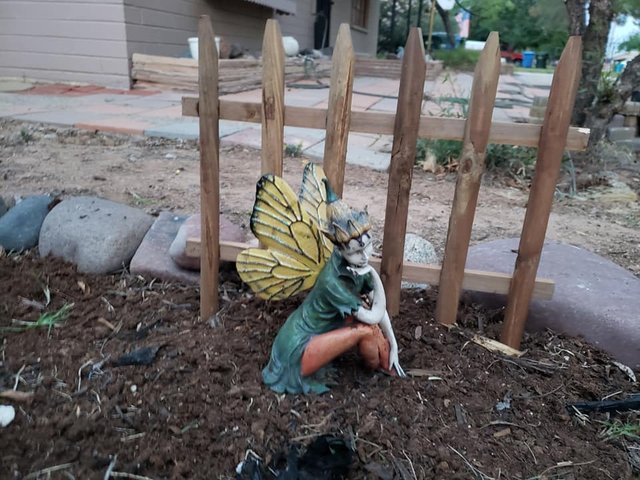 This fairy was BEAUTIFUL and I found it at a yard sale for 2 bucks! The little fence piece behind it I found at the 99 cents only store!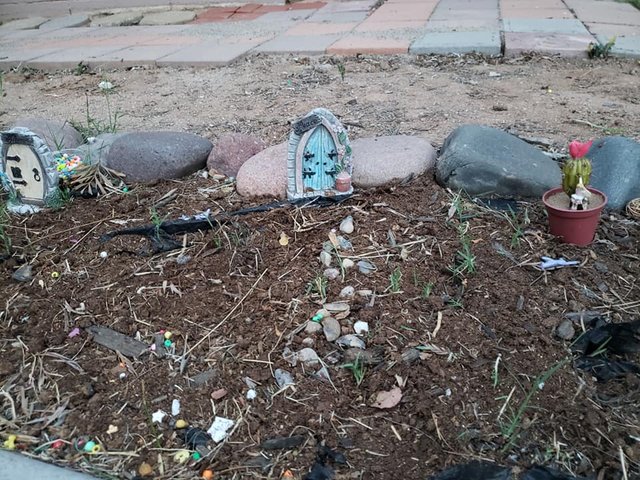 More Dollar Tree decor and small rocks we found for more walkways!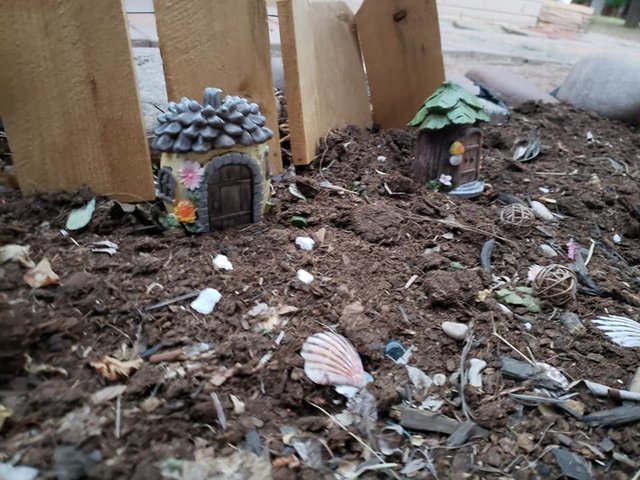 A few more fairy houses from Dollar Tree and a bag of shells that we also got from there that we used for walkway decor.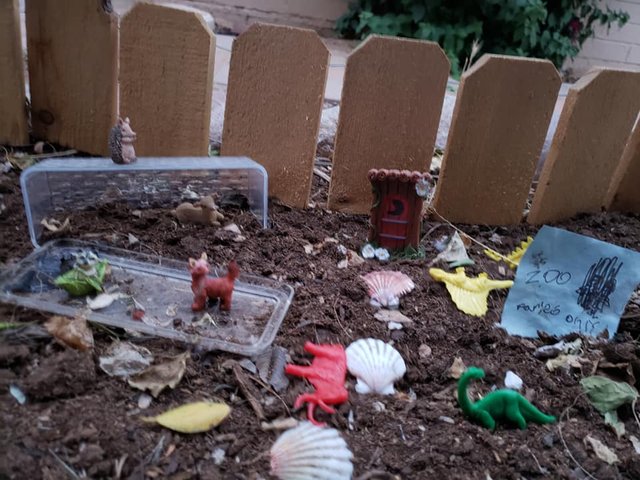 My son wanted to get in on the action too so he convinced me to buy a pack of dinosaurs at Dollar Tree! My daughter also came up with the brilliant idea of buying a cheap plastic butter dish and using it to "cage" the little woodland animals we found. She made a Fairy Zoo from the idea. (We also found a Fairy Privy at Dollar Tree, how cute is that?)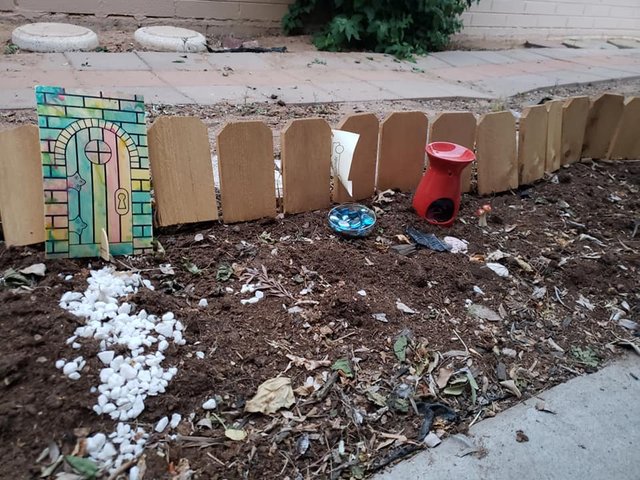 One last picture of the fairy garden and more ideas you can use! We also bought a bag of white rocks to use for pathways, more candleholders for homes and they had these adorable DIY paintable fairy doors!
So, lesson learned: Dollar Tree is where it's at yo! We purchased nearly everything we needed there! We also used our imaginations and art to make an adorable and cozy little fairy garden!
Fairy on, friends!
xx - Lady Steem