Definiere (The cats teaching you the meaning of some words and phrases in German)
"Man in the middel attack"
Okay, nicht wirklich Deutsch, aber "Lupi" wusste sicher nicht, welches Kopfzerbrechen sie mir damit bereiten würde. Sie wollte das Ding vermutlich einfach nur schnellstens "hacken". Inzwischen ist das Kabel isoliert und auf dem Notebook läuft halbwegs stabil unser Steemit und Discord Bot. In der Tat auch über dieses Netzwerkkabel.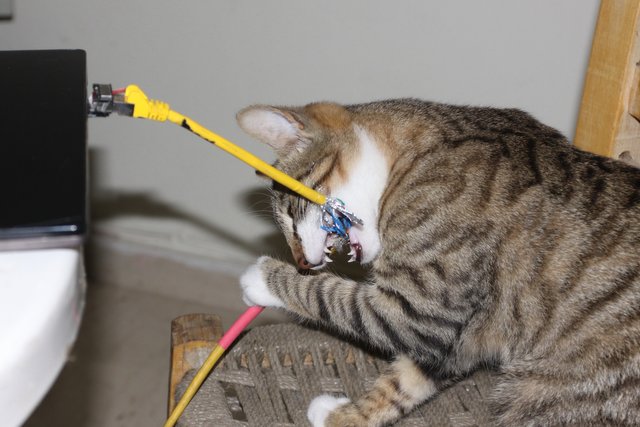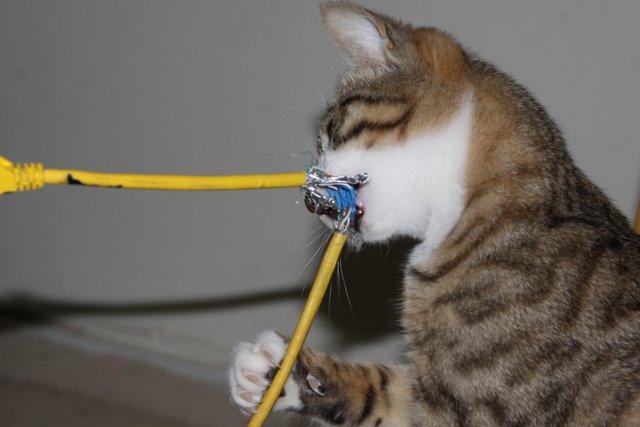 "Baby-Boom"
Diese Geschichte hatte ich ja bereits erzählt. Oh Mann.. FÜNF. Und der Arzt für die Kastrationen war hier und hatte alles vorbereitet. Nicht EINE lies sich einfangen. Kleine Sünden straft der Herr sofort?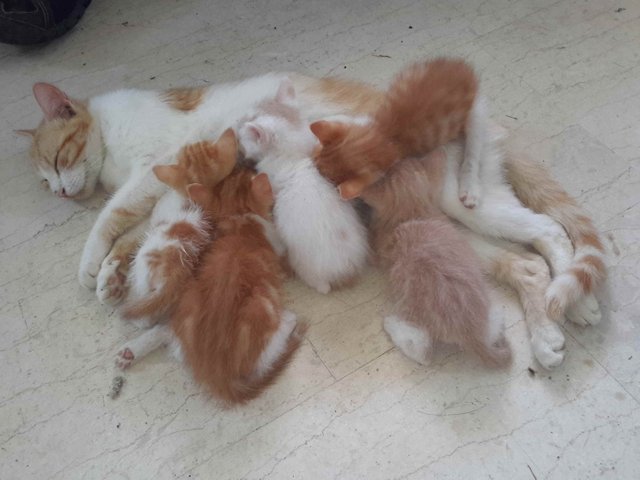 "Pantoffelhelden"
Zwei aus dem Wurf darüber... Alle im Freien geborenen Kätzchen waren beängstigend schwach und hatten entzündete (ja, es heißt ENTZÜNDET und verdammt nochmal NICHT "entzunden") Augen. Habe sie so gut es geht mit Mercuchrom behandelt.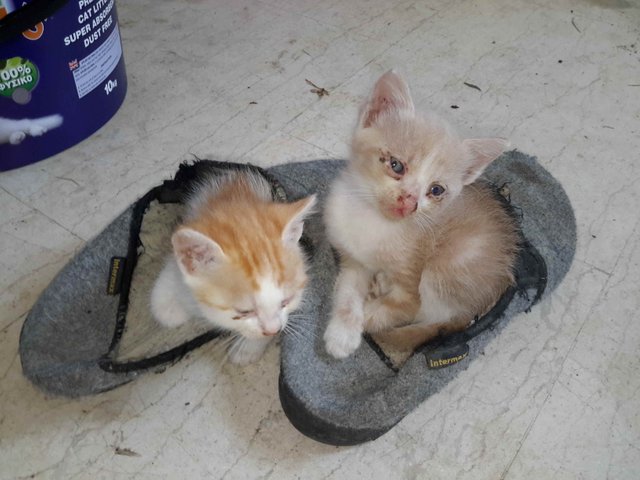 "Katzenfutter"
Eine schläft grundsätzlich in einem der Fressnäpfe und eine Andere hat sich das Katzenklo als Ruheort ausgesucht...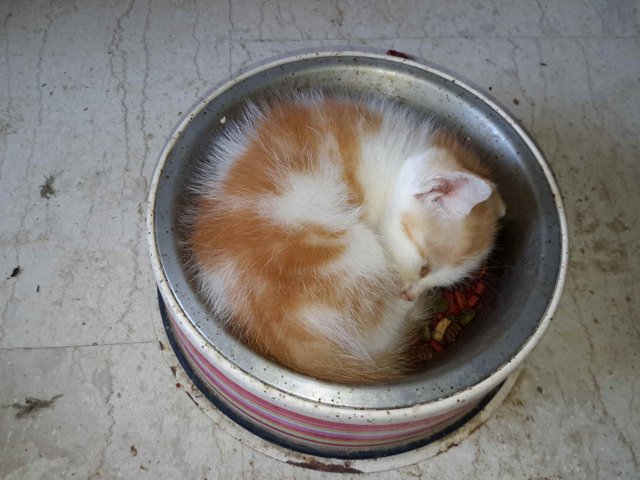 "Jagdinstinkt"
Und ja, ich behaupte wir Menschen kennen einen Solchen eher nicht. Es ist wohl einfach der Spieltrieb der uns Bällen hinterher treibt etc.
Menschen denen das Blut in den Kopf rauscht, die losrennen und anfangen zu sabbern sobald sie ein Schwein oder ein Kalb auf der Weide sehen, sind doch eher selten.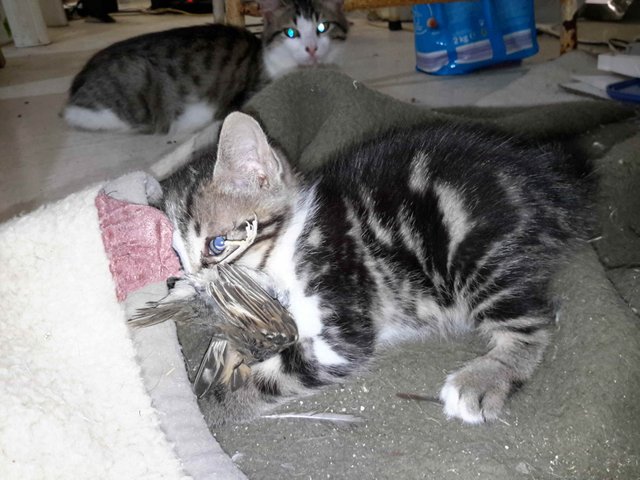 "Angst"
Von der Mutter zum Haus gebracht, wo das Kleine zum ersten Mal auf eine Horde fauchender Katzen trifft, die es erstmal als Eindringling wahrnehmen und auf mich. Die Mutter schlägt sich den Bauch voll und das Kleine muss die Hölle durchmachen in diesen Minuten.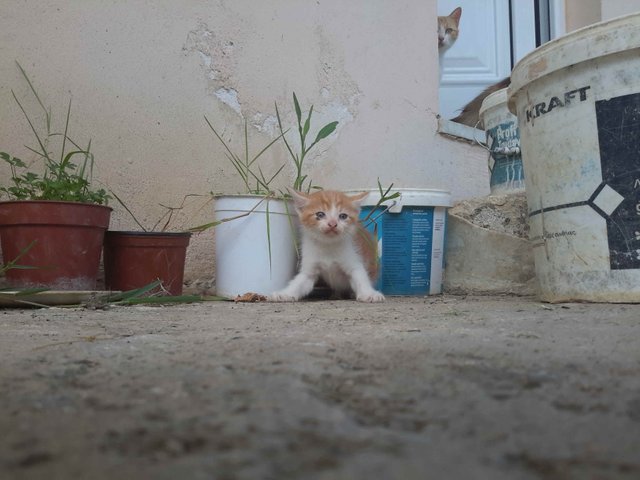 Eigentlich will ich es zur Mutter bringen. Es gerät aber total in Panik sobald ich etwas näher komme. Das Verhalten ist nicht ungewöhnlich bei Frauen gegenüber mir, weshalb ich damit umzugehen weiß.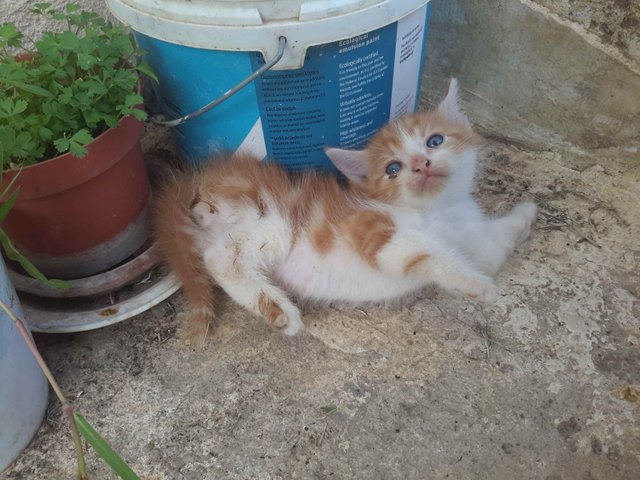 "Schmiere stehen"
Tja ihr Beiden: ERWISCHT!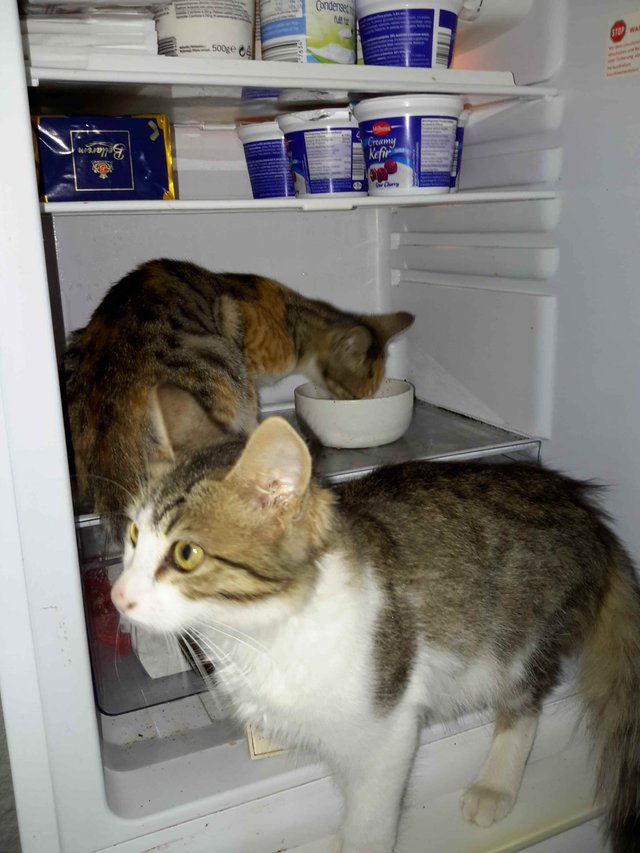 catclaimer und catplainer
Ich werde meine Babies wohl wieder etwas promoten unter Zuhilfenahme dieser Schicken bots hier. Aber ich werde damit mindestens 24 Stunden warten, damit für alle die vorher hier vorbei schauen, eine gute Kuration abfällt am Ende... Deal?
I decided to play with some bidbots since cats are worth to become "trending". After I've followed an article recommended on a post of my friend @curatorcat I decided to wait at least 24 hours to collect maximum curation for the steemians commenting and voting before.