Begleite mich auf meinem Weg zur Fantasy-Buchautorin/Join me on my way to a fantasy-book author
Hallo liebe Community,

ich heiße Sabrina, bin 24 Jahre alt, lebe in Deutschland und habe mich letzte Woche auf Steemit registriert, auf Empfehlung meiner Freundin @sumsum. Ich finde die Plattform sehr interessant und möchte mich gerne vorstellen.
Hello dear community,

My name is Sabrina, I'm 24 years old, I live in Germany and registered on Steemit last week, on the recommendation of my friend @sumsum. I think the platform is very interesting and I would like to introduce myself.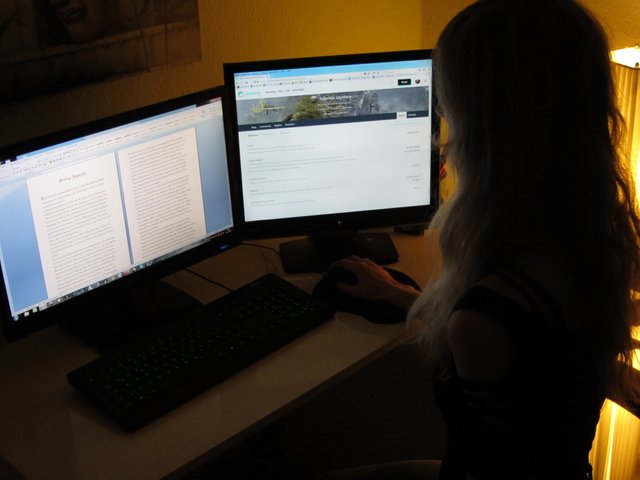 Seit meiner frühesten Kindheit fesseln mich Fantasy-Geschichten. Ich war eine Leseratte und verschlang ein Abenteuer nach dem nächsten. Ebenso gerne verbrachte ich meine Zeit mit dem Entwerfen von Comics, in denen ich meiner kindlichen Fantasie freien Lauf ließ.

Ich verspürte immer wieder den Wunsch, einmal einen eigenen Roman zu schreiben und in die Welt zu setzen. Lange habe ich es hinausgezögert - bis zum Mai 2017. An diesem Tag fasste ich den endgültigen Entschluss, endlich aus meiner Träumerei auszubrechen und es durchzuziehen.

Ich habe gemerkt: Wenn ich zuviel träume, verirre ich mich irgendwann völlig darin. Mit der Zeit realisierte ich, dass ich nur weiterkäme, wenn ich meinen Stift in die Hand nehmen und tatsächlich anfangen würde.

Der Entschluss war gefällt: »Ich schreibe!« Somit begann eine spannende, neuartige Reise. Ich wollte wissen, ob ich dazu in der Lage wäre, ein Buch bis zum bitteren Ende zu schreiben. Trotz einiger Menschen in meinem Umfeld, die mich beIächelten, arbeitete ich Tag für Tag ich an meinem Projekt. Ob es realistisch sein würde oder nicht, ein gutes Buch zu schreiben. Ich dachte mir, hauptsache, ich habe es versucht und mein bestes gegeben. Ich setzte meine Finger an, um die ersten Buchstaben zu tippen. Zunächst war ich froh, wenn ich überhaupt fünf Seiten in der Woche zu Papier brachte. Doch ich blieb beharrlich dran.

Geduld zahlt sich aus. Mittlerweile schreibe ich ungefähr 12 Seiten in der Woche. Eine Seite füllt sich schneller, als ich damals vermutet hatte. Es ist ein aufregendes Gefühl, wenn man zurückblättert und feststellt, wie man Seite für Seite geschrieben hat.

Trotz der Tatsache, dass ich diesen Weg das erste Mal bestreite und immer wieder auf Hindernisse stoße - Ich schreibe weiter!

Aktuell bin ich auf Seite 270. Mein Ziel ist es, bis Ende des Jahres 300 Seiten zu erreichen und das erste Manuskript zum Abschluss zu bringen. Was sind meine geplanten Schritte als Autorin und was möchte ich dir generell alles weitergeben?
Since my earliest childhood, fantasy stories captivate me. I was a bookworm and devoured one adventure after the next. I also enjoyed spending my time designing comics that let my childish imagination run wild.

Again and again I felt the desire to once write my own novel and to put into the world. I postponed it for a long time - until May 2017. That day I made the definitely decision to finally break out of my reverie and pull it off.

I realized: If I dream too much, I'll eventually get lost in it. Over time, I realized that I could only get ahead by picking up my pen and actually starting.

The decision was made: »I write!« Thus began an exciting, new journey. I wanted to know if I would be able to write a book to the bitter end. Despite some people in my environment who smiled at me, I worked day by day on my project. Whether it would be realistic or not to write a good book. I thought, main thing, I tried and did my best. I used my fingers to type the first few letters. At first, I was glad if I even made five pages a week on paper. But I stayed with it.

Patience pays off. Meanwhile, I write about 12 pages a week. One page fills faster than I had thought at the time. It's an exciting feeling when you turn back and find out how to write page after page.

Even though the fact that I go this way for the first time and come across obstacles again and again - I keep writing!

Currently I am on page 270. My goal is to reach 300 pages by the end of the year and complete the first manuscript. What are my planned steps as a writer and what do I want to pass on to you in general?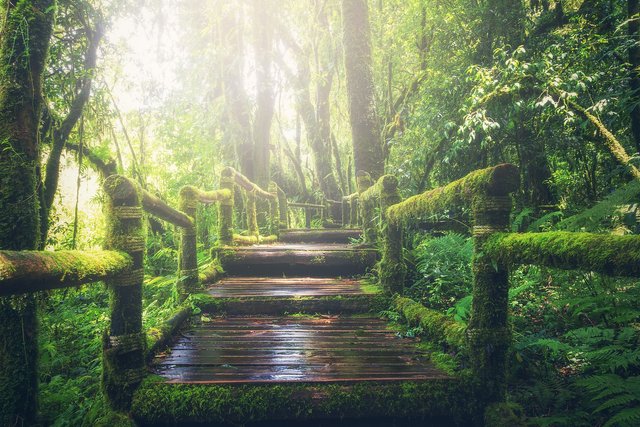 (Photo by Pixabay)
Ich zeige dir …
wie ich nach und nach ein gesundes Mindset entwickele, das mir immer mehr auf meinem Weg behilflich sein wird
wie ich mit Schreibblockaden umgehe
wie ich mein Manuskript überarbeite und was für Erkenntnisse ich daraus ziehe
wie ich mit Hindernissen/Hürden in meiner Geschichte umgehe, wenn sie auftauchen
wie ich mir ein Cover ausdenke und mit Designern zusammenarbeite
wie ich ein Lektorat organisiere
wie ich mich nach und nach mit der Bücherszene vernetze, indem ich z. B. Buchmessen oder Vorlesungen besuche
wie ich meine Finanzen organisiere
wie ich mich auf einer Self-Publishing-Plattform anmelde
wie ich meinen ersten Roman - und hoffentlich weitere ;) - veröffentliche
wie ich versuche, eine immer größere Community aufzubauen und mich mit der Zeit in verschiedene Tools einzuarbeiten
wie ich meine Schreibfähigkeiten ausbaue und mir fehlendes Wissen aneigne, indem ich Bücher lese und Veranstaltungen besuche
wie/wo/wann/wie oft/wie viel ich schreibe
welche Hilfsmittel mir beim Schreiben behilflich sind
...
I'll show you …
how I gradually develop a healthy mindset that will help me more and more on my way
how I handle writer's blocks
how I rework my manuscript and gain some insights
how I deal with obstacles / hurdles in my story when they appear
how I think up a cover and work with designers
how I organize a copy-editing
how I gradually networked with the book scene, by example Book fairs or readings
How to organize my finances
how I sign up on a self-publishing platform
how I publish my first novel - and hopefully more ;) - as I try to build a major community and get to grips with different - tools over time
how to develope my writing skills by reading books and attending events
how / where / when / how often / how much I write
which tools help me to write
...
| | |
| --- | --- |
| Mein Herzenswunsch ist ... | My heart's desire is ... |
... dass ich euch an meinem persönlichen Weg teilhaben lasse, mit allen Höhen und Tiefen, die dazugehören. Ich bin überaus neugierig, wie viel ich als Anfängerin erreichen kann. Ihr könnt mir gerne Tipps geben, ebenso werde ich Beiträge mit euch teilen.

Ich träume davon, eines Tages viele Menschen mit meinen Geschichten mitreißen und fesseln zu können, auf Vorlesungen zu gehen und meine Leidenschaft zum Beruf zu machen.

Bis dahin ist es noch ein weiter Weg, aber ich stehe mit meinem ersten Buch an der Startlinie.

Ich möchte soviel wie möglich lernen, um eine erfolgreiche Autorin zu werden.

Ich will es schaffen, dass andere Menschen in meinen Geschichten Mut schöpfen können, um ihren eigenen Weg im Leben zu finden. Sich zu trauen, etwas besonderes zu sein und sich die Erlaubnis dafür zu geben.

Denn: Wie ihr wisst, werden Helden in Fantasy-Geschichten geboren. Ich bin der felsenfesten Überzeugung, dass jeder Mensch auf dieser Welt eine Mission, bzw. eine Richtung hat, die den Motor seines Lebens in Gang setzt.

Wenn wir mit einer Schaufel graben, dann sieben wir erstmal nur viel Sand und Erde aus. Doch irgendwann, wenn wir tiefer vordringen, stoßen wir auf einen Goldbarren und wissen, dass sich die ganze Mühe gelohnt hat. Ja, ein Buch zu schreiben ist unweigerlich mit einer großen Durststrecke verbunden, aber mit der Zeit wird sich ein Gefühl der Sicherheit manifestieren.

Bleibt an euren Zielen dran und lasst euch niemals einreden, dass ihr es nicht verdient hättet, etwas zu erreichen. Am wenigsten von euren eigenen Gedanken. :)
... that I let you participate in my personal journey, with all the ups and downs that belong to it. I am very curious how much I can achieve as a beginner. You are welcome to give me tips, as well as I will share posts with you.

I dream of one day enlivening and captivating many people with my stories, going to lectures and turning my passion into a career.

It's still a long way to go, but I'm standing at the starting line with my first book.

I want to learn as much as I can to become a successful author.

I want to make it possible for other people in my stories to get the courage to find their own way in life. To dare to be special and give yourself permission.

Because: As you know, heroes are born in fantasy stories. I am firmly convinced that every person in this world has a mission or a direction that sets the motor of his life in motion.

If we dig with a shovel, then at first we'll just sand and soil out. But at some point, as we move deeper, we encounter a bullion and know that all the effort has been worthwhile. Yes, writing a book is inevitably associated with a long lead periode, but over time a sense of assurance will manifest.

Stay tuned to your goals and never let yourself be persuaded that you did not deserve to achieve something. At Least of your own thoughts. :)