Beginning this year I decided that i would need new knife. After looking around I decided to buy from Schmiedeglut, a small German forge which still produces hand made knifes.
The Gemüsemesser¹ is the smallest kitchen knife Schmiedeglut offers. The version I bought has a pattern welded blade made of 1.1274 carbon steel², 1.2842 tool steel³ and 1.5634 nickel steel⁴. The handle is made from bog oak⁵.
Anfang des Jahres habe ich mich entschlossen neue Messer zu kaufen. Nachdem ich mich umgeschaut habe entschied ich mich von Schmiedeglut, einer kleinen Schmiede die noch mit Handarbeit produziert, zu kaufen.
Das Gemüsemesser¹ ist das kleinste Küchenmesser das Schmiedeglut anbietet. Die Klinge ist ein eine Damaststahl aus 1.127 Karbonstahl², 1.2842 Werkzeugstahl³ und 1.5634 Nickelstahl⁴. Der Griff ist aus Mooreiche⁵.
Vergleich zum Vorgänger
The following pictures show the new knife in comparison to the knife it replaces. The old knife is pattern welded as well but from stainless steels which is purely aesthetic measure.
The first thing to notice is the size. It's rather small (Blade length approx. 7,4 cm) but this is not to it's disadvantage.
Die folgenden Bilder zeigen das Messer im Vergleich zu dem Messer das es ersetzen soll. Das vorherige Messer ist ebenfalls Damaststahl allerdings aus rostfreien Stählen was rein ästhetisch ist.
Das erste was auffällt ist die Größe des Gemüsemesser. Es ist recht klein (Klingenläge: ca. 7,4 cm), was aber kein Nachteil ist.
Nutzung
The Gemüsemesser, with it's straight blade is not made for the cutting board but for freehand work and here it excels. The handle snugs into your hand, then short blade is very easy to use.
Das Gemüsemesser ist mit seiner geraden Klinge nicht fürs Schneidebrett gemacht sondern Freihandarbeit. Und hier zeigt es seine Stärken. Griff fügt sich perfekt in die Hand seine die kurze Klinge ist extrem handlich.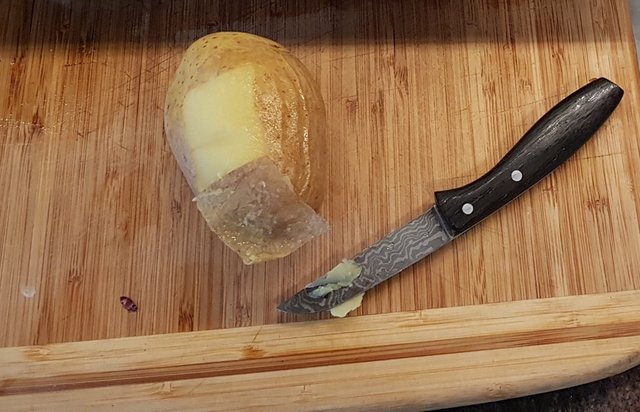 Damast
The damascus steel is not stainless and as such will stain. Or build up a patina. This is especially true the knife come in contact with acid. The stains on the picture below are from a lime not wiped off immediately. If perfect looks are important to you you might be better of with the stainless steel version which is also cheaper. Unless you are a collector and don't plan to use the knife.
Der Damast ist nicht rostfrei und wird im täglichen Gebrauch fleckig werden. Bzw. eine Patina bilden. Dies ist insbesondere der Fall wenn das Messer mir Säuren in Berührung kommt. Die Flecken unten stammen von einer Limette die nicht sofort abgewischt wurde. Wenn einem perfektes Aussehen wichtig ist dann ist man evt. mit der günstigeren rostfreien Version besser bedient. Es sei den man ist Sammler und hat nicht vor das Messer zu benutzten.
---
¹ GEMÜSEMESSER DAMAST / MOOREICHE
² 1.1274 CARBONSTAHL (C100 / 1095 / ÄHNLICH WEISSER PAPIERSTAHL)
³ 1.2842 WERKZEUGSTAHL (MANGANSTAHL)
⁴ 1.5634 NICKELSTAHL (75NI8)
⁵ MOOREICHE (STABILISIERT)
⁶ GEMÜSEMESSER ROSTFREI / MOOREICHE
---
#knifes #cooking
#original-content #originalcontent #original
@originalcontent