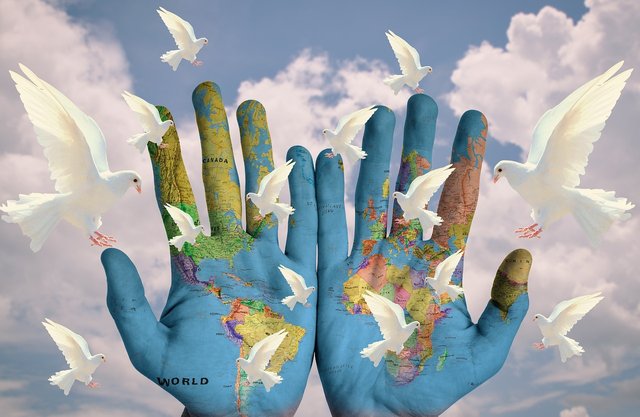 Mein heutiges Sadsunday-Gefühl:
Wenn ich einfach mal wieder einen Blick auf unsere Welt werfe, wird mir meist ganz anders: Naturzerstörungen, Kriege und Aggressionen zeichnen kein schönes Bild des Menschen.
Umso mehr wertschätze ich Menschen, die zum Beispiel musikalisch für den Frieden eintreten. Yael Deckelbaum ist so jemand. Hier erklärt sie, wie sie dazu gekommen ist, "Prayer of the Mothers" zu komponieren:
Angefangen hat alles, als ich Mitglieder der Bewegung "Women Wage Peace" getroffen habe. Das ist eine Organisation, die seit vier Jahren existiert. Sie wurde von Müttern gegründet, die gemeinsam Druck auf die politischen Führungspersonen ausüben wollten, um den Krieg zwischen Israel und Palästina zu beenden.
Die Werte, die die Organisation vermitteln will, ist für viele etwas Neues: Denn sie sind nicht gegen jemanden. Es geht nur um "pro Leben". Und wer kann schon dagegen ankämpfen? Wer kann gegen eine Mutter kämpfen, die nur will, dass ihr Kind in keinem Krieg umkommt? Wer kann schon vor einer Mutter stehen und ihr sagen: "Du irrst dich". Das ist die grundlegende Botschaft der Bewegung. Und für mich war es sehr einfach den Song "Prayer oft he Mothers" zu schreiben, denn ich habe mich mit etwas sehr Echtem verbunden gefühlt – nämlich dieser Gruppe von Müttern. Und so ist das Projekt gestartet. Ich habe die Bemühungen gesehen, die die Frauen unternommen haben, um ihre Kinder zu beschützen. Und ich habe gesagt: Ich verschreibe meine Musik eurer Sache. Und so wurde "Prayer of the Mothers" geboren. Auch in Vorbereitung auf den "Marsch der Hoffnung"" bei dem israelische und palästinensische Frauen gemeinsam demonstrierten.
Interview beim Rudolstadt-Festival
Yael Deckelbaum / Prayer of the Mothers
Mit deutschen Untertiteln zum besseren Verständnis dieses vielsprachigen Liedes (hebräisch, arabisch und englisch)
Peace - Salām - Shalom - Frieden
Dies ist mein Beitrag zum SadSunday von @flipstar:
I want to introduce a new tag. Sad Sunday is meant for all the music which brings out the tears. You listen to if you suffer from a broken heart, the hangover from Saturday or a brutal bear market.
It is not limited to any specific genre

#1 Hair - Musicalfilm
#2 HIM - Join Me In Death
#3 Nightwish - Sleeping Sun
#4 David Gilmore - Wish You Were Here
#5 Cirque Du Soleil - Alegria
#6 Juli - Geile Zeit
#7 When a blind man cries - Deep Purple
#8 Again - Lenny Kravitz
#9 Within Temptation Duett mit Anneke vanGiesbergen
#10 Coma - Cisza i ogień
#11 Joe Cocker - N'Oubliez Jamais
#12 Apocalyptica - Cellorock aus Finnland
#13 Roxette - Spending My Time
#14 Am I Wrong - Damien Escobar
#15 Patrick Swayze - She's like the wind