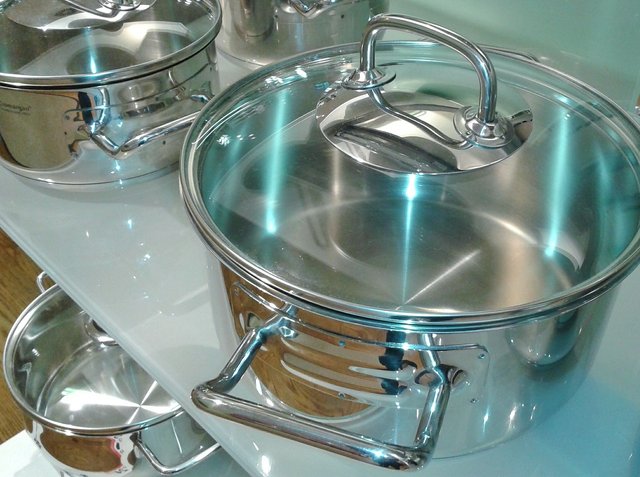 Wenn das Wetter zu schlecht für berichtenswerte Outdoor-Aktivitäten ist, werfe ich zum Zeitvertreib gerne einen Blick auf die Charts einiger Assets. Heute wieder am Start sind
Bitcoin, STEEM, Gold, Platin


Ich hatte bereits vor einiger Zeit unter den Stichwörtern "Böden, Deckel, Ausbrecher" diese vier Kandidaten in mehreren Posts unter die Lupe genommen, siehe:
https://steemit.com/deutsch/@freiheit50/bitcoin-und-gold-von-boeden-und-deckeln
https://steemit.com/deutsch/@freiheit50/platin-und-steem-kandidaten-fuer-einen-ausbruch
https://steemit.com/deutsch/@freiheit50/was-machen-die-beiden-ausbrecher
STEEM


Ich beginne gleich mit der schechten Nachricht :
Noch ist niemand ausgebrochen, aber der STEEM hat sogar den Durchbruch nach unten geschafft und ein frisches All-time-low in Bitcoin gemessen hingelegt:


(Bildquelle coinmarketcap.com)
Die gute Nachricht dabei ist, dass er in USD noch einige Luft nach unten hat, um das absolute Tief von 7 Cent wieder anzusteuern.
Gold


Absolute Langeweile herrscht seit Jahren beim Gold. Wer nach der Krise 2008 gemeint hat, mit dem glänzenden Edelblech schnell reich zu werden, musste seine Geduld auf eine harte Probe stellen und mit Contenance zusehen, wie die weltweiten Aktienmärkte von einem Hoch zum nächsten eilten.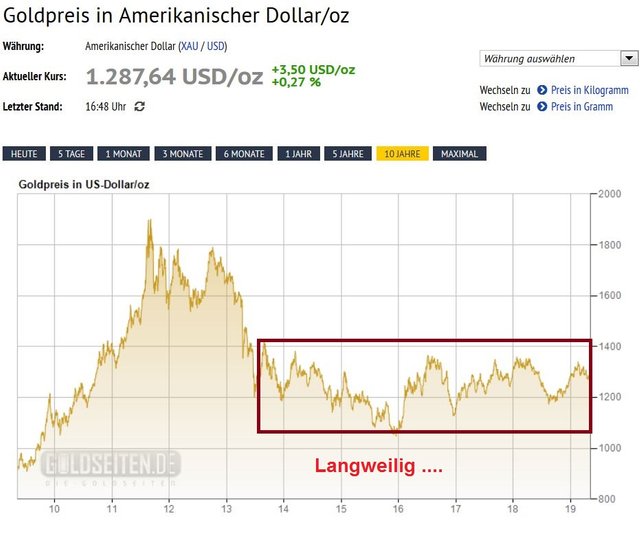 (Bildquelle goldseiten.de)
Immerhin scheint der Chart einen langfristigen Boden ausbilden zu wollen.
Platin


Auch der nahe Verwandte des Goldes, das matt schimmernde Platin, hat seinen Ausbruch über die magischen 900 USD nicht geschafft. Es ist meilenweit entfernt von seinen historischen Höchstständen jenseits der 2000 USD. Weiterhin bleibt sogar die äußerst seltene Anomalie bestehen, dass Platin deutlich billiger als Gold und Palladium gehandelt wird.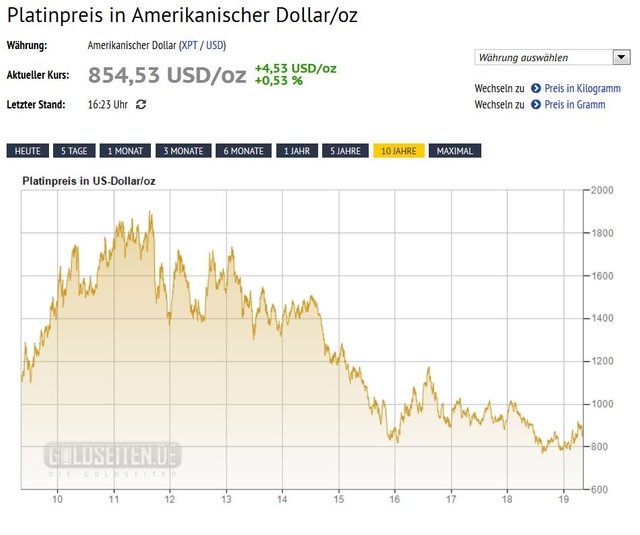 (Bildquelle goldseiten.de)
Bitcoin


Zu guter Letzt blicken wir auf den unangefochtenen Champion der letzten Wochen, unseren "Boss" Bitcoin: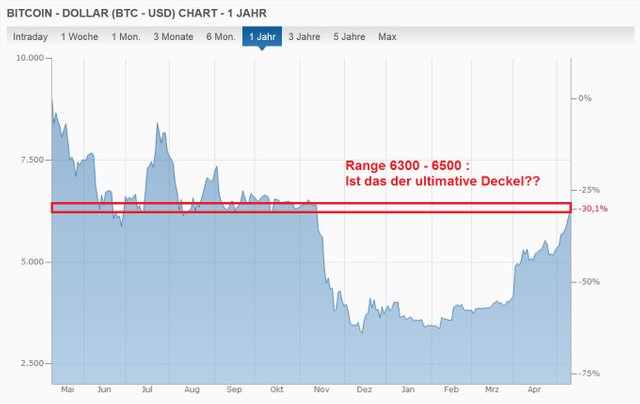 (Bildquelle finanzen.net)
Er hat nun ein wunderschönes "U" vollendet und klopft an den Betonwiderstand im Bereich 6300 - 6500 USD. Durch diese Mauer kann er eigentlich nicht im ersten Anlauf durchbrechen. Oder etwa doch? Bei den Kryptos ist ja bekanntlich nichts unmöglich. Deswegen will der US-Kongressabgeordnete Brad Shermann (https://en.wikipedia.org/wiki/Brad_Sherman) nun wieder mal ein Gesetz auf den Weg bringen, um alle Kryptos im "Land of the free" zu verbieten.
Diskussion


So leicht scheinen die Deckel nicht von den Töpfen zu fliegen. Wie sehen meine Leser die weitere Entwicklung von Bitcoin und Steem? Ich freue mich über jeden sinnvollen Kommentar.
Disclaimer


Dieser Artikel stellt keine Anlageberatung dar. Jeder trägt sein Risiko selbst.