Russische U-Boote üben Schein-Atomangriffe gegen "Feinde"
Russische U-Boote haben kürzlich einen Schein-Atomangriff gegen ihre "Feinde" durchgeführt. Die russische Regierung hat Material über den Atomschlag veröffentlicht, und sie weckt die Befürchtung, dass der Dritte Weltkrieg bald bevorsteht.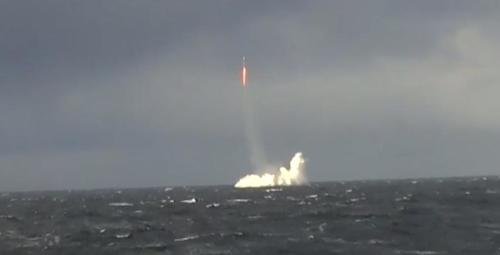 Das russische Verteidigungsministerium (MoD) hat schockierende Videos veröffentlicht, die eine Reihe von nuklearen Raketen zeigen, darunter ein U-Boot, das einen Schein-Atomangriff durchführt. Diese Videos sind die neuesten in einer Reihe von eskalierenden Kriegsspielen, die der russische Präsident Wladimir Putin laut The Express UK angeordnet hat.
Laut offizieller Angaben wurden die Übungen "zur Vergeltung gegen einen feindlichen Angriff entwickelt". Die NATO hat bereits auf die Verschärfung der Kriegsspannungen reagiert. Admiral James Foggo, der Leiter der US-Marine in Europa und Afrika sagte:
"Die Kalibr-Klasse-cruise missile zum Beispiel wurde von Küstenverteidigungssystemen, Langstreckenflugzeugen und U-Booten vor der Küste Syriens gestartet. Sie haben gezeigt, dass sie in der Lage sind so gut wie alle Hauptstädte Europas von jedem Gewässer, die Europa umgeben, aus zu erreichen."
Foggo hat in der Vergangenheit vor den Fähigkeiten Russlands im U-Boot gewarnt. Laut The Telegraph UK sagte Foggo gegenüber Reportern des Pentagons: "Obwohl die russische Marine weiß, dass sie auf der Ebene von Flugzeugträgern und größeren Überwasserschiffen nicht konkurrenzfähig ist, "haben sie weiterhin Forschung und Entwicklung betrieben und den Unterwasserbereich rekapitalisiert".
Es gibt eine Herausforderung und diese Herausforderung ist die United States Navy und die United States Submarine Force", fuhr er fort. "Ich kann Ihnen sagen, dass wir einen akustischen Vorteil haben und wir werden das auch weiterhin tun", sagte er und bezog sich auf die Abhörtechnologien, die es Seeleuten ermöglichen U-Boote zu lokalisieren.
Ein Sprecher des russischen Verteidigungsministeriums sprach über die Übungen. "Auf Befehl von Präsident Putin, dem Oberbefehlshaber der russischen Streitkräfte, wurden strategische Atomwaffenübungen durchgeführt. Alle Aufgaben der Übung wurden erfüllt. Alle ausgewiesenen Ziele auf den Testgeländen Kura Chizha, Pemboy und Terekta wurden zerstört", sagte der Sprecher.
Quelle Infos&Foto: SHTFplan