PolkaParty — Expanding the PolkaDot ecosystem with a user-friendly social network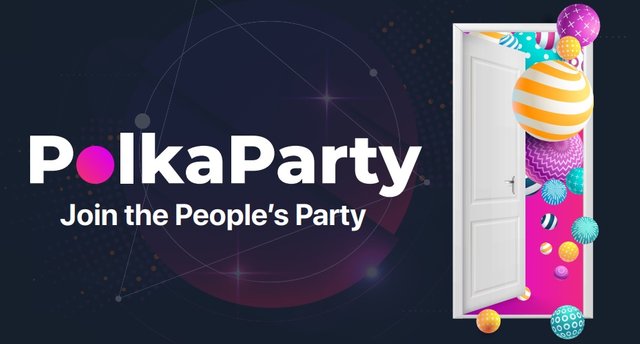 Overview
In recent years global finance has experienced tremendous progress. One of the most recent and significant advances in the world of technology is Cryptocurrency. Decentralized finance, also known as DeFi, is a fast-growing sector of the cryptocurrency industry. Defi gives you the opportunity to grow your investment using complex features of Defi like Staking & Farming However, these operations of Decentralized finance are complex and need a very efficient brain to understand and perform it. Many investors are frustrated in crypto when they aren't able to make the same gains as friends, colleagues, due to your incapability of being to understand all these DeFi terms.
PolkaParty is made for you, as the platform allows users to gain access to all features of DeFi (swapping, liquidity providing, yield farming, NFT's, etc) by just joining a single party.
What is PolkaParty?
The solution is to create a platform that allows anybody to create or join a party with respectable friends, family, and most importantly DeFi veterans, navigating the landscape of endless profits from the smart decisions.
No longer will you be frustrated with DeFiety (DeFi-Anxiety), or FOMO into bad moves from not understanding what to do, since you'll be able to research, chat, and vote with your fellow partiers
PolkaParty aims to create a favorable DIY DAO (Parties) service that is designed as a convenient passage for all participating party members to pool their funds for various financial activities and features.
PolkaParty provides a never-before-seen platform to join your friends together and make true waves in the market. Not only will you be competing for sweet gains, but we aim to create a competitive environment that rewards the most loyal and driven parties.
Why PolkaParty?
PolkaParty aims to expand the capital barriers that are indiscriminately set for active communities. The idea is that respective retail investors are no longer going to suffer the consequences of drastic drops in public sale token prices, but rather be able to participate in seed & private sales by having the proper capital in devoting to early-stage projects.
The ultimate goal throughout the PolkaParty experience is allowing all users to become easily integrated into the entire ecosystem of DeFi, without having to understand the vast amount of technicalities in decentralized finance. Our belief is in creating an easy-to-understand user journey, as individuals will have the opportunity to chat, research, and immerse themselves in a respective party with more experienced figures, who understand the formality of more lucrative methods within crypto.
Features of Polkaparty
Yield Farming — Parties specifically for yield farming will be available on PolkaParty where a governed wallet will supply the liquidity. This allows users to share greater rewards farming together than if they were farming by themselves.

Lending — PolkaParty will allow users to borrow funds from parties without withdrawing their investments. Users will have access to funds without impacting their credit scores, with more flexible repayment options, as well as instant approval for collateralized loans.

Crowdfunding — Crowdfunding on PolkaParty will be available to allow users to connect with each other over common interest tokens and projects. This feature will be beneficial to get involved with the community and share in greater returns on investments.

ICO Launchpad — PolkaParty will feature upcoming ICO projects and allow them to create parties to join and help raise liquidity to fund them, as it is becoming a popular choice for new projects to raise capital through crypto launchpads.

Property Investment Pools — Investment pools are a great way to bring tangible investments into the crypto world reducing the entry barrier into the property market. This will also allow people all over the world to invest in properties in countries they may not have previously had access to.
How PolkaParty Works?
Parties will consist of members, whose personal wallets are integrated into the party's wallet.

Depending on party set criteria parties will consist of members who have voting power and nonvoting power.

Wallet addresses with voting power will ultimately be able to provide party guidance by voting actions

HouseKeys are generated for all users that create a party (Public or Private), through users can join the party seamlessly on the main dashboard within the PolkaParties Portal.

HouseKey is required to sign the smart contract, so your wallet will be integrated into the party wallet.

PolkaParty has constructed a time interval based model which permits party's that are created to allow for Partygoers to be able to withdraw funds within a placed time period

From the actions of the party, a user will be given a Daily, Monthly, or Yearly + Fund Withdrawal Time Sequence, to withdraw profits back to a personal wallet.

Penalty for withdrawing funds early before the time interval of distribution for party members.
Polkaparty Governance of funds action in 4 models.
Democracy — Democratic parties are used to even the playing field and manage a group regardless of who, where, and how much. Democratic parties are straightforward, everyone gets an equal vote. Democratic parties use multisign wallets as a form of governance in which each registered, active, address is entitled to confirmation of transactions sent to the EVM. This is one of the most technically basic forms of party governance.
Weighted Democracy — Weighted Democratic models aim to provide alternative solutions to fund governance. In this model, users hold private interest in a party and can track their percentage of Party Power. It is simple, the higher proportion of the party that a partygoer owns the more power he has over governing votes. Technically, a weighted party could be compared to an LP pool. The more of the pool you own the higher your percentage of payouts, rewards, and party benefits.
Monarchy — A monarchy is the simplest and most risky type of party. Here at PolkaParty, believe in decentralization and equality, with this in mind, allow Parties to be made that give all of the Party's governance to be given to one wallet, the Monarchs.
Republic — Republics are game-changing not only because of the ability to manage funds in a trust-less manner but since it is the most efficient way to validate a transaction or decision from the individuals in a small group (like a board of directors) that represents a larger entity. It is the most efficient model because it requires full attention from only a portion of a party. This governance model is the pinnacle of PolkaParty's innovation since it allows a body of representatives to create and manage their own funds. PolkaParty is heavily focused upon creating a universal experience of properly and sufficiently allocating funds to at-large investments.
PolkaParty Kickbacks
Kickbacks are quarterly held IDO events for early-stage projects launching on the PolkaParty platform. These early staged projects will receive immediately verified parties on PolkaParty, obtaining priority promotion on the platform for short-term token launchings, as well as for long-term product features.
Yield farming Parties
Yield farming with pooled funds can be more rewarding than farming on your own. In short, yield farming protocols incentivize liquidity providers (LP) to stake or lock up their crypto assets in a smart contract-based liquidity pool. Many liquidity-related pools take into account factors such as time and amount staked. Thus, it may be a good idea to find a party of LP providers rather than lend on their own. Polkaparty provides a mutually beneficial relationship to these farming platforms since larger amounts of liquidity will be provided.
Social Board
This Social Board will outline a competitive ranking of every party, as well as categorical party growth upon funds, members, activities. The platform will begin to organically grow in volume, users, and overall activities, so will the competitive association with respective party's. It is important to harness this competitive spirit of Partygoers, as members will hold great pride in their personal association with popular and favorable parties. This distinct quality is the reason for a Social Board, an all-exclusive dashboard for Partygoers to have completely accessible data upon rankings, funds, and growth of the most premier party's on the platform.
PolkaParty Prizes & Rewards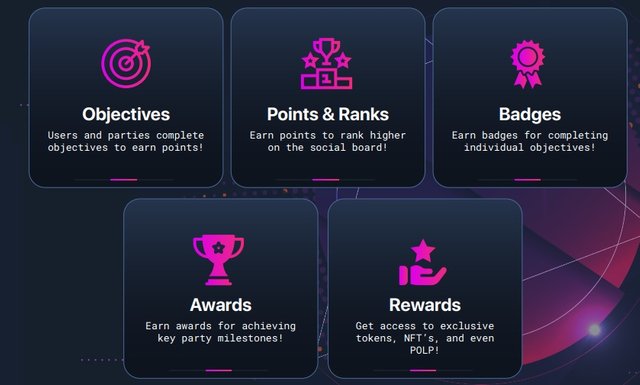 After daily collection of distribution fees, the total amount that has been collected will be paid out back to users, up to 50% of the total daily distribution fees collected on the platform, who are staking POLP on the platform. If the volume & amount of trades increase in each party, the bonus/payout of holding POLP will increase as well.
What is Polkaparty POLP token?
POLP is the PolkaParty governance token and the main catalyst behind a majority of platform products and features. All protocol management decisions are made by the POLP holders: from new products to asset rebalancing, strategies, and integrations. POLP enables its holders to take control of their financial future.
Tokonomics
Token Name: POLP
Total Supply: 200,000,000
Private Sale : 500,000 (20 mil Tokens)
Public Sale: 250,000 (781 NFTs) (7.81 mil tokens)
Private Sale: $0.025
POLP at launch: $0.032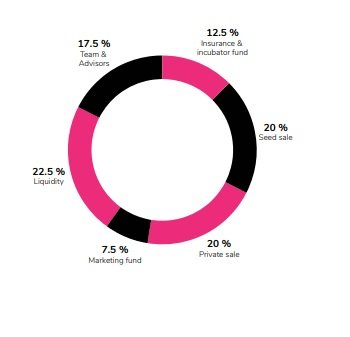 Conclusion
Polaparty, a place where you, your friends, and your family can all share a wallet with customizable inbuilt governance. As a collective, you can all be part of big decision-making that involves the like of what coins you want to invest in or when you feel is the right time to sell. Polkaparty also has a leaderboard system set up with weekly prizes for whatever party has the most gains based on their percentage.
Read More Here
Website: https://www.polkaparty.io/
Telegram: https://t.me/PolkaParty
Twitter: https://twitter.com/Polka_Party
Medium: https://polkaparty.medium.com/
Proof of Author
Bitcointalk Username: Cryptomate7
Bitcointalk Profile Link: https://bitcointalk.org/index.php?action=profile;u=3362384
Telegram: @supercrypto12
Wallet Address: 0x9138d2a99b47fF2A98927fEBF620C622939a6E66