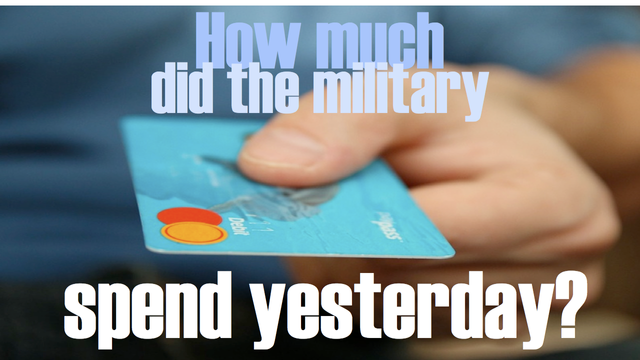 Welcome to September. Yesterday was fairly slow for the seven corporations we're watching; only two gained contracts: General Dynamics and Lockheed Martin. (Starting this month, we'll be tracking monthly totals, as well.)
Yesterday's breakdown:
BAE: --
Boeing: --
Booz Allen Hamilton: --
General Dynamics: $38,040,445 (1 contract)
Lockheed Martin: $50,307,909 (1 contract)
Northrop Grumman: --
Raytheon: --
This information is provided to highlight just how much taxpayer money is spent, per day, to enrich companies participating in the military industrial complex. The idea that our economy requires a governmental redistribution of wealth from individual taxpayers to large corporations that are friendly and well-connected to government came from the Keynesian argument for demand "stimulus" -- that our economy's health depends on higher and higher levels of spending. For this reason, personal saving is discouraged and often penalized by the government. But because individuals still tend to follow personal incentives to save, the Keynesian argument remains in effect: that government should spend money the public is reluctant to spend through tax-and-spend policies.
---
Below are the contracts awarded by the Defense Department
September 3, 2019
totaling $774,850,675
Recent record daily spending: $17 billion on August 5, 2019
Air Force - $454,839,555
Leidos (Reston, VA) $445,361,476
GTA Containers (South Bend, IN) $9,478,079
Navy - $221,744,575
SAIC (Reston, VA) $69,929,520
Lockheed Martin Rotary & Mission Systems (Moorestown, NJ) $50,307,909
Ultra Electronics Ocean Systems (Braintree, MA) $46,679,930
General Atomics (San Diego, CA) $33,187,541
Homeland Security Solutions (Hampton, VA) $10,951,521
Progeny Systems (Manassas, VA) $10,688,154
Defense Logistics Agency - $46,885,935
General Dynamics Land Systems (Sterling Heights, MI) $38,040,445
General Electric (Lynn, MA) $8,845,490
Army - $36,430,498
RTI Technologies (McEwen, TN) $18,601,016
CACI - ISS (Chantilly, VA) $10,172,707
NW Construction (Bozeman, MT) $7,656,775
US Transportation Command - $14,950,112
International Auto Logistics (Brunswick, GA) $14,950,112