So I was reading this article about the Twitter CEO possibly being biased about Bitcoin lately (which in case you haven't noticed, there's been a lot of tweets about Bitcoin coming from him and when others suggested Eth or another alt he would go for a "No, only Bitcoin!!" Now this is all fine, everyone has their own opinion, one is not going to win someone over in an internet debate without even knowing all the info involved.
The article was about the @Bitcoin account on Twitter and how it has possibly gotten shadowbanned: Article from Coinspice called @Bitcoin Twitter Account Claims Shadow Ban, Jack Dorsey Bias and I have to admit I didn't read through the whole article but something did catch my eye considering the Steem blockchain. This part: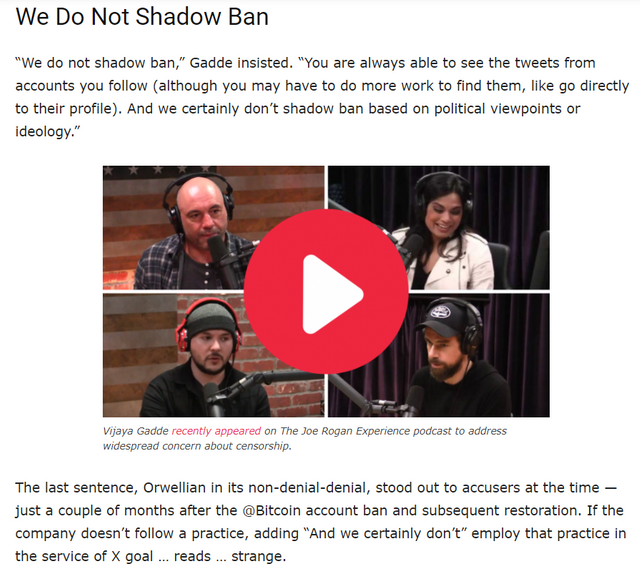 Imagine you're on your favorite platform, but you're going to miss a lot of tweets from accounts you want to see on your feed because someone else has a bias towards what that account is tweeting about. In this case talking about BitPay also accepting BCH now so Steam should reconsider adding Bitcoin (in this case Bitpay so BCH maybe more than BTC when they want to spend $5).
The question now though is that either @Bitcoin really did get shadowbanned and these stats are real: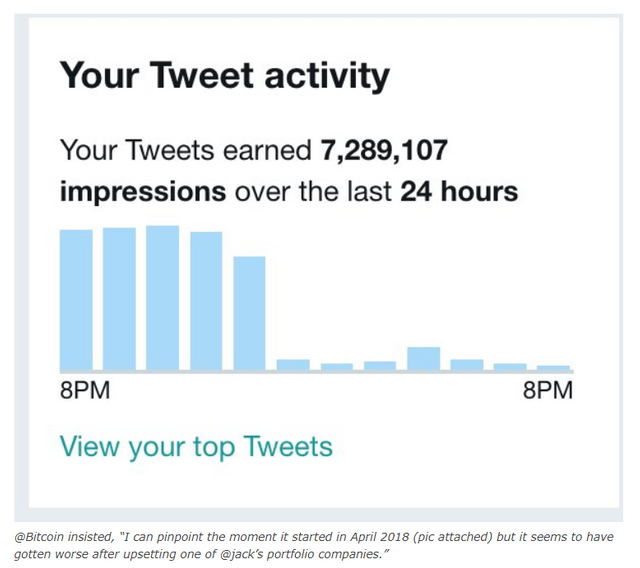 oooor they were botting it up before that and Twitter caught their bots, thus they taking this narrative instead thinking proving the bot use is difficult to do. This is a common problem on Twitch as well, streamers can just say "a fan was doing it to screw with me/want me banned". Either way to an investor it would not make it an easier choice which one to trust, but if they happened to be on Steem, all this bot use and shadowbanning would not exist in the same way. Someone is going to at some point create a pattern recognition software that detects bot votes & comments from normal ones, right? Especially if you can see their history and especially if all your other friends are all verified through a front-end on our blockchain and already trust eachother there, hell they may even only show votes from pre-approved users on their list, how cool would that be? There's a free idea for you to get rid of that bot/advertisement "spam" by upvoting you. :)
All I'm saying is, there's no end to know what is going on on current centralized platforms, I've noticed the same thing on Reddit lately, the subreddits are all up and down cause the incentive to pay people to shill coin A or B is worth the profit it could generate come next bull run even if the coin is doing nothing special or having any actual users using it. There's so much vote manipulation going on it is impossible for moderators to find out, even if they could see all the logs which only admins can. There is so much leeway for doing whatever the fuck you want with the platform and getting away with it most of the time, if not all you lose is an account that takes 1min to recreate at no cost.
Farming accounts and blackmarkets pricing all accounts in real money is not something new for platforms that don't allow selling or buying accounts. I remember there were black markets for ingame gold in World of Warcarft, of course there's gonna be for the giant social media platforms and of course it's gonna be on Steem the same way too, but here at least we can even find out if someone has changed their key since activity came back but this account was suddenly behaving weirdly. There are so many benefits to just being open and public with all your actions and you being aware of the fact and being comfortable with using it anyway.
That's the inevitable future we are headed in and it looks really damn good to me, too bad others will continue to prolong their failed experiment cause advertisers are giving them so much incentive to.