Are the Decathlon Subea Easybreath masks for diving?
Have you seen a commercial for the fantastic Easybreath swimming masks from Decathlon? Thomas has, and he was extremely impressed. Right now he is considered buying one for himself, but there is one slight problem... is the Subea Easybreath mask only for snorkeling on the surface of the ocean, or can it be used for diving as well?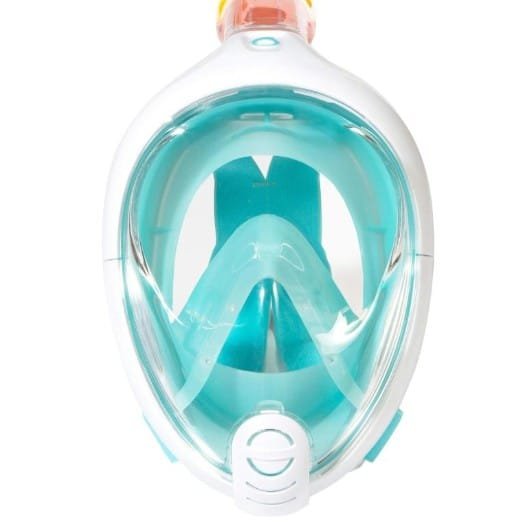 The Subea Easybreath mask from Decathlon - can it be used for diving as well?
The thing is, Thomas enjoys looking down at fishes and beautiful colors under the water. But, Thomas also likes swimming down to the bottom to pick up all sorts of shells and other nice things he discovers there. If it is 50cm to the bottom or maybe 150cm doesn't matter, the thing still remains the same - he wants to dive as well, not only swim on the surface.
He knows snorkeling works fine in general, also when diving. But, it sounds incredibly nice with the Subea Easybreath mask which keeps the water from actually entering the pipe (snorkel) itself, and thus, it becomes much easier to use, and especially for kids and so on.
But - then he checked out the Subea Easybreath mask in the shop, and at the front glass, it says not for diving. So, what is the truth? Is this just a warning, just like you see warnings about the hot coffee in McDonald's being hot? Or is there more to the warning?
What's the truth? Can the Easybreath mask from Decathlon be used for diving?
First of all, Thomas has tried the mask himself, and he has also checked out a lot of reviews of the mask. The experience of Thomas aligns very well with the general reputation of the Easybreath mask, and that is - you can dive with the mask, but you will get a big pressure on your face, which is really uncomfortable, already by swimming a few centimeters beneath the surface with the mask.
As a result, the Easybreath mask isn't made for diving, and it doesn't work well for diving. It is amazing for swimming along the surface looking down, but it will not work well for those who actually want to swim down to the bottom as well.
Make up your own mind. After trying the Subea Easybreath mask, Thomas has decided not to keep a mask for himself. He bought one, tried one, but this was not what he was looking for. It is for sure cool if you live in a totally clean sea with lots of colorful fishes swimming beneath, but if it is a bit tougher atmosphere where you plan on swimming and if you want to actually do more than just swimming on the surface, this might not be the ideal solution for you!
Have you tried the Subea Easybreath mask from Decathlon? Thomas would love to hear your thoughts about the mask!
---
Posted from my blog with SteemPress : https://www.thethomasstories.com/are-the-decathlon-subea-easybreath-masks-for-diving/
---