The debt based society we have in the west, which is spreading out to the rest of the world, is something that began proliferating in the mid 20th century and has ramped up into a maniacal debt society unable to fathom its existence without access to huge sums of credit. I like many was largely ignorant to this history. The following was skimmed from the Wikipedia page regarding the history of credit cards…. Peace, @clumsysilverdad
Credit Card History (part of our mental manipulation)
The concept of using a card for purchases was described in 1887 by Edward Bellamy in his utopian novel Looking Backward. Bellamy used the term credit card eleven times in this novel, referred to a card for spending a citizen's dividend from the government, rather than borrowing, making it more similar to a Debit card.
Charge coins, medals, and so on
Charge coins and other similar items were used from the late 19th century to the 1930s. They came in various shapes and sizes; materials made out of celluloid (an early type of plastic), copper, aluminum, steel, and other types of whitish metals. Each charge coin usually had a little hole, enabling it to be put in a key ring. These charge coins were given to customers who had charge accounts in department stores, hotels, and so on. A charge coin had the charge account number along with the merchant's name and logo.
The charge coin offered a simple and fast way to copy a charge account number to the sales slip, by imprinting the coin on the sales slip. This sped the process of copying, previously done by handwriting.
Because the customer's name was not on the charge coin, almost anyone could use it. This sometimes led to a case of mistaken identity. Beginning in the 1930s, merchants started to move from charge coins to the newer Charga-Plate.
Charga-Plate
The Charga-Plate an early predecessor of the credit card and was used in the U.S. from the 1930s to the late 1950s. It was a rectangle of sheet metal related to Addressograph and military dog tag systems. It was embossed with the customer's name, city, and state. The plate was laid into a recess in the imprinter, with a paper "charge slip" positioned on top of it. The record of the transaction included an impression of the embossed information.
Air Travel Card
In 1934, American Airlines and the Air Transport Association simplified the process even more. They created a numbering scheme that identified the issuer of the card as well as the customer account.
With an Air Travel Card, passengers could "buy now, and pay later" for a ticket against their credit. By the 1940s, all of the major US airlines offered Air Travel Cards that could be used on 17 different airlines. By 1941, about half of the airlines' revenues came through the Air Travel Card agreement. The airlines had also started offering installment plans to lure new travelers into the air.
Early general purpose charge cards: Diners Club, Carte Blanche, and American Express
The concept of customers paying different merchants using the same card was expanded in 1950. The Diners Club produced the first "general purpose" charge card and required the entire bill to be paid with each statement. That was followed by Carte Blanche and in 1958 by American Express which created a worldwide credit card network.
BankAmericard and Master Charge
Until 1958, no one had been able to successfully establish a revolving credit financial system in which a card issued by a third-party bank was being generally accepted by a large number of merchants. There had been a dozen attempts by small American banks, but none of them were able to last very long. In 1958, Bank of America launched the BankAmericard. This card succeeded where others failed by breaking the chicken-and-egg cycle in which consumers did not want to use a card that few merchants would accept and merchants did not want to accept a card that few consumers used. 1976, all BankAmericard licensees united themselves under the common brand Visa. In 1966, the ancestor of MasterCard was born when a group of banks established Master Charge to compete with BankAmericard; it received a significant boost when Citibank merged its Everything Card.
(Boom for the Baby Boomers … spend n debt
Nearly concomitant with the new psychology of the financial markets/non-gold standard to spend now, create never-ending debts, and let the future/responsibility be damned !)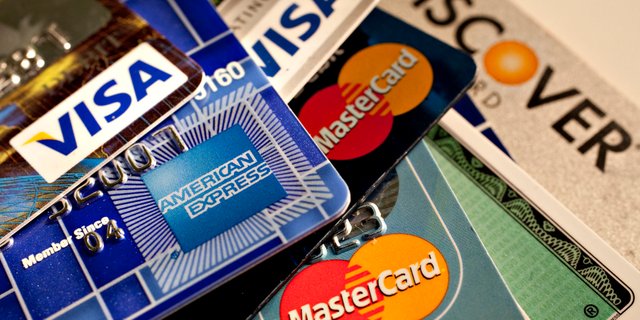 Early credit cards in the U.S. were mass-produced and mass mailed unsolicited to bank customers who were thought to be good credit risks. They have been mailed off to unemployables, drunks, narcotics addicts and to compulsive debtors. These mass mailings were known as "drops" in banking terminology, and were outlawed in 1970 due to the financial chaos they caused. However, by the time the law came into effect, approximately 100 million credit cards had been dropped into the U.S. population. After 1970, only credit card applications could be sent unsolicited.
Before the computerization of credit card systems in America, using a credit card to pay at a merchant was significantly more complicated than it is today. Each time a consumer wanted to use a credit card, the merchant would have to call their bank, etc. This system was computerized in 1973 under Visa, allowing transaction time to decrease to less than one minute.
Development outside North America
The fractured nature of the U.S. banking system under the Glass–Steagall Act meant that credit cards became an effective way for those who were traveling around the country to move their credit to places where they could not directly use their banking facilities. There are now countless variations on the basic concept of revolving credit for individuals (as issued by banks and honored by network of financial institutions), including organization-branded credit cards, corporate-user credit cards, store cards and so on.
Although credit cards reached very high adoption levels in the US, Canada and the UK during the latter 20th century, many cultures were more cash-oriented or developed alternative forms of cashless payments, such as Carte bleue or the Eurocard (Germany, France, Switzerland, and others). In these places, adoption of credit cards was initially much slower. Due to strict regulations regarding bank overdrafts, some countries, France in particular, were much quicker to develop and adopt chip-based credit cards which are seen as major anti-fraud credit devices. In some countries, acceptance still remains low as use of a credit card system depends on the banking system of each country; while in others, a country sometimes had to develop its own credit card network, e.g. UK's Barclaycard and Australia's Bankcard. Japan remains a very cash-oriented society, with credit card adoption being limited mainly to the largest of merchants; although stored value cards (such as telephone cards) are used as alternative currencies, the trend is toward RFID-based systems inside cards, cellphones, and other objects.