source: https://medium.com/dcoin-exchange
Sign up: https://www.dcoin.com/register?iv=DNZEJO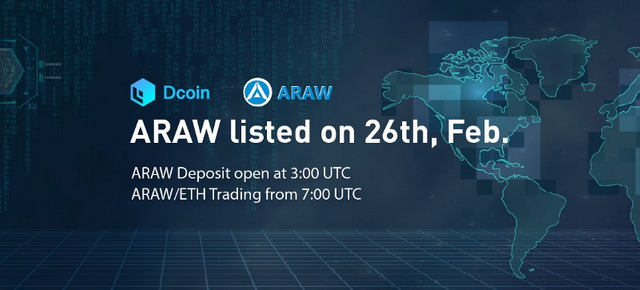 Dcoin will list ARAW/ETH on 26th February.Details are as follows:
26th February
Deposit will be open at 3:00 UTC
ARAW/ETH trading will be available from 7:00 UTC
27th February
Withdrawal will openat 3:00 UTC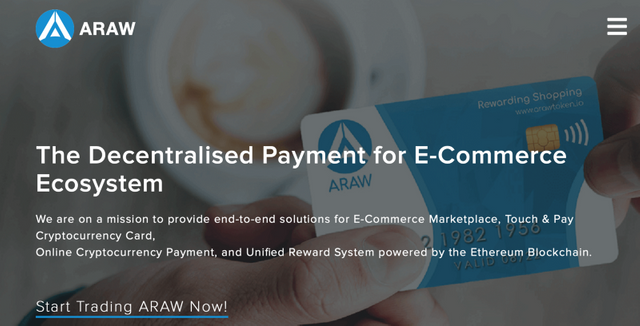 Currency introduction
Project name: ARAW Token
Token symbol: ARAW
Today's e-commerce industry is growing at a rapid pace and global retail e-commerce sales are expected to reach $4.5 trillion by 2021. For most commercial businesses, cryptocurrency is becoming a preferred mode of transaction highlighted by its current cap of hundreds of billions and expected to rise to trillions. According to research, most of the finance and banking industry is expected to move to the blockchain and hence adoption rate of blockchain across all industries will increase in the coming years.
By Introducing the ARAW Token, the heart of the decentralised payment ecosystem powered by the Ethereum Blockchain, they are aiming to increase blockchain adoption for regular people across the world. They are the first company in the world whose mission is to combine the benefits of the E-Commerce and Payment industries; provide end-to-end solutions for E-Commerce Marketplace, Touch & Pay Cryptocurrency Card, Online Cryptocurrency Payment, and Unified Reward System on the Ethereum Blockchain powered by the ARAW token.
The goal of the ARAW token is to be a part of everyone's day-to-day online & in-store shopping without needing them to change their shopping behavior or understand the underlying complexity of the Blockchain technology. They have off blockchain mobile apps live for UK businesses for more than 2 years. They are releasing ARAW token integrated mobile apps very soon starting with UK businesses.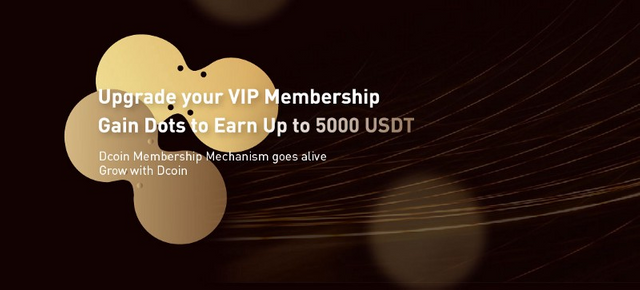 【Special Events: From February 26th to March 11th, users who participate in ARAW/ETH trading will get 20% of the trading fee returned. 】
Risk warning: cryptocurrency investment is subject to high market risk. Please make your investments cautiously.
Dcoin Team
25th February 2019