Greetings, DaVinci! My name is Alejandro Johannes, I live in Venezuela and I'm a 22 years old political scientist. I'm a Spanish speaker. How I ended up working as a translator? At university, I joined a model of United Nations (MUN) delegation to represent my country in international competitions, which are held in English. After practicing and developing my middle-high knowledge of English language, I attended to Harvard University World Model Of United Nations in South Korea and Italy, as an ambassador from my university, and got recognized for my performance! Afterwards, I realized I had a good level of English and satisfactorily started working on translations on Utopian.io. I want to be a translator for DaVinci since: a) I enjoy the translation work; b) I've proved to my former employers to be a high quality translator; c) I love the philosophy of open-source projects; d) Utopian.io is a great source of income in the interconnected economy-driven world that we live in today, while it helps entrepreneurs to develop their ideas! Since I'm a social scientist, the proper use of my native language is a requirement in my professional life, and for that I went through extensive academic formation at university during the 5 years I studied my career. I've been working on Utopian.io since January and have done plenty approved translations on the platform, being designated proofreader translator of various projects. You can check my Crowdin account or contact Utopian.io's top moderator jmromero [copywriting] and ask for references of my work.
[Spanish]
¡Saludos, DaVinci! Mi nombre es Alejandro Johannes, vivo en Venezuela y soy un politólogo de 22 años de edad. Soy hablante del idioma español. ¿Cómo terminé trabajando como traductor? En la universidad, me uní a una delegación de modelos de Naciones Unidas (MUN) para representar a mi país en competencias internacionales, las cuales son llevadas a cabo en inglés. Tras practicar y desarrollar mi moderado-elevado conocimiento del inglés, asistí al Modelo Mundial de Naciones Unidas de la Universidad de Harvard en Corea del Sur e Italia, como embajador de mi universidad, ¡y fui reconocido por mi desempeño! Tras ello, me percaté de que tenía un buen nivel de inglés y satisfactoriamente empecé a trabajar en traducciones en Utopian.io. Quiero ser un traductor para DaVinci porque: a) disfruto el trabajo de traducción; b) he probado a mis anteriores empleadores ser un traductor de elevada calidad; c) amo la filosofía de los proyectos de código abierto; d) Utopian.io es una gran fuente de ingreso en el interconectado mundo regido por la economía en el que vivimos, ¡al tiempo que ayuda a los emprendedores a desarrollar sus ideas! Ya que soy un científico social, el uso correcto de mi lengua materna es un requerimiento en mi vida profesional, y para ello atravesé una formación académica extensiva en la universidad durante los 5 años que estudié mi carrera. He estado trabajando en Utopian.io desde enero y he realizado numerosas traducciones aprobadas en la plataforma, siendo designado traductor verificador de contenido de varios proyectos. Pueden revisar mi cuenta de Crowdin o contactar al renombrado moderador de Utopian.io jmromero [copywriting] y solicitarle referencias de mi trabajo.
Here are samples of my previous translation work on Crowdin (you can check that whole translation entry –of 1188 words– here):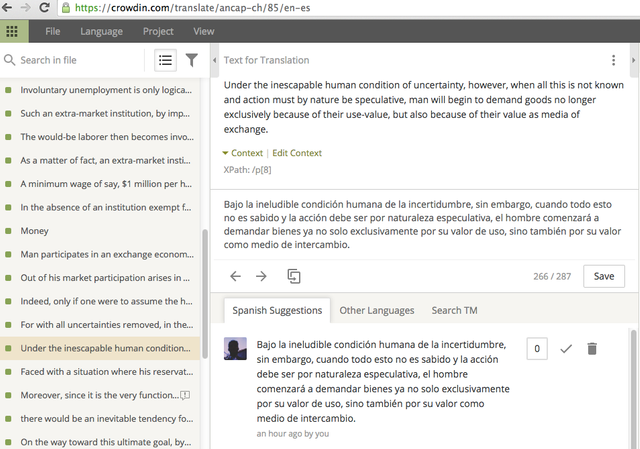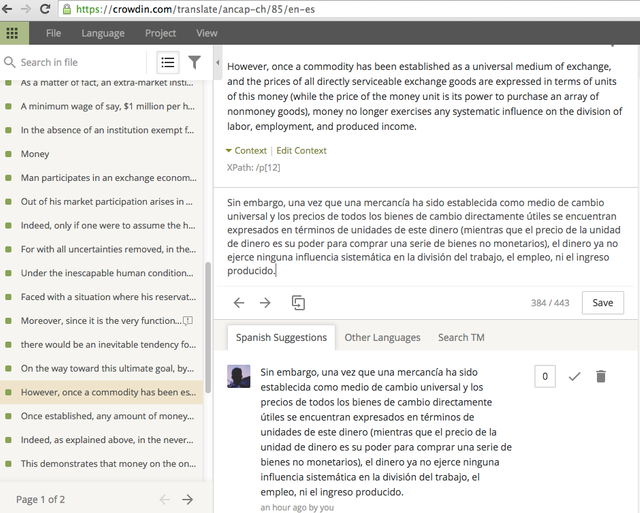 THIS is the link for a voice-over verification of my identity.
Thanks a lot for your attention and props for all the amazing work you do! I hope to hear news from you soon.