Polymath - The Security Token Platform | Finance DApp Review
Utility tokens have been the ones dominating this highly profitable world of digital currency for years. Perhaps, a new light could shine anytime soon as security tokens are finding their way to utilize the power of Blockchain and Cryptocurrency technology to decentralize security issuances and government regulations.
---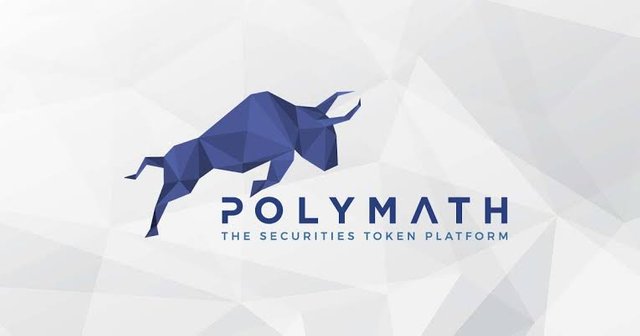 Source
---
Polymath uses ST20 token protocol to bridge the traditional security agencies to Ethereum blockchain, thereby providing a landscape through which security issuers, intermediaries and participants trade security tokens. Polymath provides a framework through which individuals and business organizations can create their own security tokens easily and rapidly.
Polymath is currently ranked 25th on StateOfTheDApps.
---
Layers on Polymath
---
There are four layers on Polymath network. They are the Polymath Token Studio, the Marketplace, ST20 protocol and Ethereum Blockchain network.
---
This is the layer where security tokens are created. Polymath is like Ethereum - a framework on which digital protocol tokens could be created by various independent companies to back certain use-cases. Ethereum supports the creation of utility tokens while only security tokens could be created on Polymath Token Studio. On Polymath, issuers can create their own customized legally-compliant security tokens by choosing their preferred providers and offering details.
The ST20 gets rid of the barriers that could cause legal implications to security issuers and allow the creation of security Decentralized Applications.
---
Polymath has a framework that allows the creation of Decentralized Applications and through which issuers can create their own security tokens. This is made possible by the presence of their modules and STO smart contracts in the marketplace. Token issuers can make use of these modules to customize their tokens as they want. Polymath hope to see external developers to have their modules available on the marketplace very soon so issuers can have a range of modules to choose from when customizing their tokens.
---
The ST20 protocol is a framework through which security tokens can be created. It is a repository that allows issuers to deploy security tokens while registering and keeping record of the created tokens. The record keeping takes place within the Security Token Registry (STR). This ensures unique registry of security tokens by ensuring that two issuers does not use the same ticker. ST20 protocol is responsible for granting and verification of transfer on the network.
---
Ethereum Blockchain network
While the Polymath security token is built on ST20 standard protocol, there is also a utility token; POLY which is built on Ethereum ERC20 protocol. Polymath utility token - POLY is unlike the security token as it could be traded freely on exchanges without legal implications. Apart from this, the Polymath is a decentralized application built on Ethereum network.
---
Participants on Polymath network
---
There are five different layers of participants on Polymath network. Each of them has unique function and contributes to the ecosystem in different ways. These are developers, Token issuers, security providers, legal delegates and investors.
These are the people responsible for the creation and review of smart contracts on Polymath ecosystem. In return for their work, they earn POLY based on the smart contracts created and for keeping the network updated.
These are the ones creating customized security tokens using the provided modules on Polymath Token Studio. Legal delegates and developers bid on providing their services to token issuers. Issuers pay POLY to create security tokens and also earn this utility token based on the complexity of their security. You can easily issue security on Polymath without even having coding knowledge.
This is the body responsible for providing security verifications on the network. This involves KYC/AML accreditation and verification. They also earn POLY for verifying the identity of investors.
For every new security token created, legal delegates must provide their services. They place bids which involve on-chain restriction enforcement on issuers. They also earn POLY in return for their services.
Investors buy security tokens from issuers. They also pay KYC providers using POLY token for their services and in return, they make substantial amount as profits also in POLY token.
---
Pros
---
Bringing security services on blockchain opens the door for a lot of benefits. Some of these benefits are listed below:
Security services can now be accessed at low fees with increased transparency.

Polymath brings liquidity in the security sector with the use of digital currency that could be traded rapidly on exchanges.

The use of smart contracts results in automated compliance based of predefined attributes with the help of computer algorithm. These smart contracts coordinate activities of participants on the network.
---
Cons
---
Despite being on blockchain, Polymath is a centralized system. There is a central body doing the regulatory works on the platform.
Polymath does not use DAO. The use of legal delegates only to create security tokens on polymath Token studio without going through institutions like SEC creates a door for international regulatory agencies to step in later in the future. As well, the government may decide to step in using this as an excuse.
---
Conclusion and Star rating
---
Overall, Polymath has a solid team working greatly to ensure the success of the network. The platform is already in operation and everything is going as planned in their roadmap. Despite all that, I believe that there are still some work to be done as regards regulatory bodies. Polymath is revolutionizing the security sector, no doubt, but I doubt this cannot be done successfully without the involvement of international regulatory bodies. It is better to do that now before things go out of control. I would rate this DApp 4/5.
---
---
Github Repository
---
Links and References
---
DISCLAIMER
This is not financial advice, nor a guarantee or promise in regards to any result that may be obtained from using the above content. The information provided here is for informational and entertainment purposes only. It should not be considered as financial and/or investment advice. No person should make any kind of financial decision without first consulting their own financial adviser and/or conducting their own research and due diligence.