IDEX - is Making the Culture of Decentralized Crypto Exchanges Mainstream
Recently the crypto world was shocked with the $40 million in Bitcoin hacked from Binance - one of the best centralized crypto exchanges. The incident sent shock waves down to every crypto enthusiast concerned with security of his / her digital assets reminding everyone of 2014 Mt. Gox fiasco yet again!
Although many people are aware of the risks of dealing with the centralized exchanges, they continue to do so in the name of speed, volume and convenience. My first brush with a decentralized exchange (abbreviated as DEX) was with Bitshares. But my experience wasn't as smooth as centralized exchanges and I soon quit using it.
...And then I encountered IDEX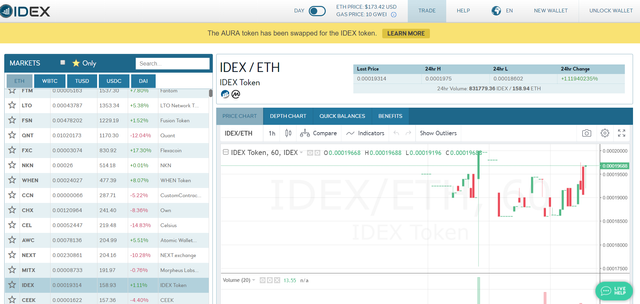 Fortunately, soon I encountered a DEX called IDEX. Initially I was reluctant to use it but my initial fears soon disappeared when I first tried it. In fact, I fell in love with it and that lead me to accumulate more of ETH and ERC-20 coins than any other crypto currencies.
IDEX is a sort of hybrid DEX with all the benefit of a centralized exchanges but without any risk of holding a custodian account. It offers a secure, fast, peer-to-peer, real time trading experience for Ethereum and ERC-20 tokens.
No doubt that it has became the most successful Dapp ever on Ethereum blockchain with twice as many transactions as the legendry Cryptokitties. Recently it also surpassed Ether Delta for the most DEX trades of all time. According to the State of the Dapps ranking stats, IDEX is the No. 1 ranked exchange on the Ethereum blockchain. It is also the No. 6 Dapp across all blockchains and across all categories monitored by State of the Dapps. This speaks volumes about the success of this Dapp.
Here's a screenshot of the recent stats from State of the Dapps website:


How IDEX being a DEX can compete with CEX experience?
IDEX is the most advanced Ethereum based smart contract exchange that can support real time trading and high transaction throughput. It supports Limit and at Market order book, gas-free cancellations and a capability to execute several orders simultaneously.
IDEX stores all user assets trustlessly and execute trade settlements through its smart contracts each of those are authorized by user's private keys. However only the exchange is authorized to submit signed trades to Ethereum blockchain. This makes it possible for IDEX to control the transaction queue and separate the trading from actual settlement. Thus users trade balances are updated in real time.
All trades are authorized by users' private keys. Hence no user can refuse any completed trade.
All authorized user transactions are handed over to the arbiter which manages the order of pending transactions and ensure that each trade is processed in the exact order synching them with the exchange balances. This makes it possible for IDEX to provide the speed and user experience of CEX (centralized exchanges) along with the safety and immutability of DEXes.
How to use IDEX
Using the IDEX exchange is very simple. You don't need to create any account or are required to pass some KYC credentials for trading here. All you need is your Ethereum account keys and a browser extension like Metamask to interact with the platform (you can also use your Ledger or Trust wallets instead of Metamask but I prefer using Metamask).
After unlocking your wallet, you can proceed to do all needed activities like depositing tokens, placing a Limit Order and executing a trade or even cancelling an open order and finally withdrawing your tokens to your own private wallet.
Of course, there are some minor fee involved. It is only 0.2% for the takers and 0.1% for the makers. Aside that, you will obviously incur some GAS charges too for making the transactions.
But these fee are negligible when compared to the security of funds that brings complete peace of mind with it.
Although it's not a rocket science to understand how to use this exchange; in case you need further explanations, for a self explanatory GIF guides for using this exchange, you can refer here. Here's a short video for it:
IDEX also used to reward all its users with AURA tokens. But to consolidate its branding after the success of IDEX brand name, a couple of days back it was announced to replace all AURA tokens with IDEX tokens now. So AURA are being swapped 1:1 with IDEX without any other changes, effectively it's just the change of name.
Run an IDEX node and participate in its decentralized architecture
IDEX has been immensely successful with its hybrid-decentralized-architecture. Recently, in an attempt to fully decentralize its off-chain architecture, it has rolled out its IDEX staking nodes.
Now any one with a minimum of 10,000 IDEX tokens can download its node and start staking IDEX tokens for earning the share of its fee in the form of ETH. Nodes are being rolled out in three stages in following order: Tier 3 (Trade History) → Tier 2 (Transaction Arbiter) → Tier 1 (Distributed Orderbook).
Currently, you can start your own Tier 3 node.
But I do expect something more from IDEX
Decentralizing this off chain component will bring more transparency and security from DDOS type attacks. This is going to be very interesting in future.
Personally, I love IDEX a lot. But since I, like many others, hold tokens of several blockchains, blockchain specific DEX limits their utility to me. Whether it's a NewDEX for EOS blockchai or Waves DEX for WAVES platform, IDEX though provide a great service, is good only for ERC-20 based tokens. If there could be some option to make this exchange inclusive, it would become my go to exchange for all things crypto. I don't know if Bitshares kind of solution or Bancor protocol or something needs to be worked upon to make it more practicable for everyday use.
Other than this, I find everything great about this exchange. I hope with the increase in its transaction volume, its order book liquidity will increase further and GAS charges for transactions should reduce a little.
My personal Rating for this dapp
Considering the security and speed aspect of dealing on a DEX, I'd like to give a rating of 4.5 out of 5 to this Dapp.