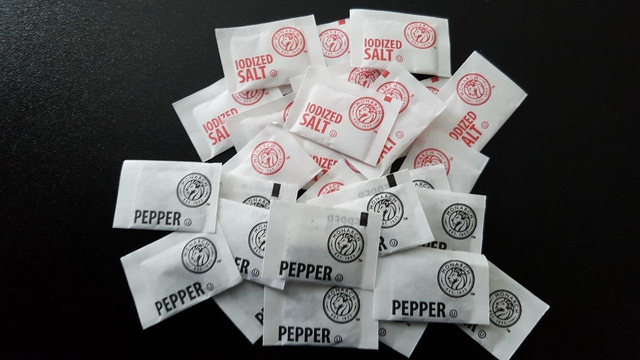 Seasoned With Sult N Papper 03/11/19> The art of deception is the US or UNITED STATES, INC.
In a previous Seasoned With Sult N Papper I mentioned that there is a difference between the US and the USA and just recently @janton said he couldn't wait to see just what that statement was all about. Well since @janton is another Texan, (and should be a Texian in my opinion) I have moved his request to the front of the line on topics I will address. We Texans and Texians need to help each other when we can and so I will attempt to clear some things up or I may just end up muddying the water and making it even harder to see the bottom of the swamp.
tRump said he wanted to "drain the swamp" but you and I both know that was just a bunch of guzbucking bullshit campaign talk. In case you never have been in a swamp there is clear water there, in fact it is pretty crystal clear until you start mucking around in it. The reason tRump won't or can't drain the swamp is because there is an endless supply of ignorant power hungry dirty bastards wanting and waiting to take the place of those that might be displaced. Let me move on and not get side tracked, I feel that coming on.
Those previous two paragraphs...
The previous two paragraphs were written on 3/11/19 so here we are on the night of June 1, 2019 , to say I got side tracked would be an understatement; boy did I ever get side tracked. @janton I just don't have it in me right now to explain the deception but there are plenty of well researched articles on the subject if you really want to look into it.
I've been busy with work and drawing; and the little free time I have had I've been sneaking over to the poker room on here on playing some cards to relax. I just haven't had it in me to write anything that would be worth your time to read.
The crazy part is I have gained some followers in my absence and one person even "muted " me; even when I say nothing I guess they didn't want to hear it. About once a week I have been trying to at least upVote some posts but I could and should do a better job at that.
Here is something...
Here is something I have never shared on here because it looked like it was never going to get off the ground but I will share it now (and probably jinx it ).
Although I have no degree in chemistry I love to fool around with mixing chemicals and a little over 5 years ago I came up with a combination of chemicals that when added to wet concrete in the mixer it makes the concrete water proof when it drys. Water proof concrete most people haven't heard of but it can be done and has been for a long time using a crystalline admixture that actually grows crystals to fill in the small voids in the concrete. Those products are expensive and bulky , thus not easy to work with.
A one quart bottle of the liquid I came up with will treat a cubic yard of concrete and is easy as hell to pour in the mixer and is relatively inexpensive to produce compared to the others. Plus there is additional savings in transportation and packaging disposal costs.
My biggest problem has been the lack of funds to get this off the ground. Three years ago I got a friend of mine to look at the stuff and he has the money to take this to market, unfortunately he had a heart attack and that set him back with taking on the project. Well he is doing better now and another good friend of his was the lead chemist at DuPont Chemical for 27 years and we have him involved now, he tweaked the formula just a touch and now it is not only hydrophobic (water resistant) but also oleophobic (oil resistant).
At the end of May we got the first test results back from the school of concrete at a university over in the mid south and the results are very encouraging as to the strength testing of the concrete samples. The concrete with our admixture is 18% stronger on average than the control samples that have no additives at all.
This month they will be testing the permeability of the concrete with our admixture so we will know precisely just how much (if any) water is penetrating the concrete. I can tell you right now that it will be less than 1% if that much. I have done several tests myself using small treated samples and a jeweler's scale that measures grams and never got a sample to weigh more after being submerged in water for days.
The biggest cause...
The biggest cause of concrete failure is the reinforcing steel in the concrete rusting and the expansion from the internal rusting causes the concrete to crack and fall apart. If water can't get in to the steel it won't end up rusting and causing the problems. Can you imagine just how many bridges would never need replaced if the concrete was water proof? How about basements that take on water through the floors or concrete block walls; those problems could be eliminated as well. This stuff could very well change things when it comes to building with concrete. How about a driveway that would never get an oil spot on it?
The best part is that it is not a coating so even if the concrete gets chipped off it still remains water proof since this admixture is all the way through the concrete and not a coating.
My partner has money but he also has friends with money and his friends are taking notice as well. He assures me we are not for off from having "mail box money". So if the testing comes back like we expect it too he is going to get things in high gear. So if you will say a little prayer for me that the testing goes well this month.
On the job front...
On the job front things are going real well there too. I couldn't be happier with the change and it gets better every month. One of the brands we represent just purchased another leading company in our field and we just got confirmation on Friday that the company has given us that product line to represent as well. So starting July 1 we will be taking on that product line and my commission checks will be getting larger very soon.
That is enough for now. I apologize for not being able to write often and I do appreciate each and every one of you that have taken the time to read my blog.
For the record; Blondie and I are still boycotting, it has been over a year now and the preacher still hasn't produced her paper.
Until next time,
@sultnpapper