---
Today on Lucksacks.com (7/26): Freerolls, Updates, and More from the Lucksacks Poker Leagues.

The .2 SBD WTA Horse Game Is Back!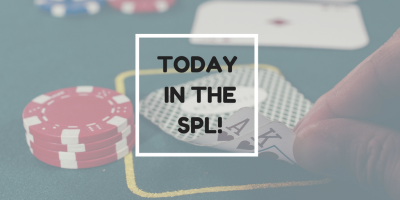 Updates, News, and Notes
News and Notes:
The .2 SBD WTA Horse Game Is Back! Thanks to co-sponsors @sevendst19, @michaelluchies, @yazp, and myself, we are good ta go for another month. :-) And.. if you are interested in co-sponsoring for the following month please let me know. I have @coinbelly lined up so far. Need at least 2 more people!

Be sure to get into the 50 SBD Satellite Games... and win your way into the 50 SBD Game on 8/7/18!

Also check out the Fiddy/50, and the Knockout Sit-N-Go Games while you are enjoying that summer vacation!

Todays Freerolls: Thursday, July 26
Tomorrows Freerolls: Friday, July 27
12:00 PM CDT: .20 SBD HORSE WTA Freeroll (16 Players Max)
2:00 PM CDT: SPL @ro-witness 10 SBD NLH Freeroll
7:00 PM CDT: SPL @curie 20 SBD NLH Freeroll
Also, join ongoing Sit &Goís and tournaments throughout the day. To find out when these tournaments are happening in your time zone, use this time zone converter.

Yesterdays Winners: Wednesday, July 25
@pcste 10 SBD NLH Freeroll - @yazp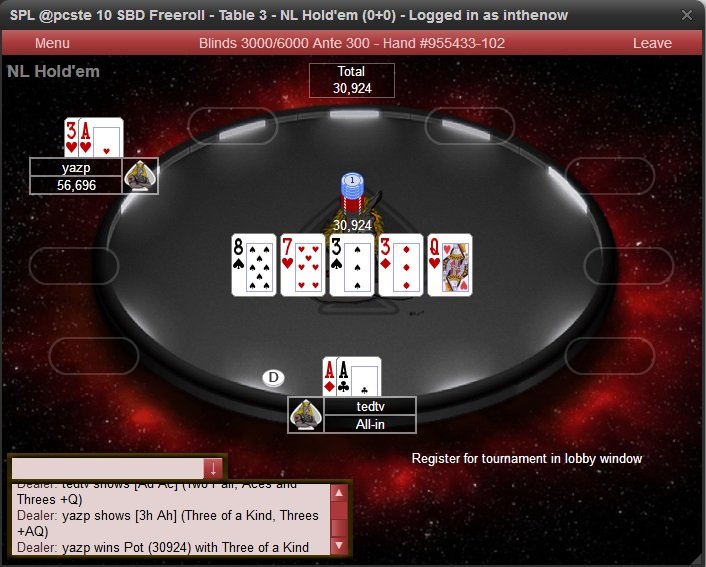 @tedtv goes all in with AA preflop and @yazp calls with A3... and @yazp hits with trip 3s... Ouch. You know that hurt! We feel your pain @tedtv ;-) Congrats to @yazp for taking down the win.

Current Lucksacks Poker Leaderboard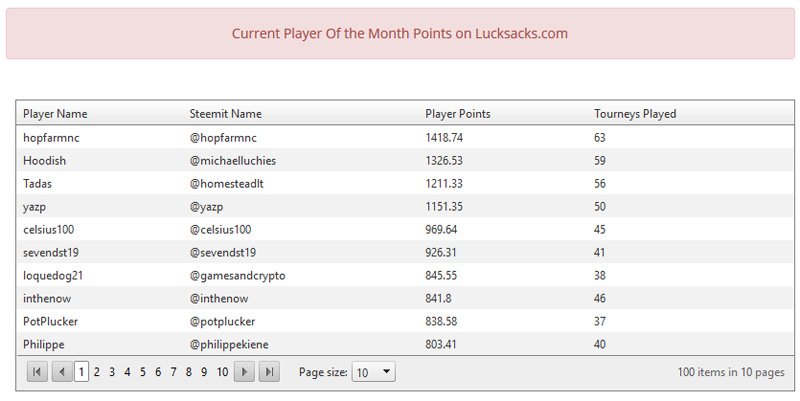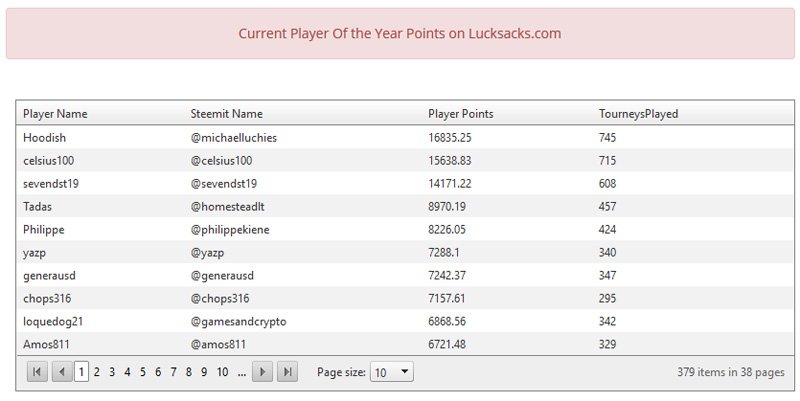 Please comment and/or trash talk below... and hit that upvote button! A resteem would be kindly appreciated as well.
Don't forget... Show some Luv to the Witnesses, Sponsors and Tournament Hosts!
See you all at the tables -
@inthenow

Support Those Who Support the SPL!
@ats-witness - @pcste - @followbtcnews
@adsactly-witness - @curie - @enginewitty - @ro-witness